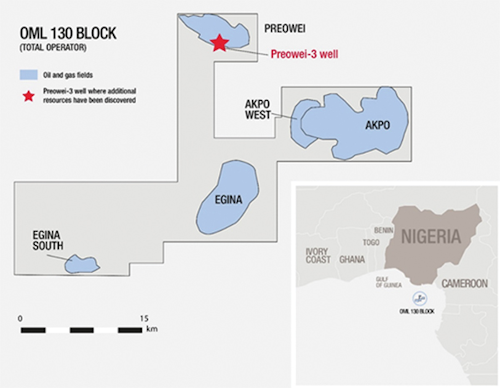 North America/Caribbean Sea
Eni is set for outright ownership of the Oooguruk oilfield offshore Alaska after agreeing to acquire the 70% operated stake held by Caelus Natural Resources Alaska, subject to approvals. The field is in the Beaufort Sea, 5 km (3 mi) from the North Slope and was developed via an artificial gravel island with dry trees in 1.5 m (4.9 ft) water depth. It currently produces 10,000 b/d of oil from 25 producer and 15 gas/water injector wells.
•••
Hokchi Energy has contracted Sapura Energy to fabricate and install a central wellhead platform and a satellite platform for the Hokchi field development in the Mexican sector of the Gulf of Mexico. Both will be connected to the onshore Kokchi Paraiso processing facility.
Sapura was also due to start drilling in the current quarter for Eni's Block Area 1 development offshore Mexico using the jackupPioneer. The program comprises 15 firm plus 13 optional wells.
•••
BP has sanctioned two new gas field developments offshore Trinidad and Tobago. The Cassia Compression project, which will produce low-pressure gas from fields already onstream in the Greater Cassia area, involves construction of a new 1.2-bcf/d platform, Cassia C, at yards in Trinidad and Mexico. This will be installed 57 km (35 mi) offshore southeast Trinidad with incoming gas compressed and exported through the existing Cassia B facilities. The 400-MMfcf/d Matapal development calls for a three-well subsea tieback to the Juniper platform – first gas from the two new developments should flow respectively in and 2021 and 2022.
South America
ExxonMobil has notched its tenth oil discovery in the deepwater Stabroek block offshore Guyana. The Pluma-1 well, spudded by the drillshipNoble Tom Madden last November, penetrated 37 m (121 ft) of hydrocarbon-bearing reservoir. The location is 27 km (17 mi) south of the Turbot discovery well in 1,018 m (3,340 ft) of water. This latest find pushed estimated recoverable resources from the block above 5 Bboe.
Elsewhere off Guyana, Tullow Oil and partners Total and Eco (Atlantic) expect to drill their first well in the Orinduik block in late spring, targeting the turbidite Jethro-Lobe prospect in 1,350 m (4,429 ft) of water. CGX Resources has contracted the Rowan jackupRalph Coffman to drill a well in relatively shallow water during 2Q.
•••
Spectrum has been acquiring a 10,700-sq km (4,131-sq mi) 3D seismic survey over the Potiguar basin offshore Brazil. This will cover blocks awarded under the country's recent 15th licensing round and open blocks due to be offered under the 17th round next year.
West Africa
Total will be at the forefront of frontier deepwater exploration across the region this year, according to Wood Mackenzie. The company's Brulpadda-1 AX well in block 11b/12B off South Africa, spudded recently by the drillshipDeepsea Stavanger, is thought to be targeting more than 1 Bbbl of resources. Also on Total's line-up are the Venus-1 well in 3,000 m (9,842 ft) of water – a record depth for Africa – offshore southern Namibia and potentially a deeper-water well on block 48 off Angola.
The company has expanded its deepwater acreage position offshore northwest Africa by signing E&P agreements for blocks C15 and C31 offshore Mauritania, in both cases taking a 90% operated stake. Total plans to drill its first well on the country's deep offshore block C9 later this year.
•••
BP and its partners have taken a final investment decision (FID) to pursue Phase 1 of the Greater Tortue Ahmeyim project offshore Mauritania and Senegal. This will produce gas and condensate from a deepwater production system connected to an FPSO, exporting to an FLNG vessel at a nearshore hub on the two countries' maritime border. Partner Kosmos Energy expects the facilities to deliver around 2.5 MMt/r of LNG for global export, with some of the gas reserved to meet domestic demand. First gas is scheduled for 2022.
•••
Production has started from Egina, the second deepwater oilfield development in Oil Mining Lease 130 offshore Nigeria. The 200,000-b/d capacityEgina FPSO, moored in 1,600 m (5,249 ft) water depth, is the largest that operator Total has commissioned to date, and at peak should provide 10% of Nigeria's oil production. Six of the vessel's 18 topsides modules were constructed locally and integrated at Lagos. Later this year Total and its partners expect to take an investment decision on a subsea tieback of the Preowei discovery to the FPSO.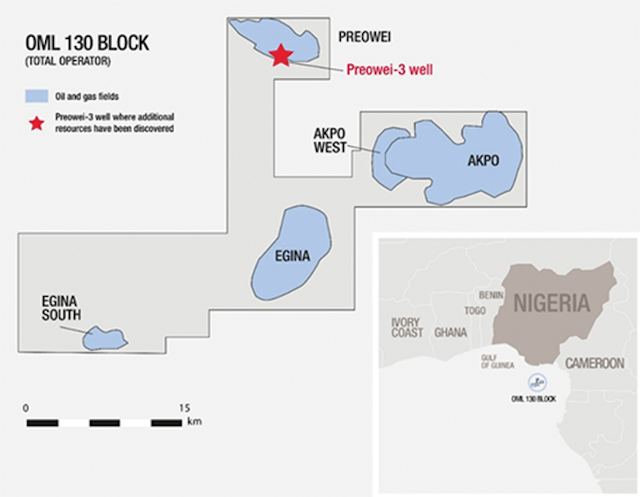 Egina and Preowei are both in OML 130. (Courtesy Total)
•••
BP and Sonangol will likely commit by mid-year to develop the Platina field in block 18 offshore Angola via a subsea tieback to theGreater PlutonioFPSO. At the same time, they agreed to an extension for the production licenses for the Greater Plutonio area until 2032. Platina was discovered in 1,300 m (4,265 ft) of water in 1999. In addition, the partners are in talks on exploration of five further offshore blocks.
Eni has discovered 170-200 MMbbl of light oil with its Afoxe well in the southeast of Angola's block 15/06. The location, in 780 m (2,559 ft) water depth, is 120 km (75 mi) offshore and 20 km (12 mi) west of the company's earlier Kalimba-1 discovery. Collectively these fields could provide 400-500 MMboe for a new cluster development, the company said, supplemented potentially by results from further drilling planned later in the year in this area.
Eastern Europe
Gazprom has been commissioning Russia's first floating storage and regasification unit (FSRU). TheMarshal Vasilevskiy, moored in 19 m (62 ft) of water, 5 km (3.1 mi) from the Kaliningrad coast in the Baltic Sea, has capacity to transport 174,000 cu m (5,145 bcf) of LNG – following regasification, this will be supplied as a gas through the local transmission system via a new 13-km (8-mi) pipeline.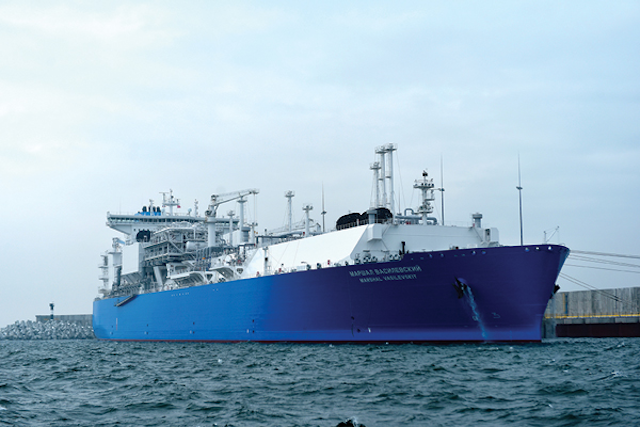 The FSRUMarshal Vasilevskiy berthed offshore Kaliningrad. (Courtesy Gazprom)
•••
Lukoil has signed co-operation and financing agreements with JSC KazMunay Gas for the Zhenis project in the Kazakh sector of the Caspian Sea, 80 km (50 mi) from Aktau. Negotiations are under way to progress the arrangement to exploration and production.
Mediterranean Sea
Repsol has been acquiring seismic over the Ioannina block offshore Greece, with final-stage acquisition over the Aitoloakarnia block to follow. Partner Energean has commissioned a smaller-scale 3D survey to the north over its acreage offshore Montenegro ahead of a drill-or-drop decision on its licenses in 2020.
•••
Eni has been drilling for gas in a carbonates structure in Egypt's Nour North Sinai Offshore concession in the East Nile Delta, 50 km (31 mi) from land. BP and Mubadala Petroleum recently joined as farm-in partners. UAE-based Dana Gas's Merak deepwater well, scheduled to spud later this year on Egypt's Block 6 North El Arish concession, will reportedly also target hydrocarbons in a carbonate structure.
Petrobel, a joint venture between IEOC and EGPC, has contracted Saipem to lay a second 30-in. export pipeline for gas from the ultra-deepwater Zohr field offshore eastern Egypt. Saipem will deploy theCastorone for the campaign with other vessels from the company's fleet installing associated subsea lines connected to various wells.
•••
The drillshipStena IceMAXhas spudded the first of two exploratory wells for ExxonMobil and partner Qatar Petroleum in block 10 offshore southern Cyprus. Water depth is 1,973 m (6,473 ft).
Middle East
Eni has entered a memorandum of understanding with Bahrain's National Oil and Gas Authority to explore block 1 offshore northern Bahrain. The concession covers an area of more than 2,800 sq km (1,081 sq mi) in water depths ranging from 10-70 m (32-230 ft).
Nearby, Abu Dhabi's government has awarded the two offshore blocks offered under the emirate's first international licensing round to Eni (70%) and Thailand's PTTEP (30%). They expect to jointly invest more than $230 million on exploring for oil and gas and appraisal of existing fields on the blocks over the nine-year exploration phase. If successful, the lease would be extended to 35 years, with state oil company ADNOC potentially backing into 60% for any subsequent field development.
•••
Norwegian independent DNO has handed over operatorship of block 8 offshore Oman to the country's Ministry of Oil and Gas and state-owned Oman Oil Company Exploration and Production (OOCEP). The Bukha and West fields within the blocks have so far delivered 35 MMbbl of oil and 285 bcf of gas: OOCEP subsidiary Musandam Oil and Gas Company is the new operator.
Australia
Shell has delivered first production through the giantPrelude floating LNG vessel in block WA-44 L offshore Western Australia. The vessel separates and liquefies gas from the Prelude and Concerto fields, 475 km (295 mi) northeast of Broome, to produce LNG, LPG, and condensate, which are all offloaded to tankers. •