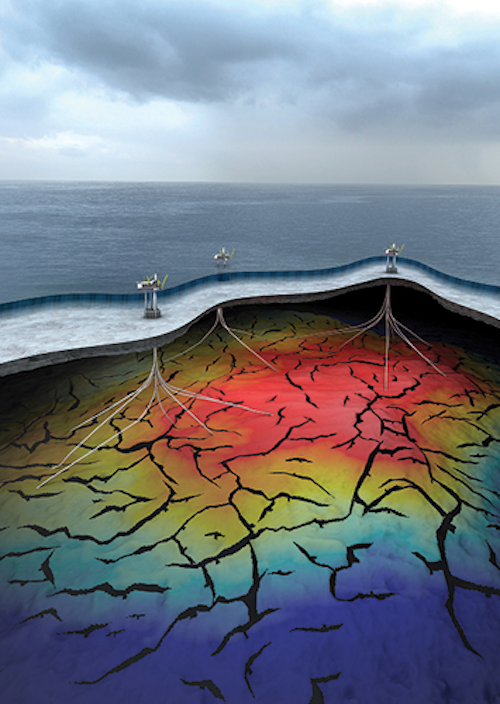 Vår outlines goals for Balder X
Vår Energi, the new E&P company formed from the merger of Eni Norge and Point Resources, was among the successful bidders in the latest license round. One of its immediate priorities is a NOK20-billion ($2.35-billion) redevelopment of the Balder and Ringhorne fields in the Norwegian North Sea, formerly operated by ExxonMobil: recent re-mapping of the area indicated potential net untapped resources of 170 MMbbl of oil. Aker Solutions is conducting front-end engineering design (FEED) for the new Balder X project, focusing on the scope of work needed to extend the life of the Jotun FPSO toward 2045. Vår anticipates drilling 26 new production wells on Balder and Ringhorne, and during 4Q will likely submit a revised plan for development and operation.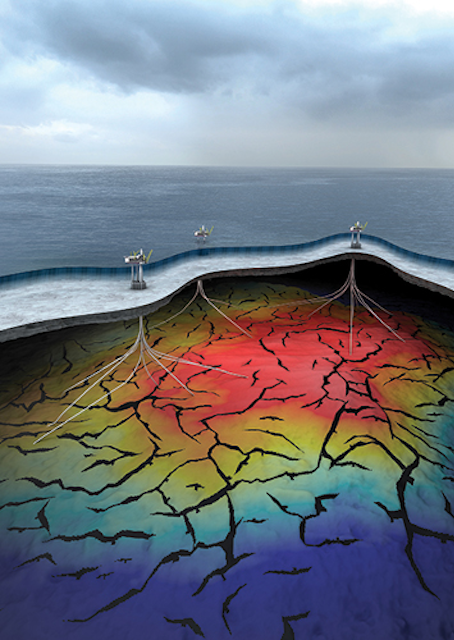 Subsurface 'view' beneath the Gullfaks complex. (Courtesy Equinor)
Austria's OMV is evaluating circular and ship-shaped FPSOs for its Wisting oilfield project in the southern Barents Sea, where the NPD assesses recoverable reserves at around 440 MMbbl. Recent appraisal drilling has been designed to improve understanding of the shallow Wisting reservoir. Based on the findings from this and subsurface optimization studies OMV envisages a subsea production system comprising 19 producer and 14 injector wells. Final concept selection should follow in 2020.
In the Norwegian North Sea, Equinor and its partners will look to extract a further 17 MMbbl from the Gullfaks field's Shetland Group tight carbonate reservoir which lies above the main reservoir. To date they have spent more than $117 million on development drilling in this formation since a well test in 2012 demonstrated its potential for oil. More recent testing showed that water injection could further boost recovery, and the new program will involve a change in drainage strategy from the present depressurization to injection, with seven new horizontal wells drilled from the Gullfaks facilities.
UK boost for decommissioning R&D
Britain's new National Decommissioning Centre (NDC) has opened in Newburgh, Scotland. The $48-million complex, supported by the Oil and Gas Technology Centre and the University of Aberdeen, will bring together industry specialists and academics working to reduce the overall cost of UK North Sea decommissioning by 35%, a target set by the Oil & Gas Authority in 2016. Priorities include R&D into alternate approaches to standard decommissioning practice and examining ways of extending field/asset life, drawing on the university's capabilities in predictive modeling, environmental assessment, and decommissioning economics.
Irish explorers in drill mode
Irish independents are looking to attract partners to co-finance frontier exploration drilling off western Ireland over the years ahead. Europa Oil & Gas aims to start site surveys this summer over three prospects the company has identified on its acreage, with a view to drilling all three from 2020 onwards. The targets are Kiely East (280 MMboe) and Edgeworth (225 MMboe) in Porcupine basin frontier exploration licenses 2/13 and 1/17; and what the company describes as its flagship project, the multi-tcf Inishkea gas prospect, in shallow water in license option 16/20 in the Slyne basin off northwest Ireland. The location is close to the producing Corrib gas field and its associated pipeline infrastructure. Farm-in discussions are in progress for all the licenses, with a positive result from the nearby Nexen-CNOOC/ExxonMobil well on the Iolar prospect this summer likely to de-risk Kiely East and Edgeworth.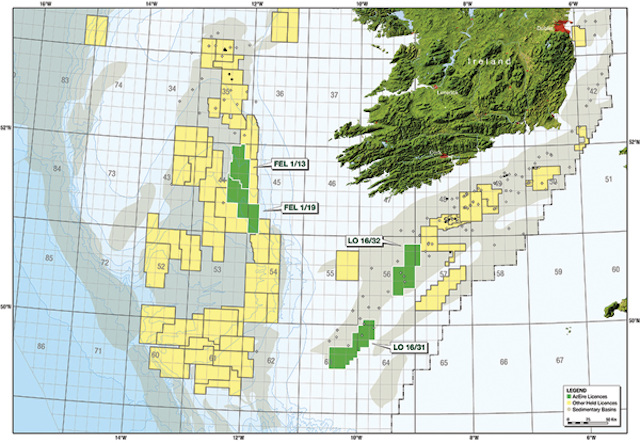 Location of Azeire's frontier exploration licenses offshore western Ireland. (Courtesy Azeire)
Ireland's government has approved applications by Azeire to convert one license option in the eastern Porcupine basin to a frontier exploration license (FEL), and to extend another FEL in the basin by two years. Azeire claims to be one of the largest exploration acreage holders offshore Ireland with 100% stakes in areas covering 5,708 sq km (2,204 sq mi). It plans to work up drillable prospects across both concessions.
Norway sustaining exploration momentum
Norway's Petroleum and Energy Ministry has offered a record 83 new production licenses under the country's 2018 Pre-defined Areas round. The bids submitted (the awards are shared among 33 companies) suggest strong remaining potential in areas of known geology, said Torgeir Stordal, the Norwegian Petroleum Directorate's Exploration Director. The awards comprise 37 new licenses in the North Sea, 32 in the Norwegian Sea, 44 in the Barents Sea, and 18 acreage additions to existing concessions. However, there are only three commitment wells compared with five under APA 2018. •