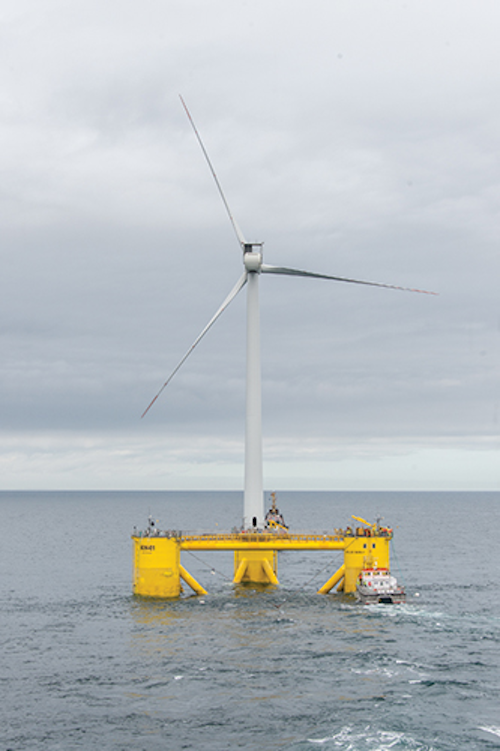 SENER to participate in Kincardine project
The engineering and technology group SENER will be involved in a large floating offshore wind farm that COBRA is building 15 km offshore from the Scottish coast of Aberdeen.
SENER's work will range from supervising the manufacture of the floating platforms to analyzing the technical feasibility of assembling the wind turbines, as well as providing technical assistance in monitoring the plant.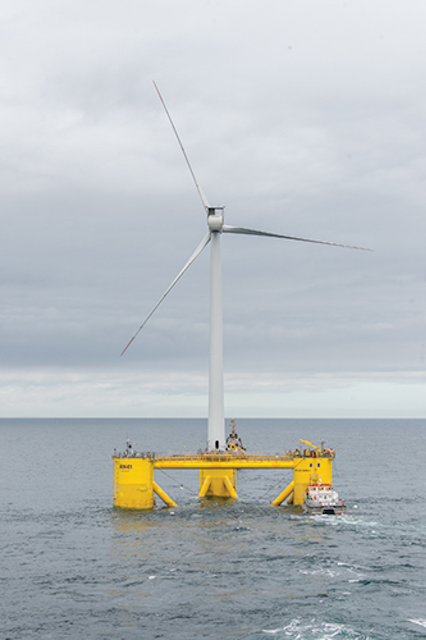 The first floating platform with 2 MW wind turbine for the Kincardine (UK) Offshore Wind Project. (Courtesy COBRA)
SENER's Renewables Director, Miguel Domingo, said that "the purpose of this collaboration between COBRA and SENER is to liaise in reducing costs for future floating wind farms, as we consider this option to be the most appropriate for any location with adequate wind and where depth impedes a conventional foundation."
With a 50 MW rated capacity and fitted with a 2 MW turbine and five other 9.525 MW turbines, the Kincardine project is expected to be operational by 2020, making it the largest floating offshore wind farm in the world.
ABS grants AIP for transport vessel
ABS has granted approval in principal (AIP) to Neptun Ship Design for its Wind Turbine Transport Vessel design, the first to support transporting parts for turbines greater than 9 MW.
The 178-m (584-ft) long Blue Azurit design allows wind turbine manufacturers to produce full length welded towers ready for installation. The energy-efficient vessel is designed to pick up components direct from the supplier's berth, transport parts to an offshore harbor, or feed them to the installation vessel.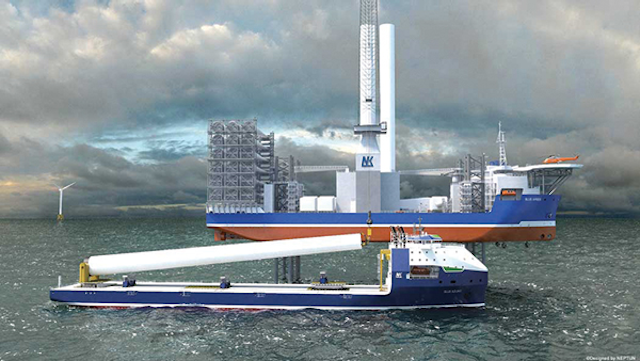 The Blue Azurit design will enable wind turbine manufacturers to produce full length welded towers ready for installation. (Courtesy ABS)
Wei Huang, ABS Director, Global Offshore, said that: "The scale of offshore wind turbines continues to increase steadily, offering greater efficiencies to the market. We are working with Neptun to verify compliance with ABS Rules, as it strives to deliver enhanced vessel capabilities supporting the wind industry's continued growth, while increasing reliability and efficiency."
Gerald Hadaschik, Neptun Managing Director, "The ABS extensive offshore industry experience made them the natural choice to support this project. Blue Azurit will help the offshore wind industry meet pressure to reduce costs, minimize project risks, deliver higher reliability and support renewable energy targets from new offshore wind nations."
In granting this AIP, ABS conducted a preliminary engineering plan review and considers, that the conceptual engineering is feasible for the intended application and is, in principle, in compliance with the ABS Rules for Building and Classing Offshore Support Vessels, 2018.
ABS's previous experience with the offshore wind industry included classification of Seajacks' Scylla, the world's largest and most advanced wind farm installation and offshore construction vessel, constructed by Samsung Heavy Industries in South Korea. ABS says it is also playing a role in supporting the development of innovative concepts for future floating wind farm projects.
Siemens introduces offshore wind turbine
Siemens Gamesa Renewable Energy (SGRE) has launched the SG 10.0-193 DD, its first 10+ MW offshore wind turbine. Based on the experience of its previous generations, the company says that this newest wind turbine builds on proven technology for maximum energy yield at all wind speeds.
"The new SG 10.0-193 DD combines experiences and knowledge from five generations of proven direct drive technology in one 10 MW turbine. A showcase of strong performance, swift time-to-market, and low risk in the offshore wind energy market," says Markus Tacke, CEO of SGRE.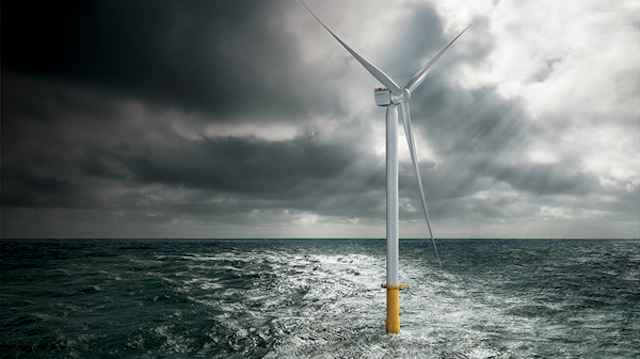 Siemens says that the annual energy production of one SG 10.0-193 DD can supply about 10,000 European households with electricity. (Courtesy Siemens)
The company says that the 10 MW rating is made possible through a larger generator diameter, building on the proven SGRE Direct Drive generator technology.
By increasing the rotor diameter to 193 m, this new wind turbine offers up to 30% more AEP than its predecessor, the SG 8.0-167 DD. Its 94-m long blades provide a swept area of 29,300 sq m. Each blade is almost the same length as one soccer field.
The technology on the offshore direct drive platform allows for the re-use of most components from previous generations, providing a short time to market. The prototype is expected to be installed in 2019 with commercial market deployment expected in 2022. •