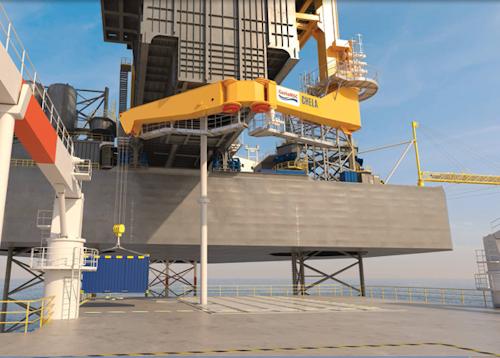 Improved BOP, crane, and pipe tripping systems now available
Bruce Beaubouef, Managing Editor
Asoperators seekto develop fields in ultra-deepwater and high-pressure reservoirs, drilling contractors and engineering companies are responding with an array of new technologies designed to enable drilling and completion operations with greater efficiency and safety.
Transocean reports that it will offer advanced BOP technology and drilling rig power systems with two dynamically positioned ultra-deepwater drillships currently being constructed in Singapore. The drilling contractor recently signed a rig design and construction management contract, as well as a five-year drilling contract, with Chevron USA Inc. for one of the two drillships currently under construction at the Jurong Shipyard.
The drilling contract has an estimated backlog of $830 million, excluding mobilization and reimbursables. The drilling contract is subject to design, construction, and delivery requirements set forth in the construction contract.
The rig will be the first ultra-deepwater floater rated for 20,000 psi operations and is expected to begin operations in the Gulf of Mexico in the second half of 2021.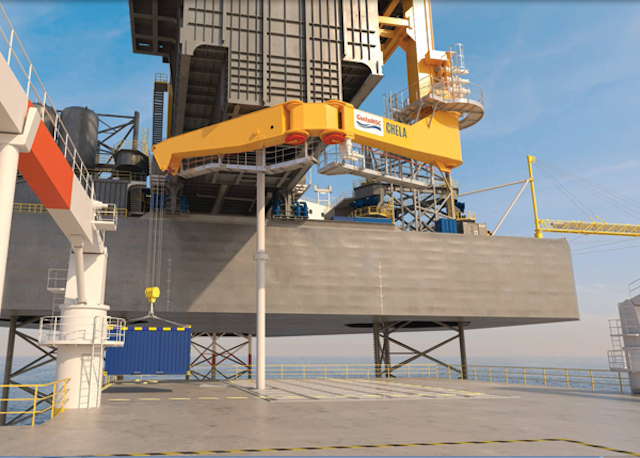 GustoMSC says that its new multi-purpose offshore crane, Chela, offers enhanced material handling and safety capabilities over the wellhead area. (Image courtesy GustoMSC)
In the event of termination for convenience by Chevron, Transocean will be compensated for its incremental 20,000 psi subsea investment in the rig. Additionally, a termination for convenience occurring after April 2020, would result in a substantial termination fee.
The drillship will feature dual 20,000 psi BOPs, net hook-load capacity of three million pounds, 165-ton active heave compensating crane, and an enhanced dynamic positioning system. The rig's high reliability power plant will also be configured to comply with Tier III International Maritime Organization emissions standards.
"We are extremely pleased to announce that we have entered into an agreement with Chevron to construct and operate the industry's most capable ultra-deepwater drillship," said Jeremy Thigpen, president and CEO. "Transocean has a long and storied history of introducing new technologies that enable our customers to safely and efficiently access the world's most challenging reservoirs. Adding to that history, we are proud to be delivering the industry's first rig capable of drilling and completing wells requiring subsea equipment rated to 20,000 psi."
Meanwhile, GustoMSC has issued an update on refinements to its new multi-purpose offshore crane, Chela. In 2018, Maersk Drilling placed the first contract for the crane and has since worked with GustoMSC and Aker BP on further improvements.
The main enhancement is an increased reach capability under the cantilever, said to improve material handling and safety capabilities over the wellhead area.
This has been achieved by introducing an additional "link" that provides greater flexibility in movement for the lifting tip, thereby increasing reach and control of the supported object.
Chela can reach below the cantilever as well as elevate and reach toward the main deck, providing crane access to an area not normally accessible due to blocking of access by the drilling cantilever.
Its safety features allow these tasks to be performed while simultaneously conducting operations on a well from the drill floor, without the need to shut-in other wells, GustoMSC added.
Elsewhere, Ensco has introduced its Continuous Tripping Technology, a new proprietary solution that is designed to provide more efficient and safer pipe tripping, and help lower customers' offshore project costs.
Ensco says that the patented technology, in concert with other key equipment, sensors and process controls, fully automates the movement of the drillstring into or out of the well at a constant controlled speed. When deployed during offshore activities, the technology is said to enable pipe-tripping speeds of up to 9,000 ft/hr – up to three times faster than tripping times achieved by current conventional stand-by-stand methods.
Ensco says the technology can be retrofitted to both floaters and jackups, and is particularly well-suited for ultra-deepwater drillships and larger modern jackups. The drilling rig contractor recently completed the installation of this new technology on the jackupENSCO 123, and commissioning of this system is currently under way. Upon completion of the system's commissioning and the rig's acceptance testing, ENSCO 123 is expected to be delivered in March 2019.
President and CEO Carl Trowell said: "Continuous Tripping Technology is a step-change efficiency improvement that uses automation and innovative technology to address a repetitive, time-consuming process that is ubiquitous in offshore projects today. Tripping pipe is on the critical path for all drilling and workover activities and, as a result, meaningful time is spent performing this process over the life cycle of every offshore well. Continuous Tripping Technology significantly reduces the amount of time spent tripping pipe, and the faster tripping time that this technology offers is expected to lead to cost savings for customers regardless of water depth or well type."
In addition to increased efficiencies, Continuous Tripping Technology is said to make the pipe-tripping process safer by using automation to eliminate human error and personnel exposure associated with the conventional stand-by-stand method. In addition, the constant speed that Continuous Tripping Technology is designed to deliver is expected to have the added benefit of minimizing surge and swab pressure on the wellbore by eliminating intermittent stopping and starting, as well as the excessive peak speeds that often occur when using current industry practices. •