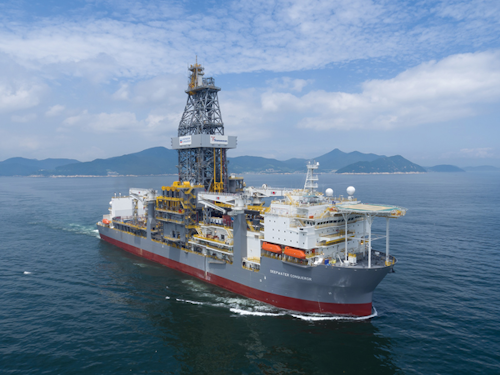 Ensco holds lead spot for second year in a row
Cinnamon Edralin, IHS Markit
Offshore drilling rig contractors faced considerable change in 2018, but the top 10 contractors (based on the number of rigs managed) solidified their leading positions and managed to secure a larger portion of the global rig fleet. At the end of 2017, 174 rig managers controlled 1,033 rigs (Arctic, drill barges, drillships, jackups, semisubmersibles, submersibles, and tender-assists), of which 36.5% was managed by the top 10. By the end of 2018, the fleet had shrunk to 973 units, and the number of rig contractors had declined to 157. However, the top 10 managed 40.0% of the fleet.
Oil prices were volatile in 2018. After reaching their highest levels since 4Q 2014 (US $81.03/bbl for Brent in October 2018 and US $71.00/bbl for WTI in July 2018), the year ended with oil prices at their lowest point since 3Q 2017 (December averaged US $57.36/bbl Brent and US $49.52/bbl WTI). The lack of stability is a major contributing factor to the low number of project final investment decisions operators have committed to over the past few years. This, in turn, translates to fewer development drilling programs for rigs.
One thing that did not change from 2017 is Ensco remaining at the top of the list for the second year in a row. This happened despite Transocean closing two acquisitions during the year and moving from number four on the list to number two with a total of 56 units managed at the end of the year, versus 59 for Ensco. Rounding out the top three spots is Seadrill, which dropped from the second spot and closed out 2018 with 52 units.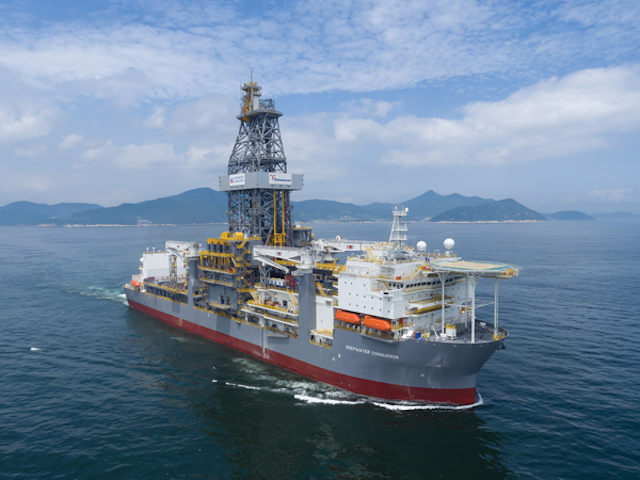 The Deepwater Conqueror, an ultra-deepwater drillship, is contracted with Chevron U.S.A. Inc. through 2021. (Courtesy Transocean)
Mergers and acquisitions
As expected, mergers and acquisitions were a hot topic among offshore drilling contractors in 2018. Transocean closed on two – Songa Offshore in January 2018 and Ocean Rig in December 2018. Meanwhile, Ensco and Rowan Companies agreed to a merger in 2018, but it is not expected to close until later in 2019; therefore, the two companies are counted as separate entities for the purposes of this article. Ensco's last major acquisition was Atwood Oceanics, which closed in October 2017.
In April 2018, Borr Drilling finalized its acquisition of Paragon Offshore. In 2017, Paragon was seventh on the top 10 list, and Borr came in ninth. Following the combination of their fleets, Borr elected to remove several units from its fleet. The rig contractor also made multiple asset acquisitions during the year. These changes resulted in Borr landing in the number six spot on the top 10 list.
Paragon was the only rig contractor on the 2017 list to not appear on the 2018 list, leaving space for only one new entrant. ADNOC Drilling now holds the number 10 spot on the list with a total of 20 rigs, which is unchanged from its rig count in 2017. ADNOC is part of the ADNOC Group of companies, or Abu Dhabi National Oil Co. It was established in 1972 and acquired its first rigs in 1973. All 20 rigs are currently under contract to ADNOC Offshore and are working in the United Arab Emirates. The addition of ADNOC Drilling brings the number of state-owned drilling contractors on the list to three, including COSL and PDVSA.
Working rig count
In contrast to the decline in the total fleet, the number of working rigs rose over the past year for both the top 10 companies and the entire global fleet. While shrinking the total rig supply can increase the global utilization rate should the working count hold steady, a better indicator of a stronger market is an increase in the working rig count. However, the year ended on a considerable down note in terms of oil price. In the face of gains made over the course of the first three quarters of 2018 that led to an average Brent oil price of US $81.03/bbl for October – the highest since the 4Q 2014 – and an average WTI price of US $71.00/bbl in July – also the highest since the 4Q 2014 – both commodity prices fell to their lowest points since the third quarter of 2017. These drops could hinder some programs that were poised to go forward this year.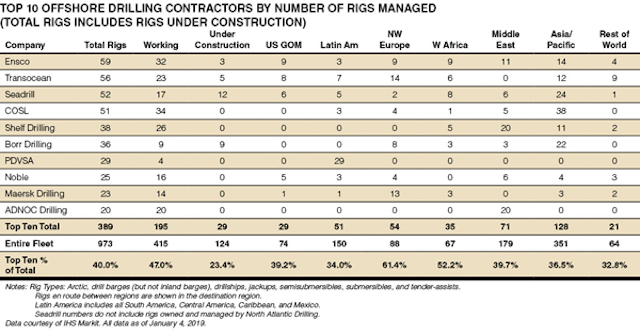 In terms of the number of units under construction, 2017 ended with 143 rigs still to be delivered, versus 124 at the end of 2018, for a difference of 19 rigs. Only one rig was ordered last year for which construction also commenced during the year, and a total of 20 rigs were delivered, which equates to the net drop of 19 units. All but two of the 20 deliveries were jackups. The other two were semisubmersibles. Awilco Drilling ordered the new rig that is now under construction. The harsh-environment semi, currently known in the IHS MarkitRigPointdatabase as Awilco Semi Tbn1, is due for delivery in 2021.
Middle East and West Africa
By region, the Middle East and West Africa made the most gains in 2018. While the Middle East offshore rig fleet grew by three overall, the top 10 contractors grew their share from 29.5% to 39.7%. This is mostly attributable to local contractor ADNOC Drilling being added to the top 10, although there were small changes among others on the list. As a matter of fact, the strong Middle East market closed out 2018 with more rigs contracted (130) than at the end of 2013 (128) – the last full year before the market downturn began.
As for West Africa, the regional fleet grew by three, and the top 10 increased its count by seven, resulting in an expanded presence from 43.8% to 52.2%. West Africa, in particular the Canary Islands, remains a popular stacking location for rigs that contractors would like to keep ready to mobilize to various locations, be it the various countries of West Africa, or someplace in South America or the Mediterranean Sea. West Africa began showing signs of a slow recovery after bottoming out its contracted count at the end of 2016 at 26 units. The year 2017 ended with 29 contracted units, increasing to 36 at the end of 2018.
Northwest Europe, with its need for specialized harsh-environment units, has maintained the attention of the largest contractors, as harsh-environment rigs generally enjoy longer-term contracts at higher day rates than their benign counterparts. Last year ended with no change from the previous year to the number of rigs the top 10 have in the region. However, the entire fleet took a small hit with a loss of 12 rigs. This change left the larger contractors with a bigger piece of the pie at 61.4% versus 54.0% in 2017. In terms of contracting, as with West Africa, the contracted count for Northwest Europe bottomed out in 2016 at 55 rigs. The next year ended with a small tick up to 57 contract units, before rising to 61 in 2018.
US Gulf of Mexico
Meanwhile, the region that took the biggest hit was the US Gulf of Mexico. It lost 21 rigs versus 2017, and the top 10 contractors' share shrank from 50.5% to 39.2%, representing a decline of 19 units. Some rigs were lost due to attrition, but others left either for work in other regions or for less expensive stacking locations where rig contractors could take advantage of cluster-stacking procedures (in which keeping more than one rig within short distance of each other means some resources, such as maintenance personnel, can be shared); or reduced insurance coverage (such as hurricane insurance). Looking back to December 2013, the contracted rig count was 80. By the end of 2016, it had fallen to 35 rigs, then 34 at the end of 2017. Last year ended with 35 units contracted. The retiring or moving of rigs has been the response to the continued weakness in the regional market and the lack of visible near-term demand.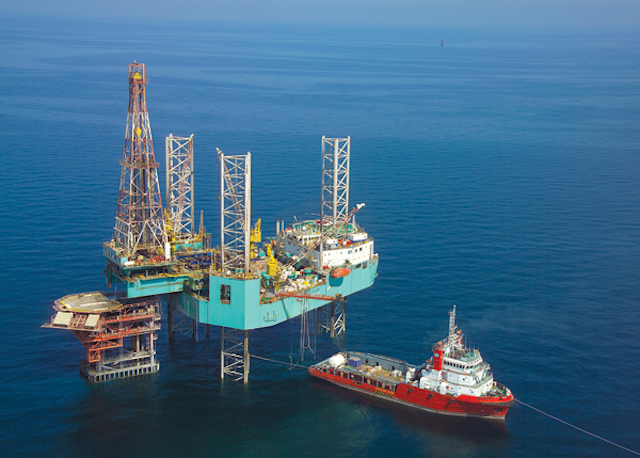 Photo courtesy ADNOC Offshore
Asia/Pacific
The Asia/Pacific region also took a large hit to its fleet, losing 22 units, but this is primarily explained by the region being home to the major rig builders. Newbuild rigs that mobilized elsewhere accounted for the big drop in the regional fleet. This is much less concerning than the drop in fleet size experienced by the US Gulf of Mexico. For comparison, 2013 ended with a contracted count of 206, but unlike the US Gulf, Asia/Pacific began to show signs of recovery after hitting a year-end low of 138 in 2016. The following year, the contracted count rose to 153, followed by a slight uptick to 155 at the end of last year. In this case, the top 10 rig contractors increased their presence by one rig over 2017, growing their share of the fleet from 34.0% to 36.5%.
Noteworthy developments
Even though the offshore rig market recovery has been slow and painful for most rig contractors, they continue to innovate in order to keep up with the changing demands of E&P companies. In late December, Transocean announced it had signed a rig design and construction management contract, along with a five-year drilling contract, with Chevron for one of its ultra-deepwater drillships already under construction. As part of the deal, the rig will be the first floating rig outfitted with a 20,000 psi BOP (referred to as a 20K BOP) for use in high-pressure projects. The rig will feature dual 20K BOPs, a net hookload capacity of 3 MM lbs, a 165-ton active heave compensating crane, and an enhanced dynamic positioning system.
Another rig contractor that recently announced a technology breakthrough is Ensco. In December, the company announced its new Continuous Tripping Technology, which it says will provide more efficient and safer pipe tripping, thereby lowering project costs. The new proprietary technology is expected to enable pipe-tripping speeds of up to 9,000 ft/hr, which Ensco says is up to three times faster than conventional stand-by-stand methods. The Continuous Tripping Technology has been installed on newbuild jackupENSCO 123. At the time of writing, commissioning is under way and the rig is due to be delivered in March 2019. It will then be mobilized to the UK for its maiden four-month charter with Premier.
This year is expected to hold yet more changes for offshore drilling contractors. In addition to the pending Ensco-Rowan merger, other assets remain in flux, whether from companies struggling to stay afloat with day rates still depressed and a large number of idle units still seeking work; or from outliving their usefulness in light of advancing technology. Environmental concerns are also important, as some E&P companies are realigning their portfolios and some countries are making moves to limit drilling off their coasts. Meanwhile, frontier areas such as Guyana continue to shine as a source of growing importance. •
The Author
Cinnamon Edralin is a senior offshore rig analyst at IHS Markit and has covered the offshore market for 13 years. Her primary regions of focus are the US Gulf, offshore Alaska, and eastern Canada. She holds a BA in liberal arts from the University of St. Thomas.