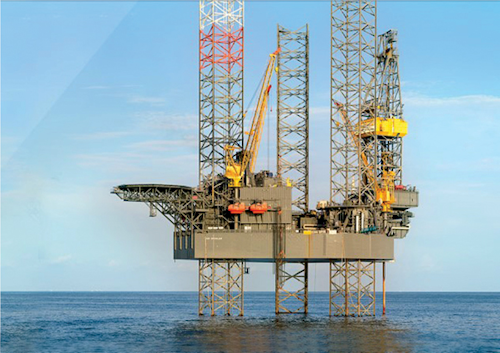 Lease Sale 252 results indicate that GoM now 'buyers market'
The Bureau of Ocean Energy Management continues to press forward with its "region-wide" leasing strategy in the Gulf of Mexico. And while the recently held Lease Sale 252 brought healthy returns, those same returns also shows that Gulf of Mexico acreage now exists in "a buyer's market," according to one consulting firm's analysis.
Held in New Orleans on March 20, the lease sale generated $244,299,344 in high bids for 227 tracts covering 1,261,133.85 acres in federal waters of the Gulf of Mexico.
Thirty companies submitted 257 bids that totaled $283,782,480.
Some of are the most notable bids are detailed below.
• Shell Offshore Inc. submitted 87 high bids totaling $84,827,644. Its highest bid, $8,201,988, was for the deepwater Alaminos Canyon block 343.
• Anadarko US Offshore LLC submitted 27 high bids totaling $24,061,854. Its highest bid, $4,567,505, was for the ultra-deepwater Mississippi Canyon block 783.
• BP Exploration & Production Inc. submitted 23 high bids totaling $15,451,679.
• W&T Offshore Inc. submitted 15 high bids totaling $3,533,000.
• Hess Corp. submitted 12 high bids totaling $17,940,072. Its highest bid, $10,100,991, was for the ultra-deepwater Mississippi Canyon block 684.
• Kosmos Energy Gulf of Mexico Operations submitted nine high bids totaling $11,201,811.
• Chevron U.S.A. Inc. submitted eight high bids totaling $12,415,760. Its highest bid, $4,311,212, was for the deepwater Green Canyon block 822.
• Beacon Offshore Energy Exploration LLC submitted seven high bids totaling $5,411,709.
• LLOG Exploration Offshore L.L.C. submitted seven high bids totaling $4,273,661.
• Fieldwood Energy LLC submitted seven high bids totaling $3,372,000.
• Murphy Exploration & Production Co. submitted five high bids totaling $4,743,935.
• Equinor Gulf of Mexico LLC submitted three high bids totaling $29,205,659. Its and the sale's highest bid, $24,495,776, was for the deepwater Mississippi Canyon block 801.
• Total E&P USA INC. submitted two high bids totaling $15,006,020. Its highest bid, $9,003,010, was for the ultra-deepwater Mississippi Canyon block 693.
Commenting on the results, William Turner, senior research analyst at Wood Mackenzie, said: "We saw a modest increase in overall spend, but it was outpaced by the increase in acreage leading to lower amount per acre, furthering our hypothesis that it is a buyer's market in the Gulf of Mexico. The number of companies participating has thinned out. It seems those left in the Gulf of Mexico are committed to the region and taking this opportunity to quietly strengthen their prospect inventory."
One of the most interesting details of the sale, Turner commented, were the "unique partnerships" between majors and smaller players like Kosmos with Equinor, Fieldwood with Chevron, LLOG with BP, and Talos with EcoPetrol. "This demonstrates a shrinking pool of partners, but also an increased willingness of the majors to partner with these more nimble players," Turner said.
National Ocean Industries Association President Randall Luthi said: "Gulf of Mexico Lease Sale 252 allowed the federal government to check the temperature of the offshore industry in the US Gulf of Mexico in the face of the slow pace of recovering commodity prices. Lease Sale 252 not only reflects the relatively stable oil prices, but also the efforts by the overall industry to cut costs. Much of the cost cutting has drastically affected service companies, as their profit margin remains thin or non-existent. However, the trajectory of this and the past few sales shows stability and helps establish a new normal for the US offshore industry. Companies continue to shore up existing development operations (in both shallow and deepwater) in known geologic areas, but are not yet ready for heavy investment in truly new deepwater projects."
He continued: "As the global offshore energy recovery heats up, the US must recognize that we are not the only player at the offshore table. Other basins in the Western Hemisphere, including Guyana, Brazil, and Mexico (not to mention onshore US production) have become magnets for investment dollars... Policymakers should take note and find new ways to attract and retain global investment dollars in the US Gulf of Mexico, an area that has a long history as the gold standard of offshore energy production."
The Tau prospect well has drilled through about 7,000 ft (2,134 m) of salt where high pressures and hydrocarbons near the base of salt were encountered and significant mud losses occurred, according to operator GulfSlope Energy Inc.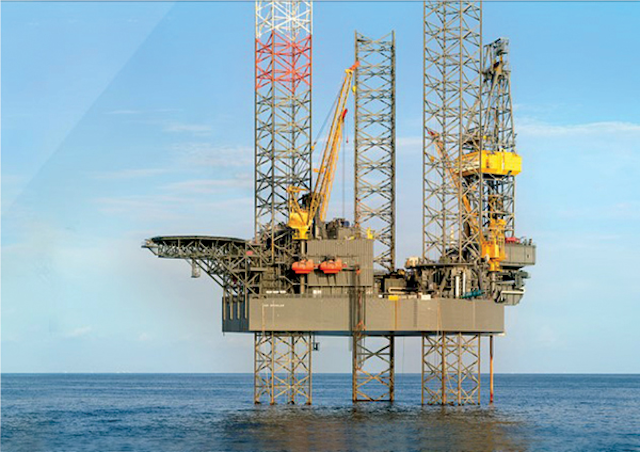 The company is currently tripping for a different drilling assembly to clean out the existing wellbore and possibly run casing prior to drilling below salt. The Tau prospect targets multiple Miocene sand levels trapped against a well-defined, angled flank of the large salt structure. The correlative target subsalt Miocene sand levels are oil productive at the nearby subsalt Mahogany field, located about 5 mi (8 km) to the southwest. (Photo courtesy GulfSlope Energy Inc./Rowan Companies)