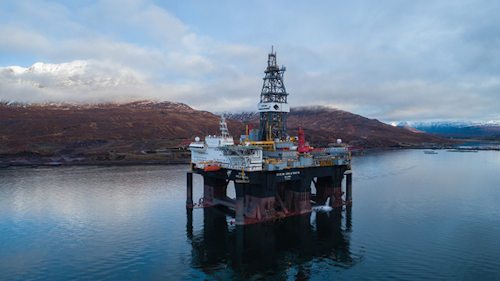 Drilling starts on Blackrock west of Shetland
Diamond Offshore's semisubmersible Ocean GreatWhite has spudded the Blackrock prospect west of Shetland for operator Siccar Point Energy E&P.
The rig is also contracted to drill the first well on the Lyon prospect north of Shetland for Siccar Point and INEOS, with the campaign expected take around five months to complete.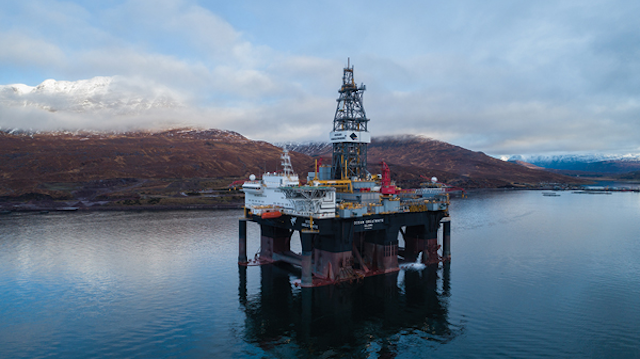 Diamond Offshore's semisubmersible Ocean GreatWhite has spudded the Blackrock prospect west of Shetland.
(Courtesy Siccar Point Energy E&P)
Blackrock is in license P.1830, between the Rosebank and Cambo oil fields. Siccar Point became operator in 2017 through its acquisition of OMV UK.
Shell UK joined as a partner last year under a deal that also gave the company a 30% interest in the Siccar Point-operated Cambo license.
The current well will target multiple reservoirs similar to those beneath the nearby Rosebank field. If successful, it could de-risk other exploration prospects in the region.
Malaysian explorers targeting
new deepwater plays
Deepwater frontier successes are needed to sustain future exploration offshore northwest Borneo, according to a new report by Westwood.
The report, entitled, "Sabah & Sarawak Basins: Looking deep into NW Borneo," reveals that 153 exploration wells have been drilled in the region since 2008, resulting in 37 commercial discoveries that have delivered a cumulative 3.5 Bboe, 94% of which is gas.
Since 1962, 12.6 Bboe has been discovered in the offshore Sarawak basin of which 2.8 Bboe has been proven from 2008 onwards.
The main play has been Miocene carbonate build-ups in the Central Luconia province. Although at the maturing stage in shallow water, there is potential for larger discoveries in deeper water, according to Ili Afifuddin, E&P Analyst, Global Exploration & Appraisal at Westwood, as evidenced by the 200 MMboe discovered in the Marjoram and Rosmari structures in 2014.
Marjoram, in 800 m (2,624 ft) water depth, remains the sole commercial find in deepwater in the basin to date. Other deepwater wells have tested an Oligo-Miocene clastic play but have generated only one non-commercial gas discovery, with charge and reservoir quality proving to be the main risks.
Explorers in the region therefore need new play models to test, Afifuddin suggested.
In the offshore Sabah basin just over 7 Bboe has been discovered since 1970 but only 700 MMboe has been proven since 2008.
The main play by volume in the Sabah basin is gas in Miocene deepwater turbidites in structural traps. In shallow waters, the plays are mature, and exploration, with no new finds since Salman-1 in 2015.
Last year Total's Tepat-1 well tested a frontier Miocene carbonate build-up play in deepwater Sabah, and is understood to have encountered oil and gas, although results are being kept tight.
Lamprell wins LOI for two newbuild jackups
Lamprell says its joint venture in Saudi Arabia, International Maritime Industries (IMI), has a letter of intent to construct two jackup rigs at Lamprell's UAE facilities.
Around 15% of the work will be completed in Saudi Arabia. The contractor points out that these are the first newbuild jackups awarded anywhere since 2015.
Although Lamprell's UAE yard activity levels have been at a historical low of late, the company has seen an increase in rig refurbishment work with a record 23 rigs passing through its yards in 2018, and many more said to be in various stages of warm or cold stacking throughout the year.
Borr to drill nine wells for Pemex
Pemex has contracted Borr Drilling, in partnership with OPEX Perforadora, to deliver nine development wells offshore Mexico under an integrated services model.
Borr will allocate two of its premium newbuild jackups for the campaign, the Grid and Gersemi, both of a PPL 400 design that complies with Pemex's requirements. The program should start in mid-year and continue for 18 months.
Borr plans to draw on its strategic collaboration with its partner and main shareholder, Schlumberger, to provide oilfield services and what Borr describes as an 'end-to-end well solution.'
Neptune signs Beacon Atlantic
for North Sea Gjøa satellite wells
Neptune Energy Norge has contracted CIMC Offshore's newbuild harsh-environment semisubmersibleBeacon Atlantic to drill six development wells in the Norwegian North Sea. Odfjell Drilling will operate and manage the rig for the campaign.
Starting at the end of this year, the rig will drill three wells on the Duva field followed potentially by another three development wells in the northernmost part of the Gjøa field, the P1 segment. In both cases, production will head to the Gjøa semisubmersible platform.
The Beacon Atlantic is at CIMC Raffles yard in Yantai, China undergoing final commissioning and sea trials.