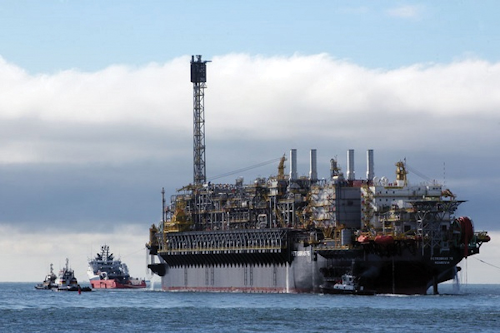 North America
Murphy Oil has found hydrocarbons with its first operated well offshore Mexico in the Cholula prospect in block 5. More international companies are preparing to spud their first wells in the sector later this year. They include Cairn Energy, which plans to drill the shallow-water Alom prospect this summer in the Sureste basin followed by a well on the Bitol structure.
Among the established players, Eni should initiate drilling on offshore block 7 during 3Q, while Talos Energy, which is currently appraising the giant Zama oil discovery, has added wells on Acan in block 2 and Olmeca in block 31 to its line-up for 2019.
◆ ◆ ◆
Bahamas Petroleum Co. (BPC) is confident of securing an extension to its four exploration licenses south of the Bahamas until end-2020. The company has committed to drill an environmentally responsible exploratory well, but says that preparations have been disrupted over the past four years by events outside its control. BPC hopes to bring in a farm-in partner for the campaign.
Caribbean Sea/South America
First gas has flowed from BP's Angelin development, 60 km (37 mi) offshore southeast Trinidad in the Columbus basin in a water depth of 65 m (213 ft). The newly installed platform, connected to four wells, has a production capacity of 600 MMcf/d. The gas is exported through a new 21-km (13-mi) subsea pipeline to the Serette hub. BP combined ocean bottom seismic with advanced processing techniques to enhance imaging of the reservoirs for the development.
◆ ◆ ◆
More companies are hoping to capitalize on ExxonMobil's successes off Guyana by drilling their own wells in the region. Apache will use a drillship for its first well on block 58 offshore Suriname, due to spud in mid-year. Around the same time, the drillship Stena Forth should start drilling the 250-MMbbl Jethro-Lobe prospect in the Orinduik block off Guyana for the Tullow-led partnership, targeting hydrocarbons at Tertiary and Cretaceous levels. Repsol has booked the Rowan jackup EXL II for a well in shallow water offshore Guyana.
◆ ◆ ◆
Petrobras has started production through its third FPSO on the Búzios field in the presalt Santos basin off Brazil. The P-76 is stationed 180 km (112 mi) from the coast of Rio de Janeiro state in 2,030 m (6,660 ft) of water. It will eventually be connected to 10 producer and seven injector wells, with capacity onboard to process up to 150,000 b/d of oil and to compress up to 6 MMcm/d of gas.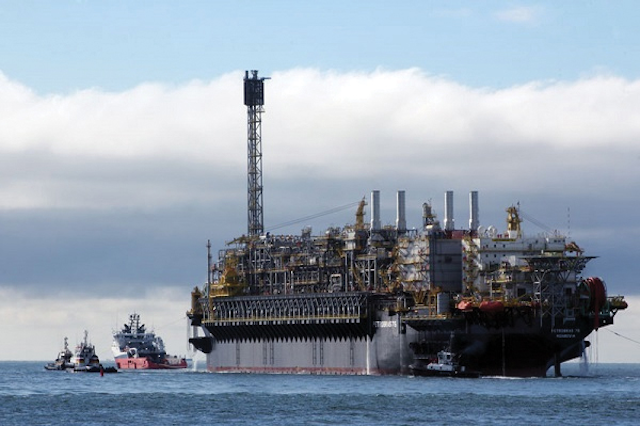 The FPSO P-76 on the Búzios field. (Courtesy Petrobras)
BW Offshore is closer to making its debut as an operator offshore Brazil after agreeing to acquire 70% of the Maromba field in the Campos basin from Petrobras – Chevron is the other partner. Maromba, in 160 m (525 ft) water depth, is thought to contain 100-150 MMbbl of low-sulfur 16°API oil in Maastrichtian sandstone reservoirs, with upside to discover a further 1 Bbbl-plus. BW intends to deploy one of its existing FPSOs for the development, along the lines of its work on the Dussafu license offshore Gabon.
◆ ◆ ◆
BGP, under a cooperation with Spectrum, is acquiring a new 20,000-km (12,427-mi) 2D survey over the Colorado and Salado basin offshore Argentina. The results will be tied to a larger survey acquired in 2017 for the country's ongoing first offshore licensing round. First data should be available by mid-year.
West Africa
Qatar Petroleum has negotiated a farm-in to 30% of the Tarfaya Offshore Shallow petroleum agreement off Morocco. Assuming approval from the authorities, Eni would retain a 45% controlling interest. The permit covers 12 exploration blocks in waters up to 1,000 m (3,281 ft) deep off the country's southern coast.
◆ ◆ ◆
Aker Energy has proven oil with the Pecan South-1A appraisal well on the Deepwater Tano Cape Three Points block offshore Ghana. After completing a side track, the drillship Maersk Viking was due to relocate for a third well, Pecan South East. If results meet pre-drill expectations, Aker Energy hopes to increase the resource range to 600-1,000 MMboe. The company was aiming to submit a development plan for the Pecan field by the end of March.
◆ ◆ ◆
Yinson Holdings will supply and operate the FPSO Abigail for FIRST Exploration & Petroleum Development Co. to produce the Anayala and Madu oil fields offshore Nigeria. Both are in the shallow-water Niger Delta in oil mining leases 83 and 85, 40 km (25 mi) from the coast of Bayelsa state. Total value of the contract is said to be more than $900 million.
◆ ◆ ◆
Eni has notched another major oil discovery in its golden block 15/06 offshore Angola, following last year's successes with the Kalimba and Afoxé prospects. The drillship Poseidon drilled the latest well, Agogo-1 NFW in 1,636 m (5,367 ft) of water, 20 km (12.4 mi) west of the FPSO N'Goma that serves the block's West Hub. The well encountered light oil in subsalt diapirs in Lower Miocene sandstones: Eni estimates in-place reserves at 450-660 MMbbl, with upside potential. The company and its partners will look to fasttrack development.
Mediterranean Sea
ExxonMobil assesses resources from its recent deepwater Glaucus discovery in block 10 offshore southwest Cyprus in the range of 5-8 tcf. Although the company said results were encouraging, Wood Mackenzie claimed the partners had been hoping for more to feed a potential two-train LNG plant. However, there may be scope for synergies with gas from another find in a nearby block made by Total/Eni last year. The drillship Stena IceMAX drilled the Glaucus-1 well in 2,063 m (6,769 ft) of water.
◆ ◆ ◆
The jacket has been installed for the Leviathan gas field platform offshore Israel. According to operator Noble Energy, all the infield gathering lines and subsea trees are also in place and all four Phase 1 production wells have been completed, with tests confirming deliverability of more than 300 MMcf/d per well. Noble is confident of achieving start-up by year-end.
◆ ◆ ◆
Eni has proven gas with its first well on the Nour prospect in Egypt's North Sinai concession, 50 km (31 mi) north of the Sinai Peninsula. The semisub Scarabeo 9 drilled Nour-1 in 295 m (968 ft) water depth, penetrating a 90-m (295-ft) gas column in the Oligocene Tineh formation. The partners aim to fasttrack production through existing infrastructure.
Dana Gas has contracted ADES International to drill its first deepwater exploratory well in Egyptian waters on another gas prospect. Vantage Drilling will supply its drillship Tungsten Explorer for the 77-day program, under a joint venture with ADES.
Middle East
Egypt's Minister of Petroleum and Mineral Resources has agreed to extend DEA's concessions for the offshore Ras Budran and Zeit Bay oil fields in the Gulf of Suez until mid-2022, and potentially until 2027. Although the fields are among the country's oldest producers, DEA sees potential to increase production via a program of workovers, side track drilling, and replacement of existing pipelines with larger-capacity lines. The Suez Oil Company joint venture operates, in partnership with EGPC.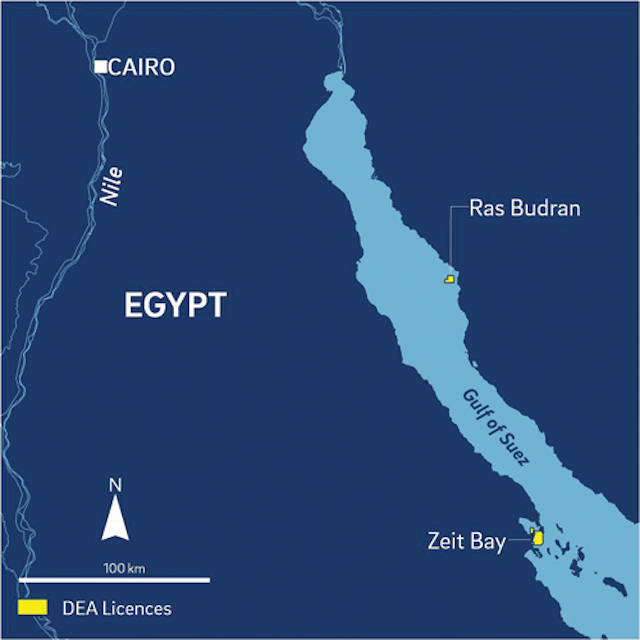 Ras Budran, Zeit Bay fields in the Gulf of Suez. (Courtesy DEA)
◆ ◆ ◆
Saudi Aramco has awarded McDermott International an EPCI contract to upgrade two platforms at the Marjan field offshore Saudi Arabia. The program includes installing equipment associated with two electric submersible pumps and accommodating a future high integrity pressure protection system.
◆ ◆ ◆
ADNOC and investors BlackRock and KKR have agreed to form a new entity that will lease the state oil company's interest over a 23-year period in 18 offshore and onshore pipelines in Abu Dhabi transporting stabilized crude and condensate. ADNOC will pay the entity a tariff for its share of the volumes flowing through the pipelines. Production comes from various fields developed by ADNOC Offshore and ADNOC Onshore, in partnership with IOCs.
East Africa
Eni has agreed to farm out a 25.5% stake to Qatar Petroleum in block A5A offshore Mozambique, which was awarded under the country's recent 5th licensing round. The concession is in water depths of 300-1,800 m (984-5,905 ft) in the Northern Zambezi basin, 1,500 km (932 mi) northeast of Maputo.
Asia/Pacific
ONGC has increased its pool of discoveries off India's western coast. A recent well drilled in Block GK-OSN-2009/1 Kutch Offshore in Gujarat State flowed gas, and results suggest the play could extend across a large area. The other find was in the Western Offshore basin in the NWMH Extn. Lease, where a well flowed oil and gas from an early Oligocene Mukta sandstone interval and from the Heera formation.
◆ ◆ ◆
PTTEP has signed new long-term production-sharing contracts for two offshore concessions containing Bongkot and Erawan, Thailand's two largest producing gas fields. The company already operates Bongkot and will succeed Chevron as operator of Erawan in 2022. It plans a series of investments to sustain output (currently 1.5 bcf/d combined) that include drilling of new exploration and production wells and the addition of new wellhead platforms, alongside measures to lower operating costs.
Singapore-based KrisEnergy has moved closer to launching the Rossukon oilfield development in the Gulf of Thailand after contracting TechnipFMC to perform front-end engineering design.
◆ ◆ ◆
2H Offshore has used a jackup rig to install a lightweight conductor-supported wellhead platform for Petronas' D28 oilfield Phase 1 project offshore Sarawak. The substructure is supported by the conductors in a water depth of 35 m (115 ft).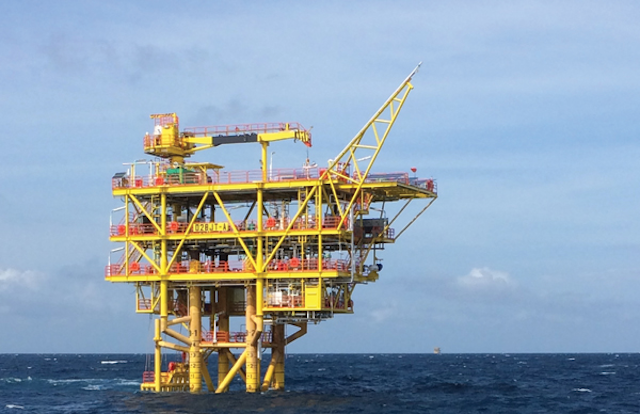 The D28 platform offshore Sarawak. (Courtesy 2H Offshore)
Elsewhere off Sarawak, McDermott International should soon start installation activity for the Pan Malaysia field development for Shell and Sapura Exploration and Production. The contractor is responsible for transporting and installing jackets, topsides and pipelines for the Bakong, Gorek and Larak gas fields and plans to use the Derrick Barge 30. •