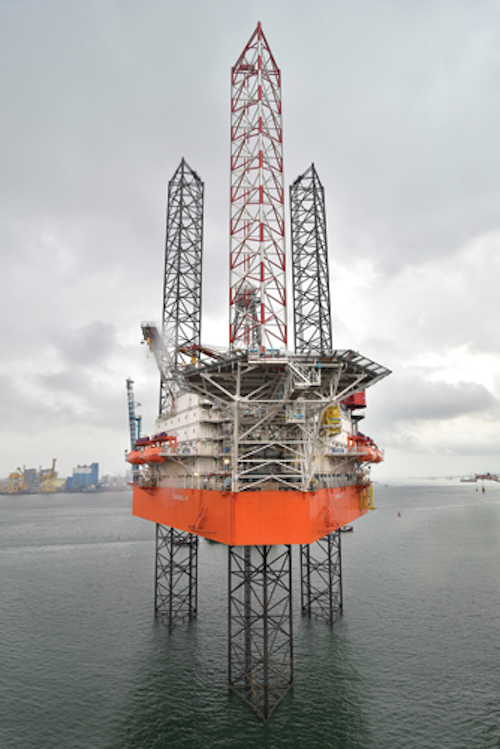 Keppel delivers jackup, secures repeat harsh environment semisub order
Keppel FELS Ltd., a wholly-owned subsidiary of Keppel Offshore & Marine Ltd., has delivered the jackup Cantarell IV to Grupo R. As part of the deal, Grupo R has entered into a sale and leaseback agreement with FELS Asset Co Pte. Ltd., a wholly-owned subsidiary of Keppel O&M.
FELS Asset will purchase the rig from Grupo R for $179 million, which is equivalent to the balance contract value of the rig. The Cantarell IV will be leased back to Grupo R on a bareboat charter at competitive day rates over five years. IPC, the parent company of Grupo R, will provide a parent company guarantee on Grupo R's charter payment obligations. Under the bareboat charter, Grupo R has the right to purchase the rig at pre-agreed prices during the term of the bareboat charter. After the fifth year, FELS Asset may, at its discretion, put the rig to Grupo R at a pre-agreed price.
The jackup will be deployed offshore Mexico under an integrated drilling contract secured by IPC with Pemex. This contract will start next month.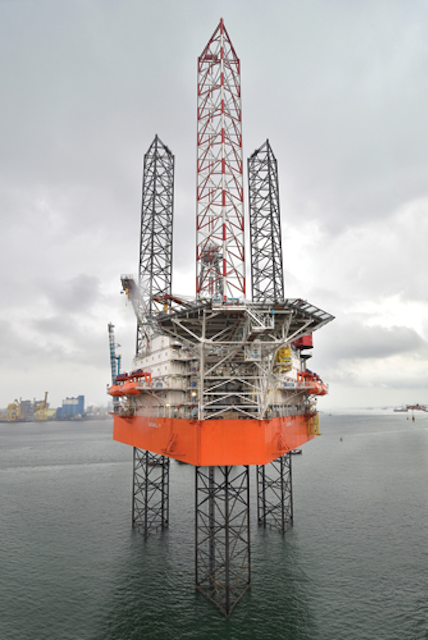 The Cantarell IV is the first rig equipped with Keppel's proprietary RigCare digital solutions. (Courtesy Keppel Corp. Ltd.)
The Cantarell IV is a KFELS B Class jackup designed to operate in water depths of up to 400 ft (122 m) and drill to depths of 30,000 ft (9,144 m). It is equipped with a fully-automated high capacity rack, pinion jacking system, self-positioning fixation system, and has accommodation for 150 persons.
Also, it is the first rig equipped with Keppel's proprietary RigCare Solution – a suite of digital services to support the rig's lifecycle needs, which is said to increase uptime and safety while reducing maintenance costs.
RigCare features include the use of:
• Industrial Internet of Things to enhance automation and mobile operations
• Smart sensors to drive toward condition-based class surveys in a joint development project with classification society ABS to lower down time and reduce maintenance costs
• Digital Twin-based analytics to predict machine failure and enhance overall efficiency and robustness with real-time data
• Real-time optimization of the rig's operations.
In 2016, Keppel FELS delivered two jackups, the Cantarell I and Cantarell II, to Grupo R. They have been drilling for Pemex in Mexico since August 2016 under a seven-year charter.
In addition, Awilco Drilling PLC has exercised an option for a second mid-water harsh environment semisubmersible from Keppel FELS. As with the first $425-million order, signed in March 2018, the rig will be built to Moss Maritime's CS60 ECO MW design. Delivery is scheduled for 1Q 2022.
Like the first rig, it is specially designed, configured, and outfitted for mid-water operations in water depths up to 4,921 ft (1,500 m). The drilling rig will be able to operate in harsh environments, including the Norwegian continental shelf, the UK continental shelf, and the Barents Sea.
Equipped with a hydraulic hoisting system capable of two million pounds of lifting capacity, it also features an optimized 12-point thruster assisted mooring system for vessel station keeping, complete with hybrid power supply and energy saving features.
Tan Leong Peng, Executive Director (Offshore) of Keppel O&M, said: "Work on the first rig is progressing well and we will be able to benefit from economies of scale and cost efficiencies from undertaking a repeat project. For this second rig, we will be able to leverage the engineering and construction process of the first rig to further improve productivity."
Awilco has options to order up to two more similar rigs in 2020 and 2021, respectively.
TechnipFMC acquires diving support vessel
TechnipFMC has purchased the Deep Discoverer, a newbuild diving support vessel. The company signed a deal with VARD shipyard in Norway to purchase the vessel in late 2018. The vessel is currently undergoing an operational readiness program and will begin work in the first half of 2019.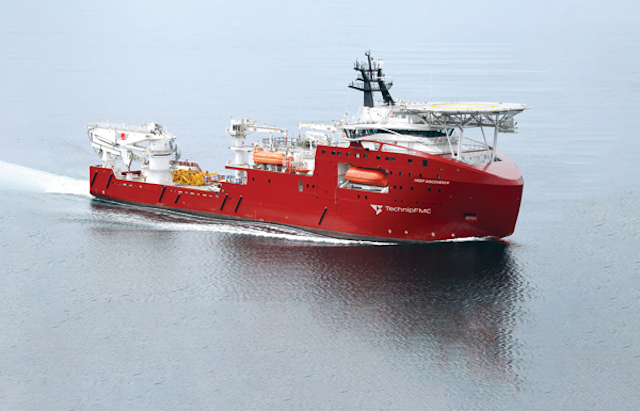 The Deep Discoverer will primarily operate in the North Sea. (Courtesy TechnipFMC)
The Deep Discoverer has DP-3 capabilities, as well as an 18-person twin bell saturation diving system, in-built air diving spread and a 250 Te NOV Hydralift subsea crane. It will primarily service the North Sea diving construction and inspection, repair and maintenance markets.