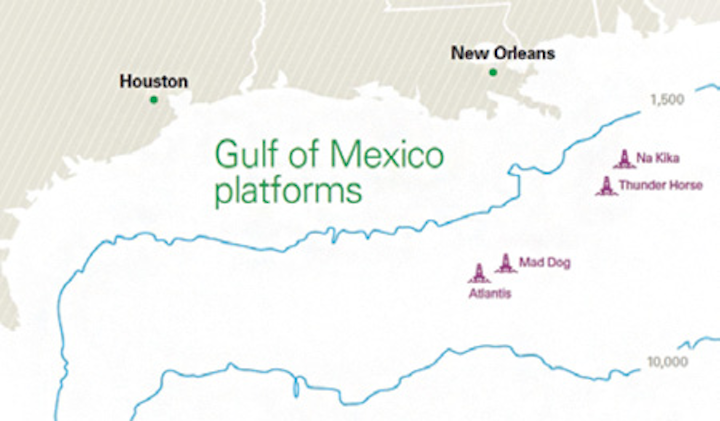 | | | |
| --- | --- | --- |
| | | Bruce BeaubouefHouston |
BP is shifting from crude oil production toward cleaner-burning natural gas projects as it seeks to adapt to the low oil price environment and the world's growing focus on climate change. BP historically held a portfolio that was 60% oil, but that is expected to shift to 60% natural gas by 2020, company officials said.
BP completed seven major projects this year, according to a report in the Houston Chronicle. These included projects in Egypt, Trinidad & Tobago, Oman, Australia, and in the North Sea. Out of those seven, only the North Sea expansion was focused on crude oil production. The rest primarily aim to deliver natural gas, a cleaner-burning fuel that is expected to fit better into a lower-carbon environment.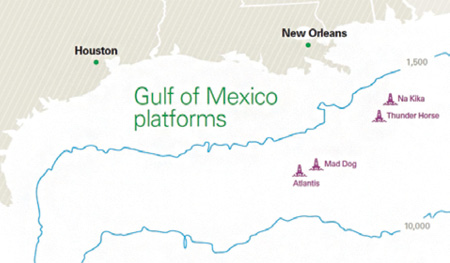 BP says its near-term offshore strategy in the Gulf of Mexico will be to expand developments near its four existing platforms: Atlantis, Na Kika, Thunder Horse, and Mad Dog. (Courtesy BP)
The last to be completed is the Zohr field offshore Egypt, which is said to be the largest gas discovery ever in the Mediterranean. BP bought a 10% stake in Zohr early last year from Eni for $375 million. The Zohr field came online in December, marking the completion of what BP says is one of its biggest years ever.
In the past, and through 2010, BP routinely ran over budget and behind schedule on projects, said Dave O'Connor, head of BP's Global Projects Organization, during an end-of-year briefing with media at BP's Energy Corridor campus in Houston.
Since then, BP has become a leader in keeping project costs below budget and finishing on time, he noted. "We've come a long way," O'Connor was quoted as saying in the Chronicle report. "This is the biggest year in our history in respect to completing, commissioning, and starting up projects."
O'Connor highlighted the second phase of BP's Mad Dog development in the US Gulf of Mexico as an example of the company's renewed focus on efficiency and cost savings. The project was originally estimated at $20 billion in 2012 and was considered too costly.
After going back to the drawing board, and modeling Mad Dog after a previous Gulf project, the cost came in at $9 billion. BP was also able to work with its contractors, vendors and suppliers to trim costs and make operations run more smoothly.
In 2018, BP will complete a Gulf of Mexico expansion project at the Constellation discovery working with partner Anadarko Petroleum Corp.
Aside from that, BP will work to develop offshore resources in areas that can take advantage of existing infrastructure. Company officials said that BP may consider other big US projects in the future, but for now any additional US growth will come from expansions of its four existing Gulf of Mexico platforms: Atlantis, Na Kika, Thunder Horse and Mad Dog. In order to justify new projects, company officials said that BP needs to show that it can make 15% returns with the global benchmark for oil from the North Sea priced at $50/bbl.
Mexico cancels Maximino-Nobilis deepwater auction
Mexico's oil regulator has canceled a tender for a joint venture with state oil firm PEMEX in the deepwater Maximino-Nobilis area, according to a Reuters report.
The National Hydrocarbons Commision (CNH) said the auction to find a partner for PEMEX to develop the Maximino-Nobilis area, which lies in the Gulf of Mexico near the US border, had been canceled as there had been no interest.
PEMEX officials blamed the cancellation of the auction on weak investor appetite due to competition from recent auctions in Brazil and low oil prices. The auction had been scheduled to take place on Jan. 31.
The joint ventures, also known as "farm outs," are a central pillar of the government's efforts to attract investment to Mexico since Congress opened up the country's long-closed oil and gas industry to private investment in 2014.
CNH had previously said that it expected the first commercial barrels from Nobilis-Maximino to come by 2024, with peak output of 174,000 boe/d and 265 MMcf/d of natural gas coming online in 2026.
PEMEX has drilled two wells in Maximino at a depth of 3,000 m (9,840 ft), discovering super light crude. In September 2016, PEMEX said it had found super light crude in its Nobilis-1 well, also at some 3,000 m.
Port of New Orleans exports platform components to Trinidad
The Port of New Orleans has partnered with New Orleans-based shipping company Intermarine and Harvey-based land and marine construction company Chet Morrison Contractors to export five shipments of Louisiana manufactured oil platform components to Trinidad through 2019.
According to a report in New Orleans City Business, the second of five heavy-lift project cargo pieces was recently exported through the port, joining three New Orleans-based entities on an international supply chain solution.
Chet Morrison Contractors provides construction, maintenance and abandonment services for the oil and gas industry for land, inshore and offshore settings. Chet Morrison has been shipping cargo exclusively with Intermarine through the Gulf of Mexico for more than 15 years.
"Working hand-in-hand with our local resources, we were able to identify cost savings for the transport of pre-fabricated modules from our Harvey facility to the project location in the Caribbean," said Brent Desselle, Chet Morrison Contractors project manager, in a news release.
The two oil platform components arrived in Trinidad and experienced a successful discharge. The next project will start loading with the same two components in March 2018.
Cobalt files for bankruptcy
Cobalt International Energy has filed Chapter 11 bankruptcy petitions on Dec. 14, according to a press release on the company's website. Cobalt's assets primarily reside in the Gulf of Mexico and offshore West Africa through a stake in Gabon acreage.
The petition for Cobalt International Energy Inc. lists assets between $1 billion and $10 billion and liabilities between $1 billion and $10 billion, according to court documents.
Cobalt expects to conduct business as usual and have enough cash on hand to fund its operations during the Chapter 11 process, according to a Dec. 14 press release. The company has filed various first-day motions seeking authorization to use its cash collateral, maintain its existing cash management system and other things.
The Chapter 11 process is intended to help facilitate Cobalt's restructuring process and the proposed sale of assets, per the release.
The bankruptcy filing comes after several months of efforts to reduce debt and avoid delisting from the New York Stock Exchange.