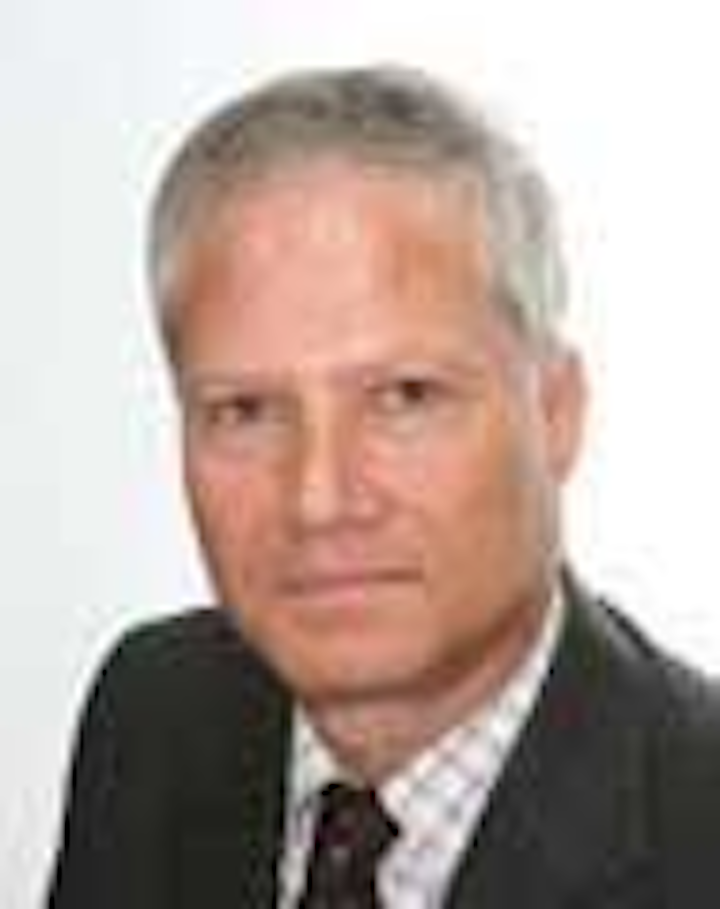 | | | |
| --- | --- | --- |
| | | Jeremy BeckmanLondon |
Eni may have started exploration drilling from a man-made island in the Beaufort Sea offshore Alaska. The US Bureau of Safety and Environmental Enforcement has approved a program of two extended-reach mainbores and two side tracks, using a modified rig, in Harrison Bay block 6423. The location is 3 km (1.8 mi) offshore from Eni's Nikaitchuq field which began producing in 2011.
•••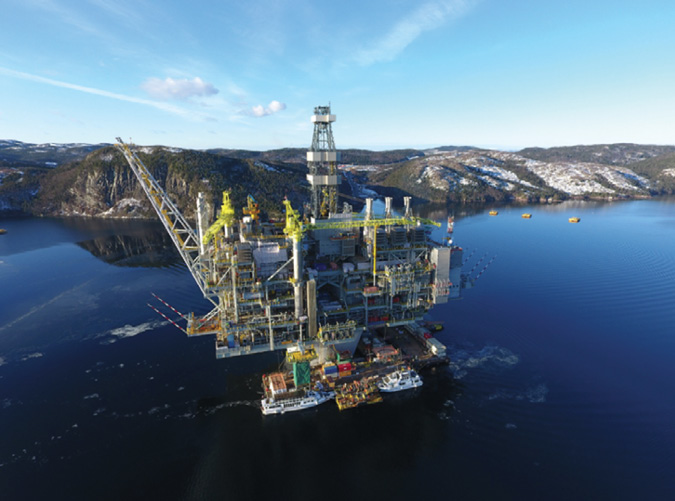 Mated Hebron platform prior to tow-out to the field location. (Photo courtesy ExxonMobil Canada)
ExxonMobil has brought onstream the Hebron oilfield, 350 km (200 mi) offshore eastern Newfoundland. Engineering, construction and commissioning lasted eight years, the company added. The field's platform, installed in 92 m (300 ft) water depth, comprises a gravity base structure supporting an integrated topsides deck, designed to produce up to 150,000 b/d and to store 1.2 MMbbl of oil. Estimated recoverable reserves are over 700 MMbbl.
South America
Keppel Shipyard has started converting the VLCCTina into the FPSO for Guyana's first offshore field development, ExxonMobil's Liza Phase 1 in the Stabroek block. The program at the yard, according to main contractor SBM Offshore, includes upgrades to the hull and integration of the topsides, which are designed to produce up to 120,000 b/d of oil and to treat around 170,000 MMcf/d of associated gas.
•••
The 50,000 b/d capacity FPSOPioneiro de Libra has started a one-year well test on the Libra block in the presalt Santos basin, 180 km (112 mi) offshore Rio de Janeiro. All associated gas will be reinjected, a first for a Petrobras-operated floater off Brazil. The test will provide data on the reservoir's dynamic behavior which should help optimize subsequent development phases. The first of these will call for a 150,000 b/d FPSO, Libra I, with potentially three more of a similar capacity to follow in subsequent phases. Petrobras has also applied to re-name the 3.3-Bbbl field in the northwest part of the block as Mero.
•••
Spectrum and BGP Marine have been acquiring 2D seismic over the Austral and Malvinas basins offshore southern Argentina, under a multi-client program. The data, which will undergo PSTM, PSDM and Broadband processing, will assist the Ministry of Energy and Minerals evaluate areas for a licensing round, likely to be staged during the second half of this year. ION Geophysical is offering a separate multi-client package comprising around 30,000 km (18,641 mi) of 2D data over the same basins.
Mediterranean Sea
Eni and Total were aiming to start exploration drilling last month on block 6 offshore southern Cyprus. On completion, Eni and Kogas expect to spud their first wildcat in offshore block 3.
•••
If commercial gas discoveries follow, these could be developed eventually through the proposed new EastMed gas pipeline in the Eastern Mediterranean. The project, which could be ratified this year by the governments of Cyprus, Greece, Israel and Italy, would entail construction of a 1,900-km (1,180-mi) pipeline network, including 1,300 km (808 mi) of offshore sections, taking gas from fields in the offshore Levantine basin to countries in southeast Europe. It would have a connection point to the Poseidon pipeline planned for the same region.
•••
Israel plans to stage a second licensing round this year, which will incorporate lessons learned from the first round which closed in late 2017. This drew bids for offshore blocks from Greek independent Energean and from an Indian consortium of ONGC Videsh, Bharat PetroResources, Indian Oil Corp., and Oil India.
•••
Dubai-based ADES International Holding and Vantage Drilling International have agreed to jointly provide deepwater drilling services in the Egyptian sector of the Mediterranean. The joint venture will operate Vantage's deepwater drilling rigs on a bareboat charter arrangement.
Caspian Sea
Total and SOCAR have contracted the SOCAR-KBR Limited Liability Company to perform front-end engineering design (FEED) for the topsides for the Absheron early production project platform in the Azeri offshore sector. The initial phase of the Absheron field gas-condensate development includes drilling of one well at a depth of 450 m (1,476 ft), with first gas possible in 2019.
West Africa
Mauritania's government has awarded ExxonMobil 90% operated interests in production-sharing contracts over three deepwater blocks. Collectively, C14, C17 and C22 span 8.4 million acres (13,125 sq mi), 200 km (124 mi) offshore, across water depths of 1,000-3,500 m (3,300-11,500 ft). The initial program includes seismic acquisition.
•••
African Petroleum has secured second extension periods to April and September 2019 for two ultra-deepwater exploration licenses offshore Sierra Leone.
The extensions depend on the company making a commitment, prior to November 1, to drill a well on each of licenses SL-03 and SL-4A-10 following an assessment of existing well and seismic data.
•••
Equatorial Guinea's government has extended the license for offshore Block R by 12 months until end-2018. This gives operator Ophir Energy extra time to confirm funding options for the Fortuna floating LNG (FLNG) project. The company aims to take a final investment decision during the current quarter.
•••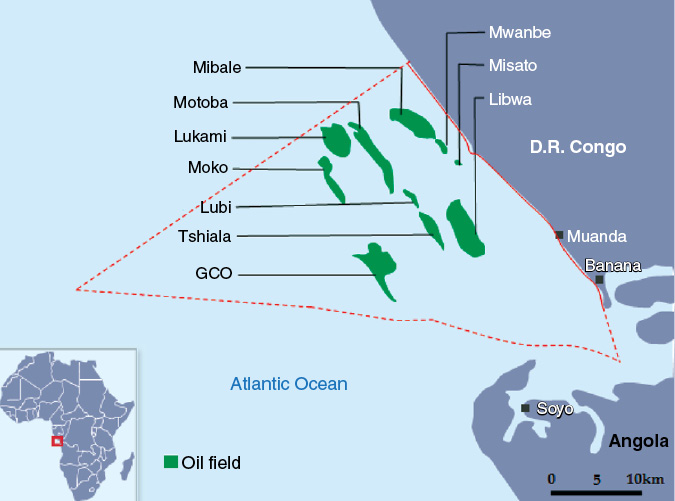 Offshore D.R. Congo block. (Map courtesy INPEX)
Chevron, INPEX subsidiary Teikoku Oil and Muanda International Oil Co. have secured a 20-year extension to November 2043 of their Offshore D.R. Congo block concession. Production started in 1975, and recently averaged 11,000 b/d of oil from 10 fields, in water depths of 4-20 m (13-65 ft).
•••
Total and Sonangol have agreed to terms for the Zinia Phase 2 development in deepwater block 17 offshore Angola, through subsea facilities connected to thePazflor FPSO. They are targeting production of 40,000 b/d. In addition, the two companies will jointly explore deep offshore block 48, and they are set to drill at least one well during the initial two-year phase.
•••
Pancontinental Oil & Gas, Custos Investments, and NAMCOR have jointly signed a petroleum agreement covering block 2173 in the Orange basin offshore Namibia. Potentially large turbidite oil prospects have been identified in the area around the acreage, where water depths range from 500-3,200 m (1,640-10,498 ft).
In Namibian petroleum exploration license 37 in the offshore Walvis basin, Tullow Oil and its partners aim to drill their first well this September on the Cormorant turbidite fan prospect in 550 m (1,804 ft) water depth.
Middle East
ADNOC and partners ExxonMobil and INPEX have committed to increase production capacity from the Upper Zakum oilfield offshore Abu Dhabi to 1 MMb/d by 2024. This follows the granting of a 10-year extension to the concession until end-2051.
Upper Zakum, discovered in 1963, is the world's second largest offshore oilfield, which in its early phases was developed via around 450 wells and more than 90 platforms. Subsequently the partners switched to drilling the reserves from artificial islands as a less costly way of expanding production.
Future phases will involve continued use of extended-reach drilling and completion technologies, and modular expansion of the existing infrastructure.
Wintershall has completed its offshore well on the sour gas/condensate Shuwaihat field in western Abu Dhabi. The SH-6 well was drilled 5 km (3.1 mi) offshore Shuwaihat Island.
•••
Saudi Aramco has awarded Saipem an engineering and construction contract under a long-term agreement that runs to 2021. The scope includes installation a new 42-in. offshore pipeline to replace an existing line, and upgraded to the offshore Manifa field water injection system.
•••
Eni has joined Qatar Petroleum and Oman Oil Company Exploration and Production in a new production-sharing agreement for block 52, offshore southern Oman. The little-explored, 90,000-sq km (34,749-sq mi) concession extends across water depths from 10 to over 3,000 m (33 ft to 9,842 ft). The partners will initially commission 3D seismic, to be followed by exploratory drilling.
Masirah Oil may drill an appraisal well later this year on the GA South#1 oil discovery in Oman's offshore block 50, pending the results of a current evaluation exercise. Masirah's majority parent company Rex International is looking to bring in a partner to the concession in order to lessen its financial exposure.
East Africa
Spectrum and WesternGeco started acquisition last month of a 19,000-km (11,806-mi) 2D seismic survey offshore Mozambique, on behalf of the country's Institute of National Petroleum. This is designed to improve understanding of prospectivity in the southern Rovuma basin and the western flanks of the Kerimbas Graben, west of the Davie Fracture Zone, and to image syn-rift structures and turbidite sequences in the northeast Zambezi Depression. The area is thought to be more oil-prone than Mozambique's previously drilled offshore tracts.
Asia/Pacific
Woodside Energy's 2017 exploration/appraisal drilling campaign offshore Myanmar led to one new potentially commercial gas discovery. The Pyi-Thit well in block A encountered a 65 m gross (213 ft) gas column and flowed 50 MMcf/d during a DST.
•••
The Sakhalin-1 consortium claims to have set a new distance record for their latest extended-reach well, drilled into the Chaivo field in the Sea of Okhotsk from the Orlan platform in 15 m (49 ft) water depth. The well, with a horizontal completion, measured 15,000 m (49,212 ft) in total, with a step-out of 14,129 m (46,355 ft). Partner Rosneft said the extended-reach drilling program employs 'Fast Drill' technology that combines modelling of physical parameters with a structured approach to well design, in order to speed up drilling.
•••
CNOOC has brought onstream the Weizhou 12-2 oilfield Phase II project in the Beibu Gulf in the South China Sea. This involved construction of a wellhead platform linked to existing infrastructure serving the Weizhou 12-2 field, in a water depth of 35.7 m (117 ft). Production should peak later this year at around 6,400 b/d.
Australia
Beach Energy has agreed to farm into two adjoining exploration permits in the Carnavon basin offshore Western Australia. The company would acquire 21% of WA-359-P and 7.5% of WA-409-P from Cue Energy Resources. The main prospect identified on the acreage is the potentially giant Ironbark in the Mungaroo formation, which Cue believes could hold 15 tcf recoverable. Beach's entry to WA-359-P is partly conditional on BP also taking up its option of 42.5% equity in this permit.