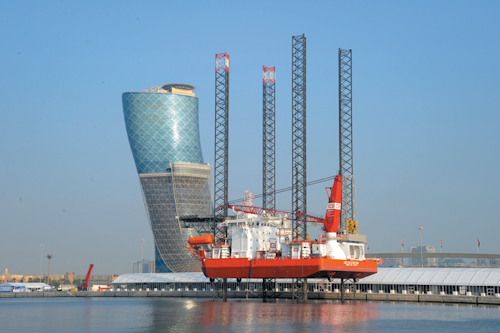 Retrofitted system performs full range of intervention tasks
Jeremy Beckman
Editor, Europe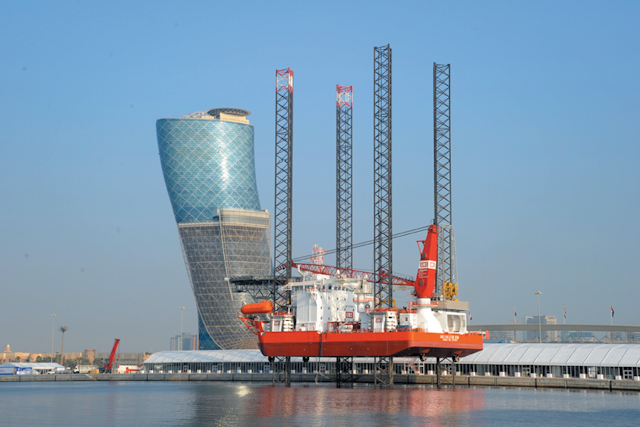 GMS Evolution showcased at ADIPEC in Abu Dhabi. (All photos courtesy Gulf Marine Services)
Offshore construction/brownfield maintenance specialist Gulf Marine Services (GMS) is expanding its intervention capability. The company, which operates a fleet of self-propelled, self-elevating support vessels (SESVs), has co-developed a novel well workover cantilever system, the first of which has been installed on the Large-Class SESVGMS Evolution.
GMS was formed in 1977 in Abu Dhabi and went on to become an established player in the SESV sector in the Middle East, operating mainly off the UAE. A transformative process started in 2007 when a group of investors, led by Gulf Capital, acquired the company and appointed a new management team, headed by the current Chief Executive Duncan Anderson. At the time, the company was operating four SESVs, with a fifth under construction. The new team decided to modernize the fleet and expand the geographical coverage via a rolling newbuild program of Small Class SESVs, and for the first time, Large Class SESVs designed to operate heavier-duty assignments and in harsher weather/deeper water environments.
The first of the new Large Class vessels,GMS Endurance, was completed in 2010 and made its debut offshore Saudi Arabia. The second, GMS Endeavour,was completed the following year, mobilizing for its first job to the North Sea. Both markets were new to the company: in 2011, GMS also undertook its first offshore wind power installation campaign off northwest Europe. Three years later, management sanctioned construction of a further six vessels, which included the introduction of the new Mid-Size Class SESVs, at the company's own yard in Abu Dhabi, all of which have since been delivered. Today the core SESV fleet comprises 13 vessels with an average age of seven years (their typical anticipated lifespan is 35-40 years) and this supports a wide range of platform and well maintenance, intervention and workover programs, and offshore wind turbine installations.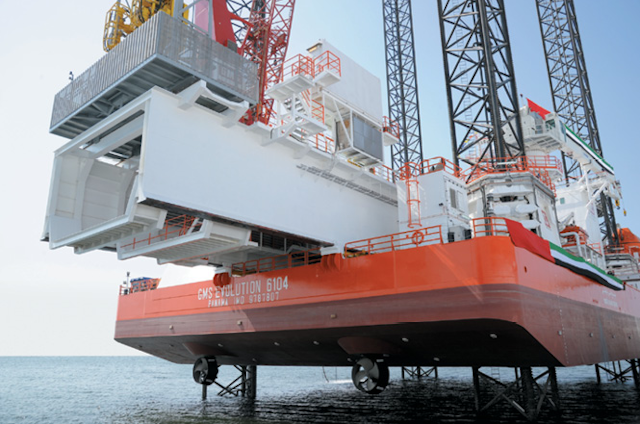 The cantilever system fitted toGMS Evolution.
Fleet development
The four-legged, self-propelled vessels, otherwise known as jackup barges, all provide a large deck space, crane capacity, and accommodation for up to 300 people. Large Class SESVs operate in water depths of up to 80 m (262 ft), with crane capacity of up to 400 metric tons (441 tons); Mid-Size Class vessels operate in up to 55 m (180 ft) water depth, with maximum craneage of 150 metric tons (165 tons); while for Small Class vessels, the water depth limit is 45 m (147 ft), with crane capacity of up to 45 metric tons (49.6 tons).
The company is not an intervention specialist, Anderson stressed, but provides the equipment and services needed for most intervention tasks in shallow water traditionally performed by jackup rigs.
"When we started our newbuild program 10 years ago, the smaller barges were designed to support light intervention, such as wireline and snubbing, to keep shallow-water wells flowing under brownfield maintenance programs," he explained. "Later we added coil tubing capability, and then with GustoMSC in the Netherlands, we designed and built the Mid-Size and Large Class barges to be more robust, in order to withstand harsh weather operations. These barges could take more weight, and this in turn allowed us to expand our intervention capability, the prime example beingGMSEvolution with the 250-metric ton [275-ton] cantilever system. The Mid-Size and Large Class barges can also perform tasks such as P&A, sidetracking and pulling out of electric submersible pumps [ESPs]."
The SESVs undertake intervention/workover assignments under dedicated charter contracts. For programs in the Middle East North Africa region, the equipment spread is installed at GMS' yard in Abu Dhabi: in the North Sea, refits can be performed at yards in the UK, Rotterdam or elsewhere in the region. In the Middle East, the company's main clients are the NOCs and larger IOCs, and requirements do vary – typically, there is greater demand for ESP change-outs off Saudi Arabia than in the UAE, Anderson said, due to the different reservoir pressures (GMS Evolution is designed to operate in either pressure regimes, he pointed out). "Also, the length of programs offshore the Arabian Peninsular tends to be larger because the fields are so massive – the UAE has the world's third largest offshore field - and our barges go around many of the wellheads."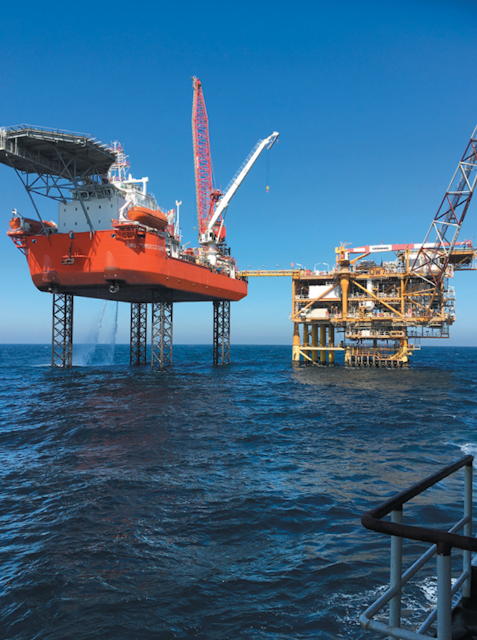 The Mid-Size ClassGMS Scirocco.
In the southern North Sea, the company works more for smaller independents that have acquired producing fields from larger companies, and are typically looking to sustain production from the older wells in order to defer decommissioning.
Despite the recent pickup in the oil price, cost containment remains a widespread priority, and SESVs score heavily in terms of mob/demobilization over conventional jackups, GMS claims. This is due to a combination of their travelling speed (up to 8 knots in the case of the Large Class vessels) that allows them to transit quicker between locations, and the fact that being self-propelled they do not require tug support. Once at the intervention site they can also jack down more quickly and in shorter weather windows.
"When you put a jackup on the seabed," Anderson explained, "the action of stabbing into the soil necessitates pre-loading of the seafloor area to ensure there is no risk of push-through, as there could be salt caverns or other anomalies underneath. Three-legged jackups can only jack down safely in calm weather – you can't risk jacking down on two legs, because the rig would fall over. A four-legged SESV in DP mode is designed to jack down securely in all types of weather, with the hull absorbing the loads during the jacking process. We typically pre-load in less than 12 hours, compared with three days for a three-legged jackup. The shorter duration makes our procedure much more efficient for the client."
Cantilever operations
GMS Evolution is the fourth of the company's Large Class, self-propelled DP-2 jackup barges. It has been designed for well servicing, construction and installation, and can perform heavy well intervention operations via its cantilever workover package. The ABS-certified vessel is 61 m (200 ft) long, with four 104-m (341-ft) lattice-type legs, and can operate in water depths of up to 80 m (262 ft).
The (removable) cantilever supports the well workover unit, co-designed with Norwegian intervention engineering specialist Dwellop, and hydraulically skids out over the wellbore. The system is said to provide a fast, accurate cantilever action up to 15 m (49 ft) longitudinally and up to 8 m (26 ft) in a transverse direction, skidding at a rate of 1 m/min (3.3 ft/min), so the drill floor can be positioned over the furthest slot on the wellhead platform within 30 minutes.
From the drill floor on the cantilever the workover unit comprises a tower, a 2,000-HP top drive with a pull capacity of 551,000-lb (250 metric tons), an iron roughneck and pipe handling system (60 pipes/hr, 2 7/8-in. to 14-in. OD), and a 5,000-psi (345-bar) BOP. It is fully automated and controlled from the stim line driller's cabin. The full weight of the equipment and down-well tubulars is supported entirely from the barge and cantilever, allowing the unit to undertake wide-ranging tasks including running completions, ESP change-outs, cutting and pulling conductor casing, milling, P&A, slot recovery, and side-track drilling.
During the design of the system and subsequent construction and installation phases, GMS realized it needed an established drilling contractor to operate the cantilever and workover unit alongside its own well ops team, and has since established a partnership for this purpose with Odfjell Drilling. The two companies have been working on arrangements that will allow them to work in any offshore regulatory environment, safely and efficiently. "We have our own pumping and cementing system and our own team of 12-20 specialists to operate this equipment offshore," Anderson said, while the company normally outsources clean-up and well testing to specialists that can provide the associated equipment.
The cantilever system has been tested and witnessed in operation by clients onboard the barge, he added: "In general, they have been very impressed, and they are evaluating potential work scopes. One of their typical concerns is that they have never operated this type of well workover unit before, being more used to operating drilling rigs." The cantilever system, being removable, can be retrofitted to other GMS Large Class SESVs, although the company's preference is to retain the system forGMS Evolution. It has also developed a simplified version for retrofitting to its Mid-Size Class barges. "Constructing the cantilever system and all associated equipment takes around 12 months," Anderson said. Once removed, the system would be stored at the company's quayside base in Abu Dhabi.
GMS also sees potential for the cantilever system for brownfield maintenance in the Far East, particularly offshore Thailand, Malaysia, Brunei, and Indonesia. "Our types of barges have not been used widely in these regions to date, the preference being for more expensive drilling rigs. But operators there too are starting to realize the benefit of the 100% uptime that our barges bring."