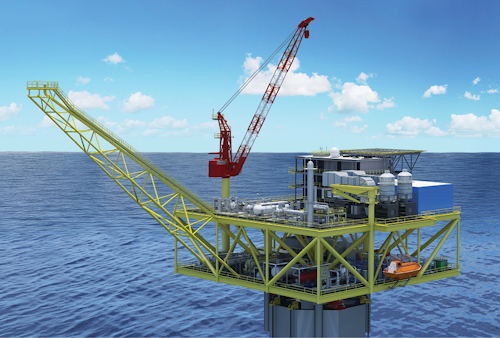 Stafford Menard
Audubon Engineering
Arun Antony
Atkins, member of the
SNC-Lavalin Group
Roy Francis
Gulf Island Fabrication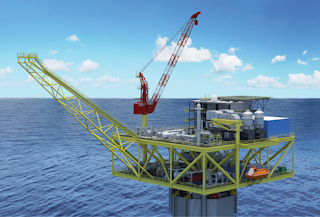 The FP-40 topsides is a small two-level structure that simplifies fabrication, and can be installed with several GoM-based derrick barges/lifting apparatuses. (All images courtesy US Spars)
The US deepwater oil and gas industry needs a new, innovative business plan and development strategy that provides a better, different, faster and cost-effective solution. With oil prices around $60/bbl and onshore shale opportunities beckoning operators and E&P firms, the need for this new strategy is now more urgent than ever.
Under current development strategies, only reservoirs of more than 200 MMboe are deemed worthy of further evaluation for a stand-alone Floating Production System (FPS). But if the goal is to achieve a different outcome, then the industry needs to rethink its strategies. The typical scenario is:
1. Extensive reservoir evaluations
2. Production capacity equal to the peak P-50 forecast
3. Customization and optimization of every FPS
4. Fabrication and installation of a large FPS.
Each stage in depth
First, we have reached a stage in deepwater development where it is common to see up to six or seven appraisal wells/side-tracks drilled to better define reservoir characteristics. Yet, in many cases, we have not seen a corresponding improvement in predictability of production rates or total recoverable barrels. This truly is a difficult evaluation when considering the multitude of variables and unknowns associated with reservoirs and the limited extent of each well bore. Would we not be better off proving up sufficient recoverable barrels to produce an economic success with a small FPS, rather than continuing to spend hundreds of millions of dollars on appraisal wells to justify a large FPS?
Second, do we really need to have production capability equal to the anticipated peak P-50? Historical results indicate that we reach nameplate capacity less than 50% of the time. Even if we do, it is rarely for more than a few months to perhaps a year. Would we not be better off starting the production earlier and spreading the peak production (flat lining) over a longer duration? This would result in the same number of barrels produced over the same expected field life. Another question we should ask ourselves is "do we really know what the reservoir will produce before we start production?" If the answer is "no" (or something less than full and complete understanding), then why do we spend so much effort and time optimizing the production facility?
Third, the offshore industry is one of a few, if not the only, industry that engages in a long and extensive (three to five years) evaluation of concepts, often followed by re-designs that produce similar outcomes. Could we not settle upon a floating concept that would be substantially pre-engineered and designed and would provide up to 70% of a core layout, leaving only "fine tuning" of site-specific conditions? Imagine if Boeing re-engineered every airplane sold rather than providing a base concept, then customization around each airline's specific interiors, exterior colors and flight requirements. Certainly, the commercial aviation industry is as highly regulated and requires as much safety awareness and operational efficiency as ours.
Fourth, due to the extensively gated development procedure from discovery to first oil, we have forced ourselves into a scenario where only very large FPSs can return an acceptable Net Present Value (NPV) and Internal Rate of Return (IRR). This strategy works fine for large prolific reservoirs, but generally will not work for reservoirs with less than 200 MMboe recoverable reserves. In the Gulf of Mexico (GoM), the probability of discovering these large mega reservoirs is far less likely than discovering reservoirs in the 80 MMboe to 200 MMboe range, thus limiting the number of potential developments.
Logic tells us that large FPSs are less expensive to build (capex dollars/barrel) and less expensive to operate (opex dollars/barrel) than smaller FPSs. Although this is true, these two metrics are not the only ones determining project NPV and IRR. Other metrics that play an important role in NPV and IRR calculation include: revenue generation, timing of revenue and spend profiles, escalation/inflation, total spend vs. total revenue, and risk tolerance, to name a few.
New spar design
There is certainly a place for very large FPSs, but there is also an opportunity for the industry to develop and produce smaller deepwater reservoirs which otherwise would be overlooked.
To produce these smaller fields, what is required is a fast, safe and inexpensive concept that can be replicated over and over: enter the Flat Plate 40 (FP-40) Spar. Developed by a consortium of industry leaders and designed around shipyard construction capabilities and production line efficiencies, the FP-40 Spar can be constructed and installed in less than 24 months after project award. Unlike most other FPSs that are designed primarily around specific field requirements and in-place requirements, the FP-40 began as idea based around existing yard capabilities and "off-the-shelf" equipment.
Standard vendor-supplied equipment for the topsides reduces both cost and schedule, and increases safety and operability. Automated panel lines and welding procedures used in shipyard hull fabrication reduce manhours and cost. Reservoirs with as little as 80 MMboe can now be developed returning modest NPVs and IRRs, as well as recovering the owner's discovery and appraisal well cost.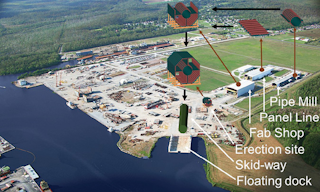 Once the entire hull is completed, it will be skidded onto the floating dock at Gulf Island Fabrication's Houma yard.
The consortium
In February 2017, three industry leaders joined forces to develop a new economical concept for deepwater GoM production. The consortium, US Spars, consists of:
• Audubon Engineering Solutions, with responsibility for project execution lead, project management, topsides design and equipment procurement, and construction management support.
• Atkins and Houston Offshore Engineering, members of the SNC-Lavalin Group, with responsibility for hull design and equipment procurement, mooring system design and procurement, and installation engineering support.
• Gulf Island Fabrication (GIF), with responsibility for fabrication of topsides, hull, quarters and piles, procurement of bulks, and offshore hook-up and pre-commissioning.
Together, the consortium is prepared to offer an engineering, procurement, and construction (EPC) proposal for delivery of the FP-40, dockside at GIF's facility in Houma, Louisiana.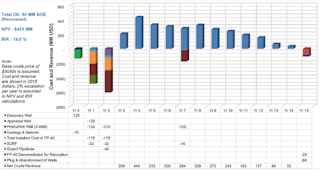 Itemized costs and net crude revenue over the 15-year life of the hypothetical field.
FP-40 Platform
The FP-40 topsides is a small (112 ft x 130 ft) two-level structure that will be fabricated under roof in GIF's Houma facility. Its nameplate design is 40,000 b/d of oil, 60 MMscf/d of gas, and 10,000 b/d of produced water. The two-level truss deck simplifies fabrication, and with an overall expected deck weight of 3,500 short tons, installation can be performed with several GoM-based derrick barges/lifting apparatuses.
The FP-40 hull is based on a traditional classic spar, but simplified with flat panel construction. A spar-based hull provides the motion benefits to utilize SCRs anywhere in the GoM, as well as being "crew-friendly." The hull is designed to be built using the existing yard infrastructure at GIF's Houma yard. The automated panel line at GIF will fabricate the flat panels. The pipe mill can roll up to 20-ft diameter tubulars, used for the center-well. The panels and sections will be joined to form the initial partial blocks inside the fabrication shop. Most of the hull outfitting will be done at this stage, which provides the benefit of under-the-roof fabrication. These blocks will be transported using multi-wheel transporters to the erection area, where the grand blocks are completed. These grand blocks will be joined at the existing skid-way, that is traditionally used for jacket fabrication. Once the entire hull is completed, it will be skidded onto the floating dock, which has recently been lengthened to 400 ft. The spar hull will be floated out by lowering the floating dock, and then towed to the offshore field, where it will be upended and connected to pre-installed mooring lines and risers. Topsides will be transported to the field on a barge, lifted offshore and integrated with the hull. This offshore lift (<3,500 short tons) is within the lift capacity of much of the existing GoM fleet. The entirely US based fabrication and execution method avoid the risks and schedule delays associated with overseas transport.
The flowlines and export lines are based on traditional steel catenary risers, entering the hull through the pull tubes that extend from top of spar to its keel. A total of six riser tubes are provided in the FP-40 design.
Economic justification
To provide quantification of the commercial benefits of the FP-40, the consortium developed an example of what it described as "a typical small GoM field," with assumed development cost and revenue. In discussions with producers, the consortium obtained varying cost ranges, but the group believes that these estimates are representative of typical values and demonstrate the commercial viability of the concept. For this example, we have also assumed a total recoverable of 80 MMboe. We assumed a base crude price of $50.00/bbl, pipeline tariff of $3.50/bbl, facility opex of $4.50/bbl, and royalties of $6.25/bbl of oil. This provides a net crude price of $35.75/bbl.
The itemized costs and net crude revenue over the 15-year life of the field were calculated using a 10% discount rate and 2% escalation per year of cost and revenue. The production and revenue generation follows the P-50 curve. With maximum production assumed at 85% of FP-40 capacity, sufficient downtime is accounted for in the financial calculations. The calculations yielded a financially attractive NPV of $433 million and IRR of 19.0%.
Conclusion
Smaller standardized FPSs have an important role in economically developing deepwater reservoirs with less than 200 MMboe total recoverable reserves. A financially attractive development scenario based on a FP-40 Spar has been shown to be viable, based on realistic assumptions. Some of the key attractive features of this development strategy include lower sunk costs related to drilling activities, recovery of discovery and appraisal well cost, early revenue generation, faster development cycle and reduced financial risks. In summary, when it comes to FPS design, fabrication, and installation, bigger is not always better.