Independents driving exploration resurgence offshore West Africa
Frontier drilling is set to escalate over the next two years off West Africa as numerous indigenous and western independents, some in partnership with majors, seek to take advantage of depressed deepwater rig rates.
Apr 1st, 2018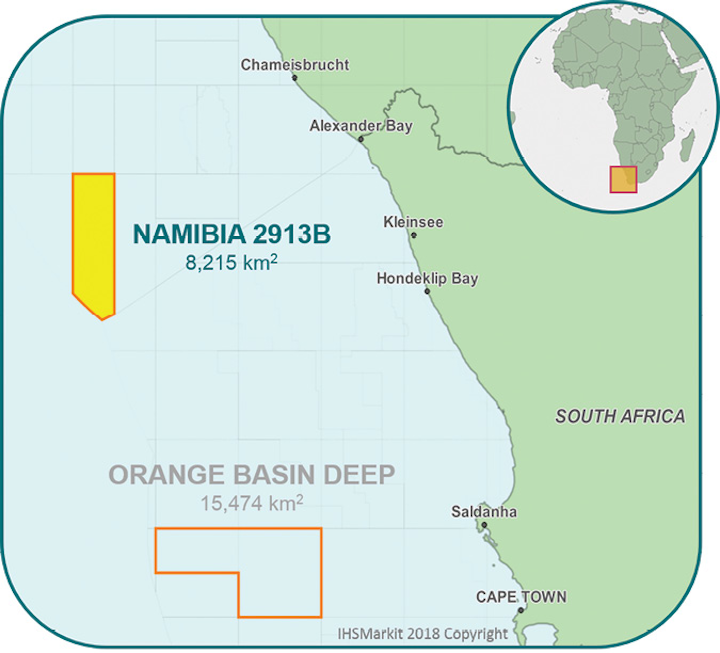 Jeremy Beckman
Editor, Europe
Frontier drilling is set to escalate over the next two years off West Africa as numerous indigenous and western independents, some in partnership with majors, seek to take advantage of depressed deepwater rig rates. Many of the wells will be in virtually unexplored basins, some targeting plays that have proven prolific throughout the Atlantic Margin. Various companies outlined their plans at the recent International Petroleum Week conference in London, organized by the Energy Institute, in the session "Realizing the potential for Sub-Saharan Africa's oil and gas industry."
Impact's licenses in the offshore Orange River Delta area. (Courtesy Impact Oil and Gas)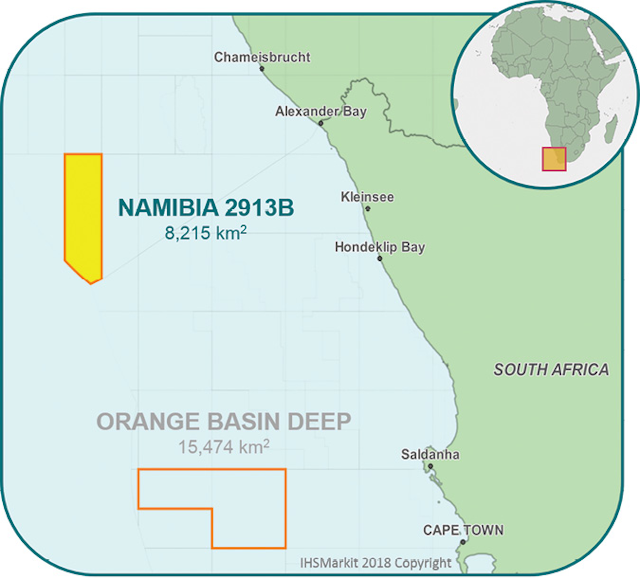 Since its formation in London in 2011, Impact Oil and Gas has built up a portfolio of licenses offshore West Africa. According to Chairman Mike Doherty, the company's initial focus was on deepwater basins off South Africa, later extended to frontier acreage offshore Namibia, Gabon, and the jointly administered ACG territory offshore Senegal/Guinea-Bissau. It now holds one of the largest acreage positions of any E&P company off West Africa, he claimed, 95% of which has been farmed out to majors. These include ExxonMobil, Total and Statoil in the far south, and Sinopec in the ACG territory offshore Senegal and Guinea Bissau.
"Our exploration strategy is to try to be a leader rather than a follower," he explained, "to look at where exploration is going and where the big fields in future will be found – because shale won't satisfy all needs. Our focus is on very deepwater Cretaceous systems formed around 150 million years ago, even though most finds to date have been younger. We use the experience gained in one area and apply that to plays elsewhere that we think might work. We also employ consultants in order to be able to hold our own with majors – we acquire 3D seismic then farm out to majors when the license approaches the drilling phase. And you need to have 1 Bboe-plus prospects to attract them.
"Our main targets are submarine, basin floor fans, and the outer reaches of Cretaceous deltaic formations are where you tend to find these fans. With these types of structures the chance of success in very deepwater is actually greater – 1 in 3 – compared to 1 in 10 for a 100-MMbbl discovery in shallow water. As you go farther out, and the overburden reduces, the source rocks come back into the oil window (in mid-water depths, gas tends to be more prevalent)."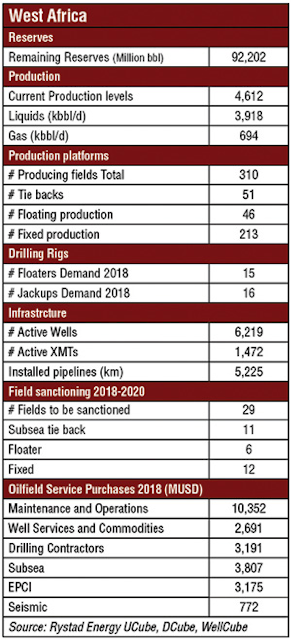 Following a farm-in deal last September, Total now operates block 2913B (Impact 20%) offshore Namibia along the western edge of the Orange River Delta, and the Orange Basin Deep permit to the south in South African waters (Impact 22.22%). "The Orange River has flowed into the border area for over 100 million years," Doherty said. "Due to erosion of the reservoir in the South African side, material has been deposited 100 km [62 mi] offshore, forming a huge basin fan at Aptian level. The area has strong oil potential - we believe several billion barrels - which is what attracted Total."
Impact hopes to start exploration drilling in the region next year, followed by further wells on the ACG Profond permit and then on its blocks off Gabon, "where the river systems also carried huge amounts of sands. We believe drilling of deepwater Cretaceous fans will lead to big oil field discoveries."
Tano targets
Amni International Petroleum Development is a Nigerian independent based in Lagos, with offices in Houston and Accra. The company has been an operator offshore West Africa for 15 years, said Galen Treadgold, Executive Director Geosciences, producing 15,000 b/d from two fields in the eastern Niger Delta. Recently the company acquired an undeveloped field from Chevron which it plans to drill later this year. This is a sizeable gas resource, he claimed, which could be put onstream early next decade.
But the company's major asset is the 280-sq km (108-sq mi) Central Tano block, 60 km (37 mi) offshore Ghana in water depths ranging from 300-1,500 m (984-4,921 ft). This is the relinquished portion of the original Deepwater Tano block, in which Tullow/Kosmos developed the giant Jubilee field. Amni has a 90% operated interest in Central Tano, the remainder held by Ghana's state oil company GNPC. According to Treadgold, one prospect alone holds potential resources of over 2 Bbbl: the partners may spud the first of two commitment wells on this prospect later in 2018.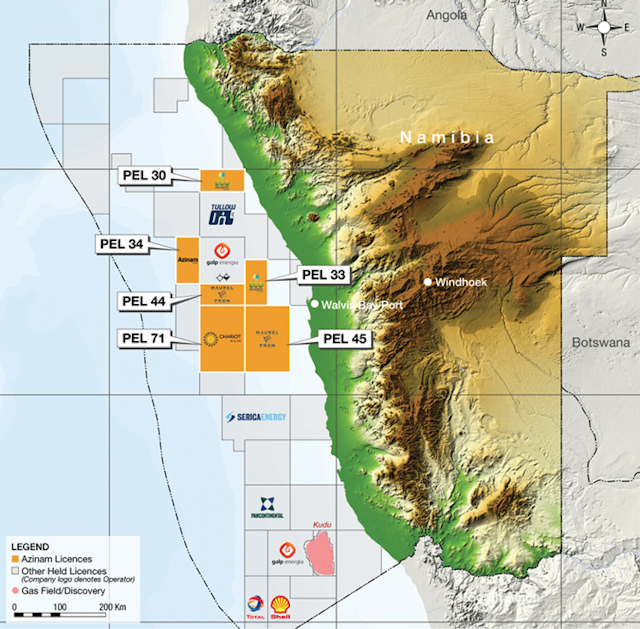 Azinam's licenses offshore Namibia.(Courtesy Azinam)
Over the years, Amni has built up a geoscience, exploration and finance team with prior experience working for large oil companies, he continued, and is now in a position to draw on substantial funding for its drilling programs. "Globally, exploration funding has been poor the last few years," he acknowledged, "but since mid-2016, with the oil price picking up, money has been coming back into budgets for exploration…
"Our Central Tano block is surrounded by and updip of fields such as TEN, Jubilee and others. We are targeting Campanian fans, down to Turonian and Cenomanian level and then further down to the Synrift, all of which appear to benefit from a spectacular hydrocarbons system. We are looking for reservoirs and traps, and we know we have a good petroleum system. Our first well will target multiple opportunities in order to limit our risk – Upper Campanian, Lower Campanian, Turonian (as in Jubilee/TEN), and then a large feature lower down in the Albian interval - so we are not a one-trick pony. On our seismic we have AVOs, chimneys, and at the Albian level a spectacular opportunity. These are large fault blocks in deepwater that haven't been tested before."
Amni chose to take a license position in the Tano basin "because it's nice to be in the shadow of giants," Treadgold said. "Also, understanding the petroleum system is not a risk." He cited other benefits such as good fiscal terms, a friendly investment climate, "great support from GNPC," and established infrastructure nearby. "But we also think the best place to find hydrocarbons is where they've already been found."
Namibia's oil quest
Azinam Namibia, part of the Azimuth Group, was formed in 2014 with private equity support from the Seacrest Capital Group. The company has positions in six exploration licenses in the Walvis basin offshore Namibia, which is thought to be geologically analogous to the major deepwater plays established offshore Guyana, Brazil, and Ghana.
According to Azinam's Head Exploration Geologist Selma Usiku, "Namibia really is frontier in terms of its deepwater potential, and we have mapped more than 60 leads on our acreage. The subsurface geology is excellent…and the government is very supportive. The regulatory regime is a stand-out for Africa." She also cited Namibia's "investor-friendly legal framework and oil and gas code; one of the most attractive petroleum tax arrangements in sub-Saharan Africa; a well-established road network and an established deepwater port with associated logistics that benefits exploration."
Offshore, Usiku said, the hydrocarbon potential and the scale of the opportunity has attracted Tullow Oil, Portugal's GALP, and more recently ExxonMobil, Total, and ONGC. Azinam's acreage along the Namibian Margin, she added, is comparable in size to two-thirds of the UK North Sea basin, and strategically positioned around a working petroleum system. The company's main targets are structural and stratigraphic margin plays surrounding Wingat, the sole oil discovery to date offshore Namibia.
"A massive investment has taken place to allow the industry to understand the exploration potential better," Usiku continued, "a process helped by the recent joining of the majors. This has been achieved because of the increase in seismic acquisition over the past five years which has improved understanding of the basin and opened new frontiers." Namibia's offshore had long been assumed to be gas-prone basin due to Chevron's offshore Kudu gas discovery, but the Wingat well in 2013 proved the presence of an active, petroleum source rock system. Now, she said, the general focus was on a liquids hydrocarbon play – Azinam recognized this early on, hence its strategy of building the largest acreage position of any company in the Walvis basin and a team of personnel "with global knowledge."
This year two exploratory wells could be drilled off Namibia: Azinam is involved in one of these, while the other is on Tullow-operated acreage. "The Walvis basin in particular hosts multiple play types," she said, "from Albian deepwater fan up to Cenomanian/Turonian deepwater channel fan plays, with the potential for deeper Synrift rock being present. The Tullow-operated Osprey prospect, which extends across 172 sq km [66 sq mi], could hold 700 MMbbl."
Namibia's big selling point, she added, is its low population density – 2.4 million compared to 28.2 million in Ghana – and the fact that the country already derives strong revenue from tourism and mining. "So it is in a unique position to offer good fiscal terms which allow investors to retain more of their revenues. Potentially, Namibia is the new Norway of Africa."
ACG's proven potential
Calgary-based Oryx Petroleum, formed in 2010, has an 85% interest in the ACG Central license area: the northern half is offshore Senegal and the southern half off Guinea Bissau, but all offshore oil and gas activity in these waters is regulated by the ACG (Agence de Gestion et Cooperation). Here the company is pursuing a carbonate edge play type that other explorers have had success with previously in the Casamance sub-basin.
Initially Oryx was also awarded a shallow water block, but later decided to relinquish that to concentrate on the central block. Others have deepwater blocks in the ACG, such as Dallas-based Rhino Resources. Last year Oryx commissioned and processed 1,921 sq km (742 sq mi) of 3D seismic over part of the license area. This year it has allocated $13 million toward preparations for the start of exploratory drilling, plus a contingent payment for further 3D seismic acquisition and processing following the assumed renewal of the license's exploration period this September.
Vance Querio, Oryx's CEO, said the region, on the eastern side of the North Atlantic Margin system, is within the MSGBC (Mauritania/Senegal/Guinea Bissau/Guinea Conakry) basin. The first oil discoveries in the area were in the 1960s, followed by a further wave in the 2000s led by Sinapa offshore Guinea Bissau. Interest then heightened following Cairn's SNE oil and Kosmos' gas finds in deepwater off Senegal and Mauritania to the north. The Australian/Swedish combination of FAR and Svenska Petroleum are due to start drilling on their Guinea-Bissau acreage later this year.