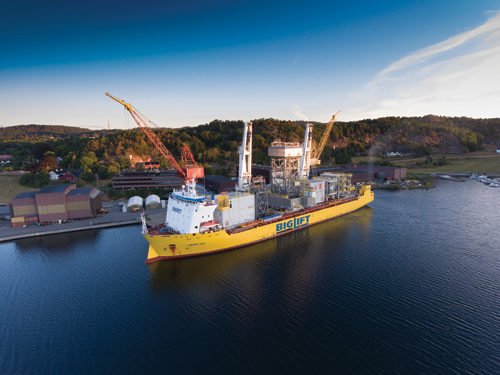 Production increasingly driven by presalt E&P
Jeremy Beckman
Editor, Europe
Brazil has become one of three core areas globally for Equinor in offshore E&P, according to senior representatives speaking recently at ONS Stavanger. Since entering the sector in 2001, the company has spent over $10 billion on its Brazilian operations with production rising steadily to the present 100,000 boe/d. It is now considering further investments of up to $15 billion to increase output from 300,000-500,000 boe/d by 2030, mainly from new projects on undeveloped fields in its deepwater blocks.
Anders Opedal, EVP Development and Production in-country, said Brazil was one of the few promising basins worldwide with a significant resource base. It is the world's seventh biggest consumer of oil and gas and the ninth largest in terms of production, he pointed out, with 30 Bbbl of proven reserves still to be developed. International investors, he added, are benefiting from the changes in the political and regulatory framework, the opening of the presalt areas, the introduction of scheduled bid rounds, changes in local content and license unitization laws, and tax/regulatory reforms. "These and Petrobras' divestments have laid the ground for our recent investments, also allowing us to boost employment and value creation locally." Along the way, Equinor has transferred technical competence developed from its operations on the Norwegian continental shelf, he added, and its experience of adapting to different international and regulatory challenges.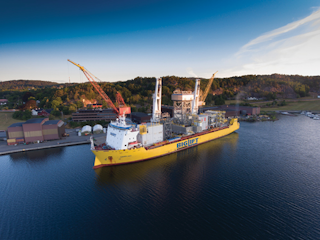 Peregrino 2 drilling modules sailing from Grimstad, Norway to Texas this July. (Courtesy Jan Arne Wold/Equinor)
Much of the company's present production in Brazil comes from its Peregrino heavy-oil field development in 100 m (328 ft) water depth, 85 km (53 mi) offshore in blocks BM-C-7 and BM-C-47 in the southwest of the Campos basin, which has delivered 170 MMbbl since start-up in 2011. Current production is 70-80,000 b/d (the capacity is 100,000 b/d): Equinor has a 60% operated interest, with Sinochem as the sole partner. This was a field that other operators had said could not be developed, Opedal noted, with an originally estimated recovery rate of only 9%.
The initial development featured two drilling and wellhead platforms connected to an FPSO via flowlines and umbilicals. To date 39 producer and injector wells have been drilled, and over time, the recovery rate has increased to 16%, with plans for a further increase. One of the newest measures began testing early this year (based on experience at Grane and Oseberg in the North Sea), with polymer injected through one of the wells and results tracked via sensors. Polymer flooding involves adding polymers to water injection to decrease the water-oil mobility ratio, thereby prolonging the production plateau.
The present second-phase development is focused on the Southwest Peregrino area, where 15 oil producers and six water injectors will be drilled from a third platform, WHP-C, under construction in Texas. Phase 2 is targeting over 250 MMbbl: Equinor is applying its experiences from the first phase, also adopting simplification/standardization measures where possible. And by undertaking a re-evaluation of the project, similar to its approach to the Johan Castberg development in the Barents Sea, and improvements to the construction process, the company has managed to cut the cost by $1.3 billion compared with the original estimate, Opedal said. The breakeven figure is now around $40/bbl, down from the original target of $70/bbl. Start-up is on track for the end of 2020.
Roncador/Carcará
Earlier this year the company paid Petrobras $2 billion for a 25% stake in Roncador, Brazil's third largest producing field, in the deepwater Campos basin. Based on the field's current performance, the transaction has lifted Equinor's equity production in Brazil to 100,000 boe/d. The two partners have agreed that Equinor will introduce certain techniques applied offshore Norway to increase recovery – the initial target is a 5% improvement, Opedal said, equivalent to an extra 500 MMbbl.
In 2016, the company took operatorship from Petrobras of the BM-S-8 license covering two blocks in the presalt Santos basin and containing Carcará and Carcará Norte, two connected oil discoveries in 2,000 m (6,562 ft) water depth with associated gas, and thought to hold over 2 Bboe recoverable. Other partners are ExxonMobil and Portugal's Galp. Opedal described the Carcará area as "our Johan Sverdrup field in Brazil." This will be the company's first operated presalt development. It is high pressure, with associated technical challenges, he acknowledged, but the project is into the conceptual phase with a planned start-up in 2023-2024.
Equinor's licenses offshore Brazil. (Courtesy Equinor)
Equinor also operates block BM-C-33, awarded under a bid round in 2015, in the southwest Campos basin, 200 km (124 mi) offshore Rio de Janeiro state. It includes three ultra-deepwater discoveries – Pão de Açucar, Gávea, and Seat – in a complex, carbonate reservoir with combined potential resources of 1 Bboe. The partners are working on development concepts and gas commercialization options. "This and the Carcará area contain a lot of gas, which could supply 25% of Brazil's natural gas needs," Opedal said. And BM-S-8 and BM-C-33 licensees have both agreed to take their gas to shore through Petrobras' pipeline system, he added.
Guanxuma
Tim Dodson, EVP for Exploration, described the present portfolio of licenses offshore Brazil as potentially the most exciting in his time with the company. Since the first presalt discoveries in the 2000s, Equinor had been working on this play, he said. "The discoveries were not available to the industry until the last year or so, however we knew the opportunities would come, so when Petrobras found itself in a position where it had to divest assets – coupled with last year's screening rounds – we were prepared."
Exploration in the presalt remains uncertain, he cautioned, "but it is a proven play, and we have gained access to some of the best blocks. It is now the best portfolio for Equinor anywhere since the early days of the Norwegian continental shelf. Competition is tough – all the majors have been competing for the same presalt blocks – but only ExxonMobil has secured more than Equinor."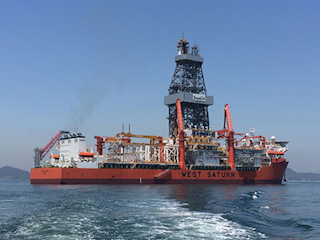 The West Saturn drillship. (Courtesy Seadrill)
So far around 55 Bbbl has been proven in Brazil's two main presalt basins, Dodson said, "and the curve is still going up. We ourselves have five drill-ready, high-impact prospects." The company could drill all five over the next two years, with the potential to discover 7.8 Bbbl in the northern part of the Carcará area alone, he added.
In August, the company informed the regulator ANP that its remaining commitment well on the BM-S-8 license, drilled by the West Saturn drillship, had encountered oil in a carbonate reservoir in the Guanxuma prospect, making this the second presalt oil find on the block, and similar in quality to Carcará. "The oil column is expected to be somewhat smaller, although the field's areal extent is the same as Carcará," Dodson said. "Once this program is finished, we will move to Carcará Norte where we plan at least two appraisal wells, maybe also a drillstem test. We could then go back to Guanxuma or drill another prospect."
With presalt discoveries at least three appraisal wells and one production test are needed before a development can be considered, Dodson explained, and final investment decisions are based on a typical recovery factor of 30%. "This is low, but you have to look at the nature of the reservoirs. During the first phase of development the focus is on the 'sweet spot,' where production is best, and then you apply what you have learned to phases 2 and 3. But for me, there is potential to improve the oil recovery."
In his view, the presalt play offers potential for up to 100 Bbbl eventually. "Typically, the wells are 6,500 m [21,325 ft] deep through highly over-pressured reservoirs, which is good from a recovery point of view - but there is a lot of salt, and it is important for drillers not to get too many surprises from the geology." Understanding the reservoirs remains a major issue, he stressed, with continuity difficult to establish in carbonates. •