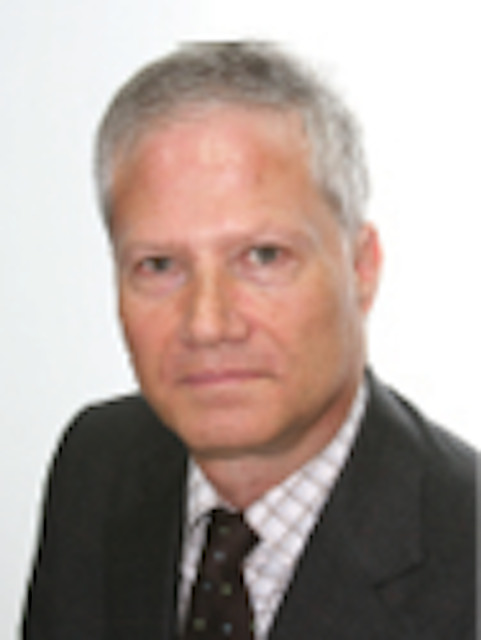 Aker BP favors hub at NOAKA
Aker BP is reviewing two concepts for the North of Alvheim and Askja-Krafla Area (NOAKA) project in the northern Norwegian North Sea, targeting over 500 MMboe of resources from various currently stranded fields. One scenario calls for two unmanned production platforms with host support; the other, which the company prefers, would entail a hub platform in the central part of the area, equipped with processing and living quarters. Discussions with the Norwegian authorities have focused not just on the existing fields, but also on how best to exploit and tie in future finds in the area. In addition, AkerBP intends NOAKA to be Norway's first "energy-positive, zero emissions" field development, powered by a combination of electricity from the mainland and offshore wind.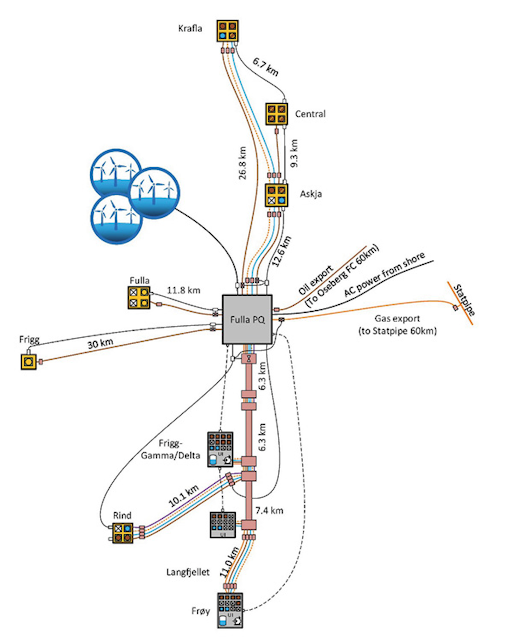 The NOAKA project will tie in production from various stranded fields. (Courtesy Aker BP)
In the UK sector, BP has authorized two fasttrack tieback projects which at peak should deliver combined production of 30,000 boe/d. The 20-MMboe Alligin accumulation 140 km (87 mi) west of Shetland will be developed through two wells connected to the Quad204 FPSOGlen Lyon, with Subsea7 responsible for the supply and reel-lay installation of the subsea flowline. Production from the 30-MMboe Vorlich field in the UK central North Sea will flow from two wells tied into the FPF-1 semisubmersible platform that serves Ithaca Energy's Greater Stella Area hub. In the same area, Ithaca also aims to bring onstream the Harrier field this summer via a single multilateral well and a 7.5-km (4.6-mi) flowline connected to the Stella field main drill center manifold.
Lundin steps up appraisal of Alta
Lundin Petroleum continues to appraise its Alta oil discovery in license PL609 in the southern Norwegian Barents Sea as the company attempts to reduce uncertainty over the reservoir's recovery mechanism. The semisubLeiv Eiriksson has been conducting an extended test via a 700-m (2,296-ft) long horizontal well section through the oil zone. This was designed to improve lateral geological understanding of the Permian-Triassic karstified and fractured carbonate reservoirs, and also to deliver sustainable production rates. Produced oil was due to head through a flexible flowline to a tanker. Lundin, which had previously drilled three successful appraisal wells on the structure, is considering a joint development with the smaller Gohta discovery in an adjacent license, and currently estimates the combined resources in the range 115-390 MMboe. Depending on the results of this test, further appraisal drilling may follow.
West Phoenixsemisub sailing into Invergordon. (Courtesy Cromarty Firth Port Authority)
Another semi,West Phoenix, has been docked at Port of Cromarty Firth in northeast Scotland the past two months undergoing work on its thrusters. This was the 700th drilling rig the Port had accommodated since the first rig arrived in February 1978. General Manager Calum Slater said the fact that the West Phoenix was in for repairs rather than stacking was a continuation of the recent positive signs of North Sea drilling activity. He expected more rigs to leave the Port and return to active service this year.
Wintershall opts for tieback for Nova
Wintershall has submitted its development plan for the Nova (ex-Skarfjell) field discovery in the Norwegian North Sea, 120 km (75 mi) northwest of Bergen. The $1.2-billion project, designed to recover around 80 MMbboe (mostly oil), will involve a tieback to the Neptune Energy-operated Gjoa semisubmersible platform of three production and three water injection wells via two subsea templates. There will also be provision to add a third template accommodating for further wells at a later point.
Neptune has assigned Rosenberg WorleyParsons in Stavanger to construct and install a new topsides module on the platform that will receive Nova's production, and in addition, the platform will provide lift gas, water injection and power from shore to the Nova field and subsea facilities. Wintershall is aiming for start-up in 2021.
Norway's Petroleum and Energy Ministry has approved VNG Norge's proposals for tieback of the 100-MMboe Fenja (ex-Pil/Bue) field to the upgraded Njord A platform in the Norwegian Sea via two subsea templates with six wells. Following processing, Fenja's oil will be exported through the Njord A FSO, which Aibel recently started upgrading for extended service for operator Equinor (the new name for Statoil) under a $167-million contract. Aibel planned to draw on its recent experiences working on two FPSOs -- BP'sGlen Lyon and Teekay's Petrojarl 1,formerly in service in the North Sea and now operating at the Atlanta field offshore Brazil.
More vessels in action at Johan Sverdrup
Construction and installation has moved up several gears at the field center for Equinor's Johan Sverdrup project in the Norwegian North Sea. First, Heerema Marine Contractors'Thialfcompleted installation of the 23,000-ton topsides for the riser platform. Subsequently, Saipem's Castoronebegan laying the 36-in. oil export pipeline from the reception point close to the Mongstad oil terminal, north of Bergen. The completed line, at over 280 km (174 mi), will be Norway's longest and largest to date, in a maximum water depth of 537 m (1,762 ft), with throughput capacity of 600,000 b/d. Equinor managed to lop $150 million off the originally budgeted cost by re-routing the end-section through the Fensfjord, after studies showed existing pipelines in the area could be protected through infill support.
Another vessel, theNKT Victoria, has been laying the subsea cables that will take electricity from a converter station near Kaarsto directly to the field center. Equinor claimed this arrangement would cut the field's annual carbon-dioxide emissions by over 400,000 metric tons (440,924 tons).