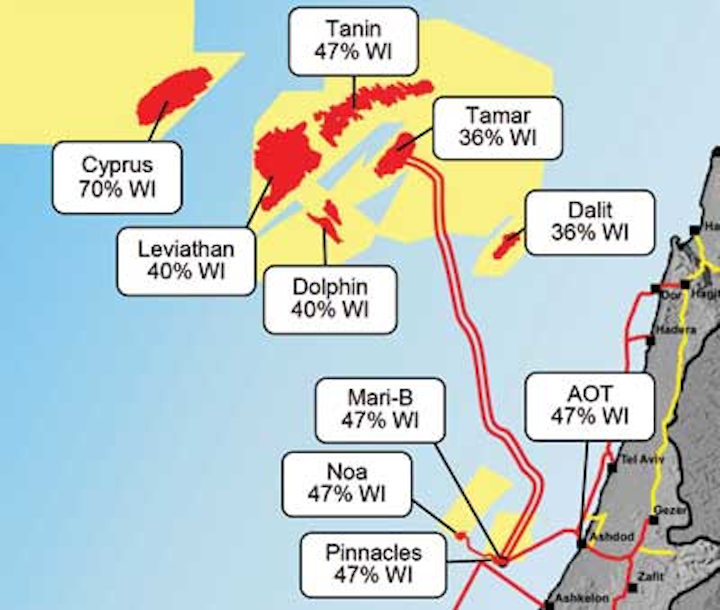 Jeremy Beckman
Editor, Europe
Gas production started from the 10-tcf Tamar field offshore Israel on March 31. Aside from being the country's first deepwater development—and at over 90 mi (145 km), the world's longest subsea tieback to a platform—the project has lain the foundations for a new gas province in the Middle East region. Once exports start from the next wave of offshore projects, the region could rival Qatar as a source of gas for Europe.
Operator Noble Energy brought Tamar onstream just over four years after the initial discovery well in the deepwater Levantine basin. Five subsea wells are connected via a long-distance pipeline to the near-shore Tamar platform, which exports the gas through an existing pipeline to the onshore terminal at Ashdod. Output could build to a peak this summer of 1 bcf/d.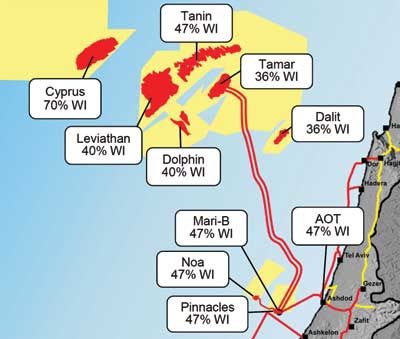 Map shows location of the Noble-operated partnership's discoveries offshore Israel.
All production has been assigned to various Israeli utilities for domestic use, but the next deepwater Israeli project planned by Noble and its partners will be wider-ranging in scope. Appraisal drilling continues on the much larger Leviathan gas discovery, with the aim of confirming sufficient reserves for an LNG export scheme. Studies continue for a floating LNG facility for the first-phase development delivering up to 1.6 bcf/d of gas, of which over half would be exported. Phase 2 could involve construction of a second deepwater hub on the field.
The same partnership was responsible for Aphrodite, the sole gas discovery to date offshore neighboring Cyprus. Noble will reportedly resume exploratory and appraisal drilling on the surrounding block 12 this summer. Eni and Total are set to join the pursuit of gas after being awarded blocks last year off the southern part of the island.
Despite Cyprus' chronic financial difficulties and the threat of Syria's conflict extending deeper into Lebanon, 52 companies applied recently to pre-qualify for the first Lebanese licensing round, which was due to open on May 2. They included from the US Anadarko, Chevron, ExxonMobil, and Marathon; Petrobras, Petronas, PTTEP and Lukoil; and a wide range of European and Middle Eastern companies.
In the Turkish part of the Black Sea to the north, Turkish Petroleum discovered gas last year in Middle Miocene sandstones in the Istranca structure, in 85 m (279 ft) of water. This region too is emerging as a gas theater, with ExxonMobil and OMV Petrom planning more deepwater drilling offshore Romania to build on their earlier Neptun discovery, and Gazprom starting construction of the South Stream pipeline that will take gas to Europe through the Bulgarian sector of the Black Sea.
More gas will eventually head Europe's way from the Shah Deniz field in the Azeri zone of the Caspian Sea. Operator BP and its partners are evaluating bids from the Nabucco and Trans Adriatic Pipeline consortia to construct new onshore/offshore gas transport pipelines in southeast Europe as part of Shah Deniz Stage 2. This is designed to step up production from the field by 16 bcm/yr through the addition of two new bridge-linked production platforms, 26 subsea wells drilled by two semisubmersible rigs, and 500 km (310 mi) of subsea pipelines in water depths of up to 550 m (1,804 ft).
In the Turkmen offshore sector of the Caspian, Dragon Oil is preparing to start operations later this year from two new drilling platforms on its CCA contract area fields. The aim is to continue the company's steady ramp-up of oil production. Additionally, Dragon is starting a pilot water injection program, following conversion of a production well on the targeted Dzheitune (Lam) 75 area to an injector.
Last October, Saudi Aramco took delivery of the first jackup purpose-built for drilling on its fields offshore Saudi Arabia. The rig, built by Keppel FELS in Singapore, began operations in January. Its legs are over 400 ft (122 m) long, allowing it to operate on Aramco's deepest offshore fields. Other features include a 54-motor jacking system, allowing it to carry a greater load than normal 36-motor rigs, and a water cooling system that speeds up heat removal.
Maersk Oil has contracted Gulf Drilling International's new jackupAl Jassra for a new phase of development drilling and workovers on the Al Shaheen oil field offshore Qatar. These will include extended reach wells into the field's thin reservoirs. Maersk has drilled over 300 wells to date on Al Shaheen and plans a further 51 under the latest phase.
In Qatar's offshore block 4 North, Wintershall and partner Qatar Petroleum recently discovered a new gas field, unrelated to the giant North Field. Neighbor Iran continues its widespread mopping up of remaining development phases of the adjoining South Pars gas-condensate field.


Click to Enlarge
More Offshore Issue Articles
Offshore Articles Archives
View Oil and Gas Articles on PennEnergy.com