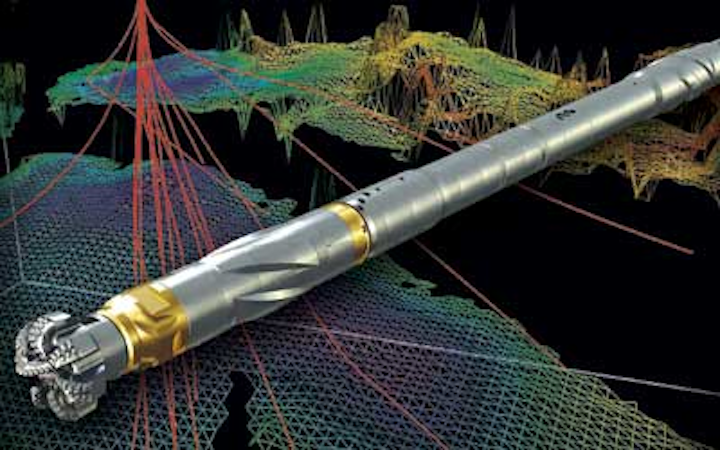 CoilScan from Schlumberger is a newly released system the company says aims to identify pipe defects before running coiled tubing (CT) downhole and thereby reduce non-productive time (NPT) by supplying real-time coiled tubing pipe inspection during intervention.
CoilScan has been field tested in offshore and onshore environments from the US to Saudi Arabia, to Malaysia. During field trials, the real-time CT pipe inspection system monitored more than 1.5 million running ft of CT pipe in various environments and applications.
In field trials onshore in North America, CoilScan provided inspection results from beginning to end of the CT life. Typical CT strings at the test location are used for approximately 500,000 running ft, resulting in an average of 25 to 30 runs. The tested string ran an additional 200,000 ft, or a total of 40 runs. Defects and fatigue areas of the CT were monitored actively to provide confidence needed to continue running the pipe longer with a low potential for failure, resulting in lower overall intervention costs.
"Most CT failures in the field can be traced back to some initial defects, such as mechanical damage or a manufacturing defect, resulting in costly NPT and increased exposure to potential health, safety, and environmental issues," says Chaden Lassoued, president, Well Intervention Services, Schlumberger. "The CoilScan system combines real-time dimensional measurements, including wall thickness and diameter, depth measurements, and defect detection, to proactively address CT pipe failures."
Slimhole MWD service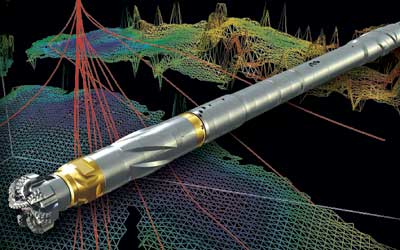 The new slimhole PowerDrive Archer high build rate rotary steerable system bottomhole assembly.
Schlumberger's new DigiScope slimhole measurement-while-drilling (MWD) service transmits high-quality data to the surface for real-time reservoir description and geosteering in extended-reach, deepwater, and land wells.
This new high-speed telemetry service powers the complete suite of Schlumberger slimhole LWD services in the same bottomhole assembly. Fully compatible with the Orion II data compression platform, DigiScope service has a modulation algorithm that transmits high-quality data from the deepest wells to facilitate wellbore surveying, drilling optimization, and advanced formation evaluation.
In an application in Mexico, the customer wanted real-time data from a high-angle development well in a depleted reservoir that required a low mud weight to minimize losses. The range of telemetry bandwidth, combined with the new modulation technique, was applied to MWD for the first time. The operator acquired quality data with a high signal-to-noise ratio and was able to safely guide drilling to total depth.
"The DigiScope service transmits real-time drilling optimization and formation evaluation data at high physical bit rates of up to 36 bps, minimizing rate of penetration restrictions in the deepest onshore and offshore wells," says Steve Kaufmann, president, Drilling & Measurements, Schlumberger. "The powerful tool telemetry is six times faster than traditional MWD services as proven with more than 200,000 ft drilled in the most challenging formations across four continents in the last three years."
New high build rate slimhole RSS
Schlumberger has released the slimhole PowerDrive Archer high build rate rotary steerable system (RSS). This RSS delivers build rates of up to 18°/100 ft, with full directional control and dogleg assurance for complex 3D well profiles and multi-lateral well designs, says Schlumberger.
Built on the PowerDrive X6 system, the slimhole PowerDrive Archer RSS combines push- and point-the-bit technologies to improve performance in geosteering and open hole side track applications. It has proven itself in more than 130 field test runs in North America, the Middle East, West Africa, Europe, and Asia, according to Schlumberger.
In the Permian basin, Cimarex Energy needed to drill a 61⁄8-in. horizontal section within a 7-ft thick true vertical depth zone in the Bone Spring shale formation. The well design included high dogleg severity with a 10°/100-ft curve.
The slimhole high build rate RSS was selected to eliminate additional trips downhole, and the challenging curve and lateral were drilled in one run, saving 26 hours of drilling time.
"The slimhole PowerDrive Archer RSS can drill well profiles previously only possible with motors, in one run, with the ROP and wellbore quality of a fully rotating RSS," says Kaufmann. "Expanding the capabilities of our high build rate RSS services, this slimhole edition has drilled 130,000 ft in carbonate, sand, and unconventional reservoirs as part of our integrated drilling systems offering, including advanced Smith PDC drill bit technology."
Conical diamond element enhances PCD bit performance
Smith Bits, a Schlumberger company, has released its Stinger conical diamond technology. The Stinger polycrystalline diamond element enables high-point loading to fracture rock more efficiently during drilling for increased rate of penetration and durability, says Smith.
Developed using proprietary synthetic diamond manufacturing technology, Stinger has a polycrystalline diamond layer thicker than conventional PDC cutters. Also, the shape is optimized for strength in axial compression. When centrally positioned in a PDC drill bit cutting structure, the Stinger improves performance by crushing formation core at the borehole center, increasing drilling speed.
"The central Stinger conical diamond element allows our customers to drill at higher ROPs by improving cutting action in a wide range of formations, reducing both drilling hours and the number of bits used in each well," says Guy Arrington, president, Bits & Advanced Technologies, Schlumberger. "The first application of Stinger technology also delivers a more stable bit with less vibration to reduce stress on drillstring components and improve the reliability of downhole tools."
Using the IDEAS integrated drill bit design platform, simulations were conducted showing ROP increases in a range of different rock types, including shale, limestone, and sandstone. The virtual drilling environment demonstrated central Stinger element placement would yield an ROP increase of at least 18%, says Smith.
In the Williston basin, an 8¾-in. PDC bit typically drills the vertical hole before the curve and lateral section in the Bakken oil-bearing sands. In field tests, centrally placed Stinger technology was added to the baseline vertical section bit design. Average ROP was increased by more than 46% when compared to the next best performance in offset wells, with a record ROP increase of 77%.
More Offshore Issue Articles
Offshore Articles Archives
View Oil and Gas Articles on PennEnergy.com