Hydraulic pulling and jacking unit enables operator to bring aging wells back online
Delaney Olstad
Weatherford
Increasingly, operators of mature offshore oilfields are searching for late-stage intervention solutions that can revitalize aging, marginal wells, bringing them back online to extend production. In the past, production companies might have chosen to abandon a well once it shifted from asset to liability. That alternative is no longer an easy option in today's environment of hard-to-access resources and growing consumption. These days, operators are looking for efficient, cost-effective, and safe methods that give old wells a new lease on life with continued production and maximized recovery.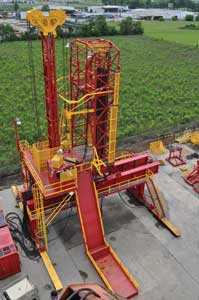 The P&JU has been engineered to ensure that jobs can be performed in small spaces and in short timeframes.
Globally, an estimated 20,000 idle wells have been identified for abandonment, 45% of them in the highly-regulated Gulf of Mexico (GoM). Complicating the situation in the GoM are regulations mandating that if a well has not been productive for three or more years, the operating company must put forward a plan, including a timeframe and methodology, to abandon it. But, in an effort to avert an expensive P&A operation that permanently shuts down a well's production, more companies are considering late-stage interventions that allow them to re-complete those idle or marginal wells and continue producing.
In response to this emerging trend, Weatherford has expanded its rigless hydraulic pulling and jacking unit (P&JU) technology to carry out late-stage interventions as well as P&A operations. The P&JU can serve as the foundation for late-stage intervention operations on aging wells, to extend production and extend the life of a well. This type of workover operation has been utilized with the P&JU in the GoM and elsewhere, notably the Asia/Pacific region.
The P&JU uses a broad range of equipment, technologies, and resources to safely and efficiently address the challenges of critical offshore late-stage intervention operations. The rigless design allows placement on offshore units that do not have existing derrick systems; have downgraded their derrick systems; or have damaged derrick systems or platforms. The modular unit has a hydraulically-powered telescoping mast that sits directly above the well center, and has both an integrated jacking system and power swivel stand that require no additional rig-up time.
Enhanced well control
The unit is also highly mobile and can skid from well-to-well with a self-clamping skidding system. Most importantly, the design allows a BOP to be placed under the unit, making it fully compliant with regulatory requirements and providing greater flexibility to accommodate changes in well conditions.
Since the technology was introduced in 2005, it has been enhanced with a new under-carriage design to handle multiple BOP configurations. Its support risers can accommodate three rams - a blind ram, shear ram, and drill pipe ram - and an annular to redirect pressure and fluid down the flowlines. When moving from well to well, the BOP can be disconnected from the wellhead, repositioned in the under-carriage, and moved with the P&JU instead of being transported separately, delivering mobilization efficiency and cost benefits to the operator.
Case study
One E&P firm has a track record of successfully rejuvenating wells near the end of their life-cycle. On one operation, degraded and clogged chrome tubing had caused declining production, creating an economic liability for the operating company. The company determined it could perform a safe and cost-efficient integrated workover to change out the tubing to bring the wells back online.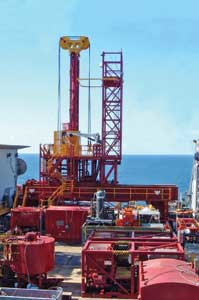 Once deployed offshore, the P&JU uses a broad range of equipment to safely and efficiently address the challenges associated with critical late-stage intervention operations.
Due to space limitations associated with platforms, operations of this nature were challenged by tight space restrictions. Weatherford engineered the P&JU to ensure that jobs could be performed in the small spaces allotted and in short timeframes. Once rigged up, the compact, lightweight P&JU serves as an enabling tool to integrate a variety of intervention services and products. These include tubular running, wireline, slickline, cutting tools, cementing operations, pumping equipment, various fishing and re-entry services to re-complete the well and get it producing again at an economically sustainable rate.
Integrated intervention
The P&JU utilizes resources from Weatherford's tubular running services technology to pull out the old chrome tubing and seamlessly run new tubing into the well. The unit also facilitated the use of wireline to perform diagnostics, gain exposure to the formation, and transport the perforating guns downhole. Slickline was used to carry tools and equipment, such as the bottomhole assembly, downhole. Finally, the unit enabled the use of cutting tools to sever the pipe and equipment to cement the well.
This case proved to be a safe and cost-efficient alternative to either a conventional rig-based operation or a traditional crane-based application. Rigs offer all the capabilities to conduct a late-stage intervention, such as relatively fast trip time in pulling tubulars and large-capacity fluid storage. But, with high day rates, rigs are very expensive; and they are also massive in size, requiring a clear landing zone alongside the platform. Another key factor is that jackup rigs are not suitable for deepwater applications.
In this case, the use of a snubbing unit also was ruled out because they are not specialized for these types of operations, and tend to be less efficient in terms of time and cost when addressing multiple wells on a single platform. Crane-based operations provide flexibility in addressing various well and platform configurations, offer low day rates, require fewer personnel on board, and leave a small footprint. But aged cranes can be susceptible to mechanical downtown, expose personnel to overhead hazards, and are unable to work in inclement weather. Their inability to operate in high winds, for example, can result in the need to suspend operations, increasing mechanical downtime and non-productive time (NPT).
With its small footprint, the pulling and jacking units effectively bridged the gap between rig- and crane-based methods, delivering the ability to work in the limited available space while providing similar capabilities of a full-blown rig. The unit has the ability to pull 220,000 lb (72,575 kg) in 60-ft (18.3 m) increments; has a jacking capability of 600,000 lb (272,155 kg); and facilitates the support of 10,000 ft (1,890 m) of 3½-in. tubing. Once the P&JU was assembled on location, it operated independently from the crane, which was needed only to pick up and lay down the tubulars. The diesel-powered unit was not impacted by weather, a key advantage in reducing NPT. The P&JU is American Petroleum Institute (API) certified to withstand winds up to 69 mph (60 knots).
Wells back online
As offshore fields continue to mature and the heightened regulatory climate expands globally, the late-stage intervention market continues to grow. Rigless technologies that present viable alternatives to expensive and limited conventional methods are encouraging more operators to consider late-stage interventions that can bring aging wells back online. Other rigless solutions include light-duty work decks for section milling and tubular running and removal. As an additional resource, the quick-pull unit is being developed. This quick-pull unit is a smaller version of the P&JU that incorporates many of the same systems and can pull 30,000 lbs (13,607 kg) and jack 1 MMlb (453,592 kg).
Late-stage operations using these technologies are increasingly conducted in the heavily-regulated North Sea sector and in Asia/Pacific, where a number of governments are examining guidelines for dealing with the increasing number of mature wells.
As more wells require mature intervention services, operators are looking for safe, compliant, and cost-effective methods that provide an integrated approach with a single point of contact; and achieve success without using expensive rigs, workover units, or crane-based methods that cannot deliver critical services in all situations. With its proven track record in the GoM and increasing deployment in other markets, the P&JU technology is emerging as a reliable method for providing rigless well intervention services in maturing fields worldwide.
More Offshore Issue Articles
Offshore Articles Archives
View Oil and Gas Articles on PennEnergy.com