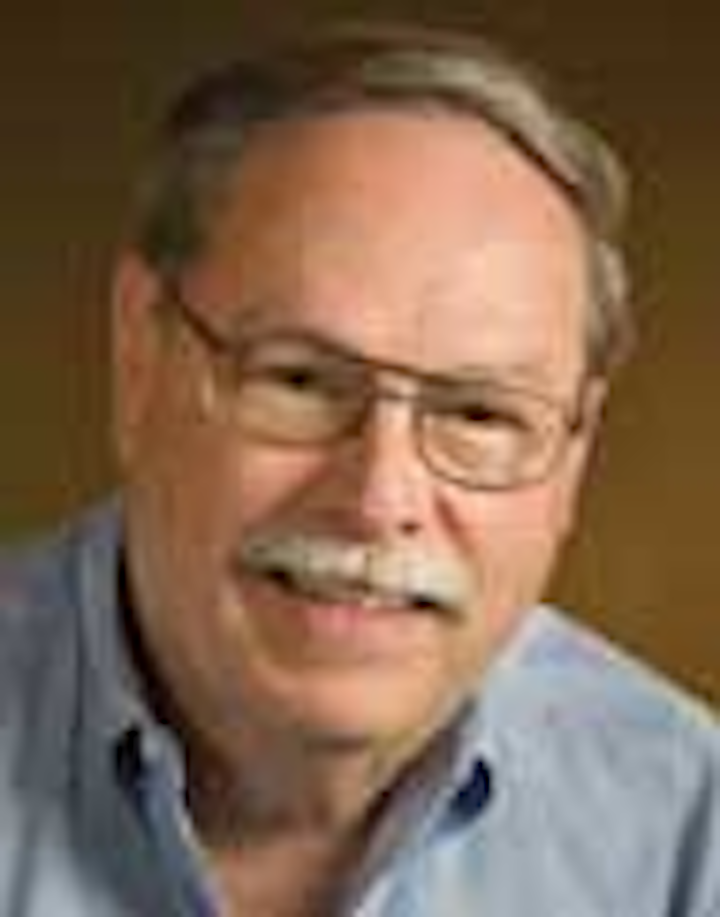 | | | |
| --- | --- | --- |
| | | Dick Ghiselin • Houston |
These are interesting times indeed. According to Baker Hughes, the worldwide rig count for offshore rigs was 383 as of the end of September. This represents an 11% increase over the 2012 count. Of the total, 70 offshore rigs are active in North American waters. In the meantime, explorationists are finding many new structures to drill on. Interest focuses on far North prospects offshore western Greenland to the Barents and Kara seas offshore Russia. Beaufort Sea and Chukchi Sea prospects are on hold due to regulatory issues. Offshore East Africa has seen an uptick in drilling activity as has the Bay of Bengal off eastern India. Traditional offshore hot spots continue to be seen in Brazil and off West Africa. Recent gas discoveries in the Eastern Mediterranean have spurred drilling activity there as well. The elephant in the room is the potential for Lower Tertiary development in the Mexican waters of the Gulf of Mexico. As usual, the industry is gearing up.
From the Arctic to the abyss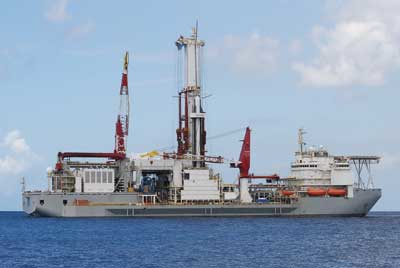 The Bully rig presents a unique profile with its multi-function tower and pipe carousels. (Photo courtesy Shell)
In November, spokespersons for Royal Dutch Shell acknowledged that the company has contracted two new "Bully" drillships from Noble and four new high-specification ultra-deepwater drillships from Transocean. The Transocean rigs are rated for 12,000-ft (3,658-m) water depth and 40,000-ft (12,192-m) drilled hole length. They are sister ships for theDhirubhai Deepwater KG-1 drillship, which currently holds the world record for water depth at 10,411 ft (3,173 m) of water offshore India. Delivery is expected to commence at the end of 2014 with subsequent deliveries at one-year intervals.
Designed by GustoMSC, the Bully rig design features a Huisman hydraulic multi-purpose tower with two pipe carousels. Smaller than typical drillships of its capacity, the Bully rigs feature separate pits for completion brine and drilling fluid so switch-over and cleanup can be performed very efficiently. The flexible design and ice-class hull qualifies the rig for both arctic service and conventional service. Featuring a dry stack, the rig has a water depth capability to 12,000 ft.
Offshore production gets a boost
The Remora HiLoad vessel attaches to a VLCC tanker using four large suction pads; then uses its dynamic positioning thrusters to maintain station-keeping while loading or offloading crude oil. (Photo courtesy Remora)
After extensive sea trials in Norway, the unique Remora system has undergone a sea change with the deployment offshore Brazil. The Remora, like the fish after which it was named, attaches itself to a FPSO or tanker using huge suction cups. Once attached, the Remora uses its 360° azimuthal thrusters to dynamically position the ship while it loads or unloads produced liquids, tied back to a shore-based tank farm or other production facility with a flexible pipeline. Because the Remora and its captive vessel can maintain precise station-keeping at sea, there is no need for elaborate port facilities, mooring spreads, harbors, or land-based infrastructure.
More activity on the shelf
Transocean has addressed the shelf market by announcing its issuance of contracts for construction of five Super B 400 Bigfoot Class jackup drilling rigs at the Keppel FELS shipyard in Singapore. The first rig is expected to be delivered in 1Q 2016. The subsequent four jackups will be delivered at four-month intervals. The combined capital cost for the five rigs is estimated at $1.2 billion. Each is designed to accommodate up to 150 workers.
Additionally, each of the five contracts includes an option to order an additional jackup of the same design and specifications under similar terms. The first option must be exercised within one year with the remaining four options to be exercised within consecutive four-month intervals.
The jackups will be capable of operating in water depths up to 400 ft (122 m) and drilling wells to 35,000 ft (10,668 m). The rigs will have Keppel FELS' latest proprietary design and incorporate the most advanced offshore drilling technology. In addition, the rigs will be equipped with Transocean-developed features that aim to improve performance and drill wells more efficiently. These include offline tubular handling capabilities, superior jacking and preload capabilities, a flexible mud system, and simultaneous operations support.
History sets the bar high
Recalling the famous Ocean Drilling Program (ODP) that used theJoides Resolution drillship, it successfully drilled in more than 19,500 ft (5,944 m) of water. Of course it performed riserless drilling with seawater, allowing cuttings to circulate out at the top of the conductor pipe and fall to the surrounding seabed. Nevertheless, the program provided confidence that sooner or later conventional deepwater drilling may be extended to the limits of the ocean abyss. Much valuable technology evolved from the ODP besides the valuable world's geological history derived from ultra deep-sea core analysis, seismic surveys, and logs.