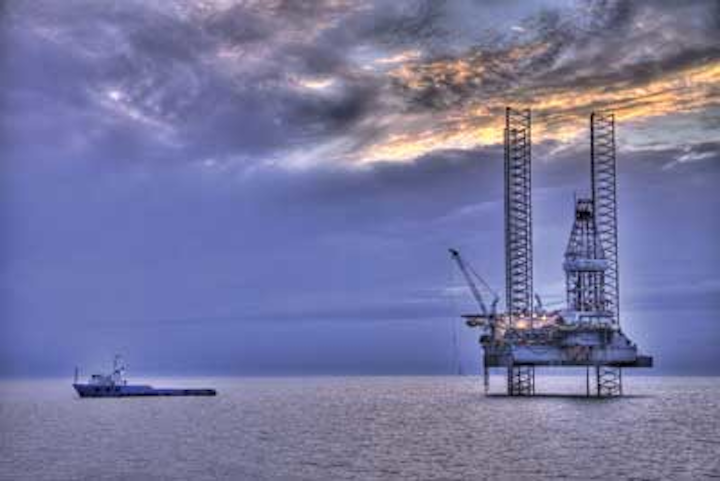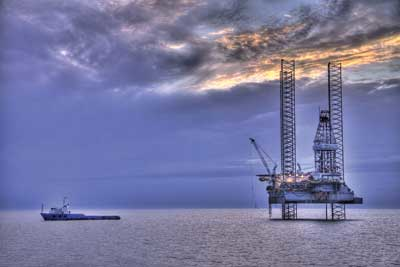 The EDC jackupSaturn, purchased from Transocean in 2011, is currently on a three-year contract with Petronas. (Photos courtesy Eurasia Drilling Co. Ltd.)
With 3% to 4% of the world's oil, region poised for big projects
Eurasia Drilling Co. Ltd. (EDC) provides offshore drilling services to Russian and international oil and gas companies in the Russian, Kazakh, and Turkmen sectors of the Caspian. It is also the largest provider of onshore drilling services in Russia, offering onshore integrated well construction services and workover services.
The company entered the onshore drilling and workover services business in December 2004 by acquiring substantially all of the onshore drilling and certain related assets of Lukoil. In 2006, it entered the offshore drilling business by acquiring the offshore drilling business of Lukoil, which included theAstra, a floating jackup drilling rig located in the Caspian Sea.
Recently, Richard Anderson, CFO and director of Eurasia Drilling Co., met with theOffshore editorial team to discuss the company's latest activities. Anderson has been a director of EDC since October 2011 and served as CFO since July 2008. He has 32 years of experience in oil and gas industry-related finance and management. From May 2002 until March 2007, he was president and CEO of Prime Natural Resource, Inc. Anderson is also a certified public accountant, has a bachelor of science degree in business from the University of Colorado, and a master's in taxation from the University of Denver.
In this wide-ranging interview, Anderson discusses the outlook for oil and gas development in the Eurasian region, the challenges of drilling in Caspian Sea, and what he says is the next big offshore development region.
Offshore: Eurasia Drilling Co. Ltd. has an interesting and unique origin. How did the company get started?
Anderson: The company was originally an in-house drilling business unit of Lukoil. In fact, the roots of the company go back to the 1950s, pre-Lukoil, to two companies with separate drilling companies. It's an old company from that standpoint. In late 2004, it was purchased by three Russians, including Dr. Alexander Djaparidze, who would become the CEO of the company. The original idea was that they would clean it up, fix it up, and then sell it. But it turned out to be a pretty good business, and the timing was great because the need for drilling in Russia has just exploded over the last 10 years. So we have been an independent company since December 2004.
With 32 years of experience in oil and gas industry-related finance and management, Richard Anderson was President and CEO of Prime Natural Resources, Inc., before taking his current position as CFO and director of Eurasia Drilling Co.
Offshore: How did you get from onshore to offshore?
Anderson: There's a lot of oil and gas in the Caspian Sea. Most estimates say that 3% to 4% of all the oil in the world is in and around the Caspian. It's a big number. So, it's always been known that there would be a demand. The question was, was there anybody who could operate there safely from both an environmental and people standpoint, and actually get things drilled? There was some question in people's minds as to whether the Russians could do that. And people were waiting to see if we could. And it turns out that we could, we can, and we do.
There was a seismic survey shot in Russian waters in the late '90s, and there were a lot of (prospects) that were pretty obvious. So, Lukoil brought in the first small jackup, called theAstra, which we now own. And they drilled eight wells and made eight new field discoveries. It was pretty obvious, then, that there was a demand, and that the thing would work. So, we've been drilling with our two jackups up to now. And we have a third jackup on contract starting up in October.
We bought our second jackup from Transocean in 2011. It's called theSaturn. It just completed its fifth year with us, without a single lost-time incident (LTI), which is good for a lot of reasons. It's currently on a three-year contract with Petronas at a very good day rate. The third jackup Neptune was just commissioned and it will go to work in Turkmen waters for Dragon Oil.
Offshore: Is Lukoil your primary customer?
Anderson: It's about 55% Lukoil, so they are still our biggest customer. But we also drill a lot for Rosneft, Gazpromneft, and TNK-BP (recently acquired by Rosneft) – those are the four biggest companies inside Russia.
Offshore: Is the Caspian Sea your only offshore area to date?
Anderson:Yes, for right now.
Offshore:Have you crossed borders into any other countries on the Caspian?
Anderson: Yes, we drill offshore in Turkmenistan for Petronas and also for Dragon, and that's been going on for many years. We've also drilled offshore in the Kazakh waters for Shell and Conoco, among others.
Offshore: You drill in shallow waters – modest water depths, correct?
Anderson: Yes. The legs on the Saturn are 105 m (344 ft), and the legs on the Astra are 45 m (147 ft). So it's pretty shallow waters.
We also drill on the Yuri Karchagin platform for Lukoil. We have one platform and there may be another one in a couple of years, which will be for Lukoil. But that's the only one that we do, and that particular one is through our alliance with Schlumberger. Schlumberger provides the services and we provide the drilling.
Offshore: Is anyone out in deeper waters in the Caspian area?
Anderson:There are a couple of floaters owned by SOCAR, the state oil company of Azerbaijan.
Offshore: Do you see Eurasia Drilling going that route at some point?
Anderson:No, I don't think so. Most of the deepwater is in Azerbaijan waters, and SOCAR has that tied up.
Offshore: With regard to jackups, what about fleet expansion?
Anderson: I think it's possible. We're going to take a breather after the Mercury is finished next year. It's our second Lamprell Super 116E. It's scheduled to be finished Nov. 7, 2014.
Offshore: Are you using the same shipyard?
Anderson: Yes. Both are being built in Sharjah, and then they'll be taken down the Volga-Don canal system, with the final fabrication in Astrakhan. The first one is a couple of months late, which, to me, means that it's not really late. The second one is ahead of schedule. It may come in a month or two early. It's too early to commit to that, though. We're buying the No. 8 and No. 10 of the Super 116E class, and Lamprell has it down to a real science.
Offshore: So, there are no plans for expansion after that?
Anderson: We don't have any right now. We'll have to see what our client demand is. There's a lot of exploration drilling to be done, and some of those wells will find something. So I think the demand will develop.
Offshore: How do you see Eurasia Drilling fitting in with international competitors, as far as competitive advantage?
Anderson: We're a Russian company, and we drill 29.5% of all wells drilled in Russia, so we're by far the biggest. Our clients are mostly big companies, so they don't need two rigs, they need 25 rigs. When they issue tenders, they tend to lease a lot of equipment. Most of our competitors can't really supply them, so we're in a good position. Our drilling efficiency continues to improve every year. The clients appreciate the fact that we get better every year and we drill their wells cheaper every year on an inflation-adjusted basis.
There are no official barriers to entry to Russia. But there are what I'd call 'cultural barriers.' The Russian labor code is something that takes time (to understand), and you have to practically have grown up with it to know how not to violate it. We have a number of people who make sure we are compliant.
Offshore: You've alluded to the regulatory regime. Are participants watching what's going on in the Gulf of Mexico?
Anderson: After Macondo, there was a flurry of activity. We drill for Shell, Conoco, Petronas, and they're all demanding, so there was a flurry of concern to make sure that we had systems in place. The conclusion was that we did, and so far we haven't had any issues. Most of our onshore drilling is in Western Siberia, which is where most of the reserves are. Those are typically under-pressure reservoirs because they're partially depleted, so we don't typically have well control issues. That being said, we do drill a meaningful number of challenging wells each year. But most of our drilling is not. It's what I call commodity drilling, where the processes and procedures are quite standardized.
Offshore: Are there any particular challenges in the Caspian offshore?
Anderson: On the Yuri Korchagin platform, we're drilling a relatively shallow reservoir with very long reaches. We just drilled one that was a 2,000-ft vertical with a 7,200-m (23,600-ft) horizontal section. That was drilled with a rotary steerable system. It was a tough well but it came in way under-budget. It was a great success.
Offshore:Are there any plans to go offshore beyond the Caspian, maybe on the other side of Russia?
Anderson: Not on the eastern coast, at least not right now. The northern offshore waters are more interesting. As you know, there have been a series of contracts signed between Rosneft, on one hand, and Statoil, Eni and Exxon, covering both onshore and offshore. Most of the press is around offshore because there's a lot of oil and gas up there. All three of those contracts have requirements for local content. I think, as a Russian company, we would certainly fulfill that. So we think that we'll be involved. We would like to be involved. It's a huge area – all the way from Norway to Alaska, basically.
Offshore: That would require fleet development?
Anderson: Yes, some really specialized equipment, most likely drillships and really heavy, harsh environment jackups.
Offshore: Given the lead time you need to get newbuilds, what are your thoughts on timing?
Anderson: My guess is that it will be six to seven years. It will take them probably two years to figure out what they want, and then two years to design it and two years to build it.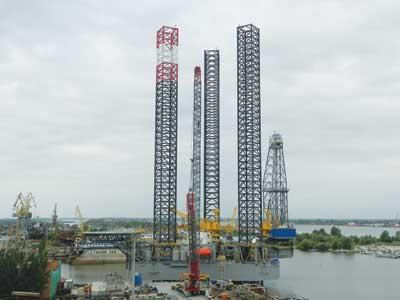 In July, the new Eurasia Drilling Co. jackupNeptune was named at a ceremony in Astrakhan, Russia. The rig is designed to drill wells in the Caspian Sea with a measured depth of up to 9,000 m (29,527 ft) and in water depths from 4.8-105 m (15.7-344 ft).
Offshore: What would it take to get you to commit to building it yourself?
Anderson: Really strong client commitment. The clients effectively have to finance those pieces of equipment, because they're so specialized and so expensive. Not even the big boys, such as Transocean or Noble, would step out and build something like this on a speculative basis. They can't operate all year, at least not in the really harsh areas. So if they operate just half the year, then the day rate would have to be twice [the usual amount] to cover for the time when they can't drill. And if they cost twice as much for starters, then the day rate has to be four times as much.
Offshore: What about operating in the Caspian? It has arctic-like weather some of the time. Can you talk about the difficulties of weather and that sort of thing?
Anderson:Yes, the Caspian freezes in the northern part. The Russian waters and the northern part of Kazakh waters freeze. The ice is moveable, so, for instance, the Yuri Korchagin platform, which is a permanent platform, has to withstand the sideways forces of the ice hitting against the platform legs. From a jackup perspective, we don't try to drill there because the Astra, Saturn, and Neptune are not designed to drill in ice. So we would never go up into those waters, or we would move out of those waters in the wintertime.
Offshore:Where do you see the Caspian in its life cycle as an oil-producing province?
Anderson: I think that EIA statistics say that 3 to 4% of the world's oil is there, so it's just getting started. There's a lot of exploration still to be done there and a lot of undrilled anomalies – many of them in Russian, Kazakh, and Turkmen waters – so I think it's just started and it has a long way to go.
Offshore:Have border disputes come up?
Anderson:Absolutely. I wouldn't say it's a huge problem, but it did affect one of our potential projects. There was a border dispute that actually put it off. So that is an issue. As the contractor, it's not particularly our issue. It's between Turkmenistan and Azerbaijan. It's no secret. It might be a while before it gets worked out.
Offshore:Are licensing rounds and leasing programs similar to what we have in the US and in other parts of the world?
Anderson: Yes, these contracts are PSAs open to international companies. So we drill for Petronas and Dragon Oil in Turkmenistan. In Kazakh waters, we drill for Shell and Conoco, as well as for Kazakh companies.
Offshore:What about other offshore services that you plan to add, such as managed pressure, horizontal drilling?
Anderson: As a drilling contractor, we don't provide services beyond drilling. But we certainly don't have a problem drilling horizontal wells, or deviated or vertical – whatever our clients want us to do. The Saturn rig, which is under contract to Petronas, does workovers as well as drilling.
Offshore: Is this a long-term contract?
Anderson: It completed a three-year contract in January, and we've signed a new three-year contract with Petronas, so we're just getting started on that new contract with Petronas.
Offshore: Do you list your day rates? How do they compare with other areas of the world?
Anderson: We don't really talk about that, but sometimes our clients talk about it. I do talk about rate of return. We expect that the Saturn rig that we bought from Transocean will give us a 21–22% internal rate of return. That's after tax unlevered. That's been a good deal for us.
Offshore: So day rates are higher there?
Anderson: The Petronas contract is in the range of $200,000 a day.
Offshore: What accounts for it being considerably higher there?
Anderson: It's demand – a lot of demand.
Offshore: And it's not that easy a market to break into, as you said. Do you know if Lukoil plans to use Eurasia rigs for development drilling on the Vladimir Filanovsky field?
Anderson: We are certainly talking to them about being involved in that project. We would like to be the contractor selected. It would be in Russian waters. Yuri Korchagin was the first one and Filanovsky is the second field. They found eight fields. I don't know what the development schedule is for the other six, but eventually they'll develop all of them.
Offshore: Who drilled those exploration wells?
Anderson:They were drilled with the Astra when Lukoil still owned it.
Offshore: Are your employees mostly Russian?
Anderson: Yes, there's about 23,000 employees and about 20 non-Russians.
Offshore:One of the problems here in the US is getting that next wave of recruits. Do you have the same issue over there?
Anderson: We really don't. The oil business is a respected profession over there. There's an Oilmen's Day in early September, which is a national holiday. Politicians come out and give speeches. There are statues of oilmen around. It's a serious cultural difference. We're unloved and scorned here in the US. There, however, approximately 60–65% of the Kremlin's budget comes directly or indirectly from oil and gas, so they need to see that this industry does well. Also, the logistical challenges are so great that they can't respond the way North Americans do. In the US, if the price of natural gas goes from $6 to $4, people would stop drilling. There, you can't do that, because the logistics are so tough – you have to take a longer view. So, in 2009, when drilling in the US went down more than 50%, there it was down 6%. It was a meaningful change, but nothing like over here. Which means, from a business standpoint, the cash flow tends to be a lot more predictable. It's easier for us to make capital commitments – buying equipment, hiring people, those types of things.
Offshore:What about transparency in operating in Russia, comparing it to here in the US and other places?
Anderson:Virtually all of our contracts are tendered, so we have to negotiate. Our clients know what our payroll costs are because those are set by the government and unions. They know what our capital costs are because they know what the rigs cost. They know what our transportation costs are, they know what our service costs are. So if people have in mind that there are underhanded payments going on, there really can't be, because everyone knows what our costs are. So we have to compete on price and performance, and that's what we do. As I mentioned before, our scale and size – that's what it takes.
The other part of the answer to your question is, there are cultural differences. You have to comply with their environmental rules, which are quite strict, but they're applied differently. The tax rules are complicated – it takes a whole set of people who do nothing but tax compliance. Some of it is kind of inane, but if you don't do it, you get in trouble.
Offshore: Is Mercury contracted yet?
Anderson: Not quite, but we are in final negotiations. We expect it will go to work for Dragon Oil in Turkmen waters when it is available at the end of 2014. We signed a three-year contract with Dragon Oil whereby Neptune starts drilling in October, to be replaced by Mercury, as Neptune has a commitment in the Russian waters at the end of 2014.
Offshore: What is the plan for the second half of this year and moving into next year?
Anderson: We gave guidance earlier in the year and I think that will be our guidance for this year. The year is looking good. The order book is full. We haven't really issued guidance for next year. Most commentators looking at our clients' budgets feel like they'll be up 6 to 8 or 10%, something like that. It's too early for us to issue guidance for next year, but we think it will be a growth year for us.
Offshore: What are your biggest challenges to growth over the near term or the long term?
Anderson:We have a plan in place, based on the organic growth that we see, which is like 6% to 10% a year. I think we've got the capital and the management talent. We don't see any particular bottlenecks – no people or equipment bottlenecks right now. There are no logistical bottlenecks that we're aware of. Looking at the next three to four years, I don't think we see any huge impediments to executing our plans.
Offshore:The equipment you use is pretty typical stuff, right?
Anderson:Yes, it's 'off the shelf.' The rig that's most in demand right now is the typical 1,500-hp, 350-ton rig. So most of the new rigs that we're buying are that size. But we also refurbish a bunch of 1,000-hp rigs every year because there's still a huge need for that size of rig. So there are no equipment bottlenecks that we're seeing. Where you might see bottlenecks is if the Bazhenov shale play kicks off. You might see bottlenecks on the service side, more than on the rig side. Initially, there will be a lot of demand.
Offshore:With regard to manpower and who you employ on your rigs: Are you pretty satisfied with what's coming out of the universities in Russia? Do you liaise with the universities there?
Anderson:We're very actively involved. There are 16 different universities and colleges across the country that we work with. We have very active intern programs and training programs. We engage with them on a daily basis. It's a respected profession over there. People want to become petroleum engineers, and they have for a long time. And the universities turn out pretty competent people. They get our wells drilled, and by and large our LTI rate is either at, or slightly better than, the international average. Our safety record is comparable to Western companies.
Offshore: In addition to organic growth, is your company planning any acquisitions?
Anderson: There may be some bolt-ons that we could do within Russia. There are some that we'd like to do. So I think we could pick up a few percentage points in market share through acquisitions.
Offshore: In the next year or so?
Anderson:I'd say in the next couple of years. It's always hard to predict those things. Right now we don't have anything under contract. There's nothing imminent. We are in discussion with three or four different companies, but we always are. We bought a small drilling company in Iraq last year, in the Kurdish area, and we'd like to expand that business. It was called Romfor International Ltd., which had two rigs in Kurdistan. We added two more rigs and we've been drilling in the Kurdish area for various companies. We'd like to expand that business.
Offshore:Where does the money come from to fund operations?
Anderson: It's just cash flow. We have access to the debt markets that are all wide open. We did a $600 million Eurobond a couple of months ago – a seven-year deal at 47⁄8%. We did that more because it was there – we didn't really need the money per se. In 2012, we were a little free cash flow-negative. This year, we'll be free cash flow-positive. Next year, we'll be a lot free cash flow-positive. So it's out of cash flow from operations that we're financing everything. The model is working.