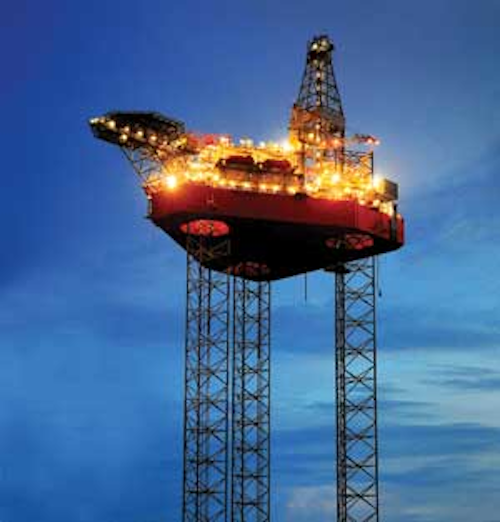 Jurong Shipyard has a $385.5-million contract from Helix Energy Solutions Group to build a semisubmersible well intervention rig. The DP-3 rig will be constructed based on Bassoe Technology's naval architectural design with Helix's equipment layout.
The rig will be able to perform a variety of tasks, including conventional and extended top hold drilling, subsea construction, decommissioning well intervention, coiled tubing operations, and twin ROV deployment.
The rig will be suitable for deepwater operations worldwide, notably the Gulf of Mexico,Offshore Brazil, and West Africa. Delivery is scheduled for January 2015.
Caspian jackup gets new identity
Eurasia Drilling Co. (EDC) has renamed theTrident 20 jackup Saturn. The rig is a Keppel FELS CS Mod V cantilever jackup completed in 2001, and capable of operating in water depths up to 350 ft (106 m), and drilling to 26,000 ft (7,925 m). EDC acquired it from Transocean in February 2011. Currently, it is operating in the Turkmen sector of the Caspian Sea on a long‐term contract with Petronas Carigali (Turkmenistan) that runs through 2012.
EDC claims this is the highest specification jackup operating in the Caspian Sea, with features including three 2,200-hp mud pumps, a 3,000-hp drawworks, and a 15,000-psi (1,034-bar) high‐pressure BOP system.
Aramco signs up Seadrill jackup to drillOffshore Saudi Arabia
Saudi Aramco has contracted Seadrill's jackupWest Callisto for duty Offshore Saudi Arabia. The rig will work for a minimum of three years with an optional one-year extension.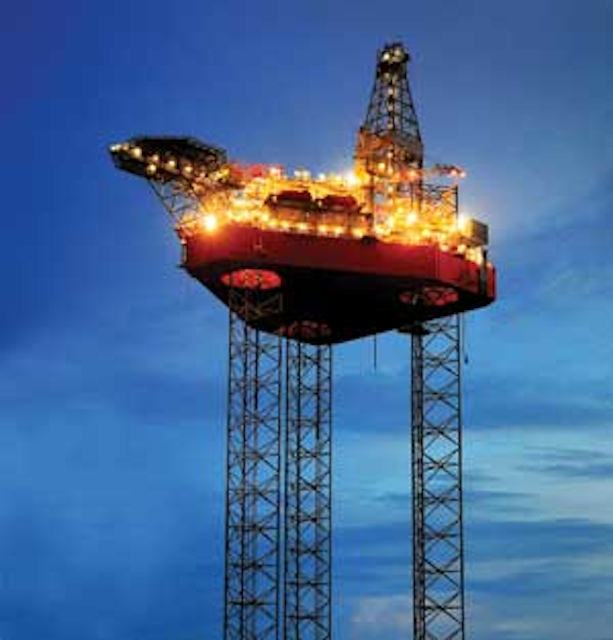 Seadrill's jackupWest Callisto will start operations for Saudi Aramco in September.
Potential revenue to Seadrill for the three-year period is $164 million, plus a $20-million mobilization fee to cover upgrades, dry tow vessel expenses, and the dayrate during the mobilization period.
West Callisto is operating in Southeast Asia and should complete its program in August. It will then start the transit to the Middle East ready to start operations for Saudi Aramco in September.
Baker Hughes to add fracturing, stimulation vessel to fleet
Baker Hughes announced that its subsidiary has chartered a new state-of-the-art pressure pumping vessel that will provideOffshore stimulation services to Maersk Oil in the North Sea. Scheduled for completion in late 2013, the Blue Orca will become the eighth vessel in the company's fleet.
TheBlue Orca will be rated to 15,000 psi and will offer among the largest fluid and proppant carrying capacities in the world. It will provide 15,000 hydraulic horsepower pumping capacity and the ability to pump at rates more than 60 bpm.
BOP leak delays Songa rig delivery
Total must wait a while longer for the drilling rigSonga Eclipse to start a program off Angola.
The rig has been undergoing contractual acceptance testing and found that a leaking component in the BOP needs to be repaired, a process expected to take two to three weeks, according to contractor SongaOffshore.
Thereafter, the final stage in the acceptance testing should resume, allowing the rig to start its one well plus 18-month contract for Total.
Another Songa rig,Songa Dee, is at a yard outside Bergen, Norway, for three to four weeks undergoing upgrades requested by Statoil, prior to continuing a five-year contract on the Gullfaks field in the North Sea.
Floatel Victory booked for Clair Ridge construction support
BP has contracted Floatel International to provide the accommodation and construction support vesselFloatel Victory for the Clair Ridge development, 66 km (41 mi) west of the Shetland Isles in the UK sector.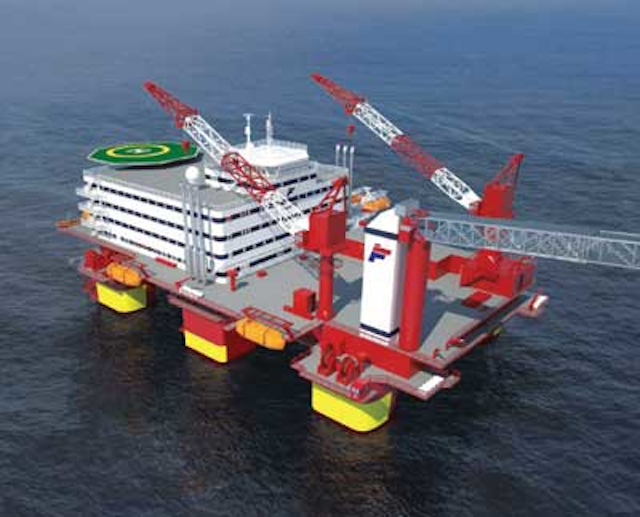 BP has contracted the accommodation and construction support vesselFloatel Victory for the Clair Ridge development, 66 km (41 mi) west of the Shetland Isles in the UK sector.
The charter will start in June 2015 for a firm period of 12 months, with an option for BP to extend the contract.
Floatel Victory is a newbuild DP-3 semisubmersible which should be delivered from Keppel FELS Shipyard in February 2014. Its design complies with the latest UK HSE rules and regulations. When not in DP mode, it can be stationed Offshore using a 10-point chain mooring system.
The large payload and deck area, combined with dual cranes able to support the host facility, are all suited to support new construction, maintenance activities, or decommissioning projectsOffshore, Floatel claims. The vessel will have accommodation for 500 crew members.
Siemens to power newbuild Norway rigs
DSME has contracted Siemens to provide power packages for Statoil's two new Cat D. semisubmersible drilling rigs, both under construction in South Korea. Songa Rig is the drilling contractor and purchaser of the rigs, which should start work for StatoilOffshore Norway in 2014.
The rigs are designed for production and development drilling on fields in water depths of 100-500 m (328-1,640 ft), and will be capable of drilling to subsurface depths of 8,500 m (27,887 ft).
Siemens will provide electric generators, medium- and low-voltage switchgear and MCC (motor control center), distribution transformers, and a drilling drive package comprising cooling and braking resistor skids, thruster drives and motors, and uninterruptible power systems. The system will be designed according to the latest rules and regulations for operations on the Norwegian continental shelf.
Fairstar to transport Ichthys LNG modules
Fairstar Heavy Transport has won two contracts to provide marine transportation services for the Ichthys LNG project off northern Australia. These were awarded by the JKC joint venture between Chiyoda and KBR.
Fairstar will provide its two 50,000 dwt, open stern, semisubmersible vesselsForte and Finesse for a period of around 12 months each, starting in 2Q 2014. The total value of the two contracts is $56 million for the initial period. JKC has an option to extend both by a further six months at the same voyage rates agreed to in the initial period.
The vessels will undertake a series of voyages from various fabrication yards in the Asia/Pacific region, transporting the modules required for construct of the two LNG trains at the Ichthys LNG project site in Darwin.
MoreOffshore Issue Articles
Offshore Articles Archives
View Oil and Gas Articles on PennEnergy.com