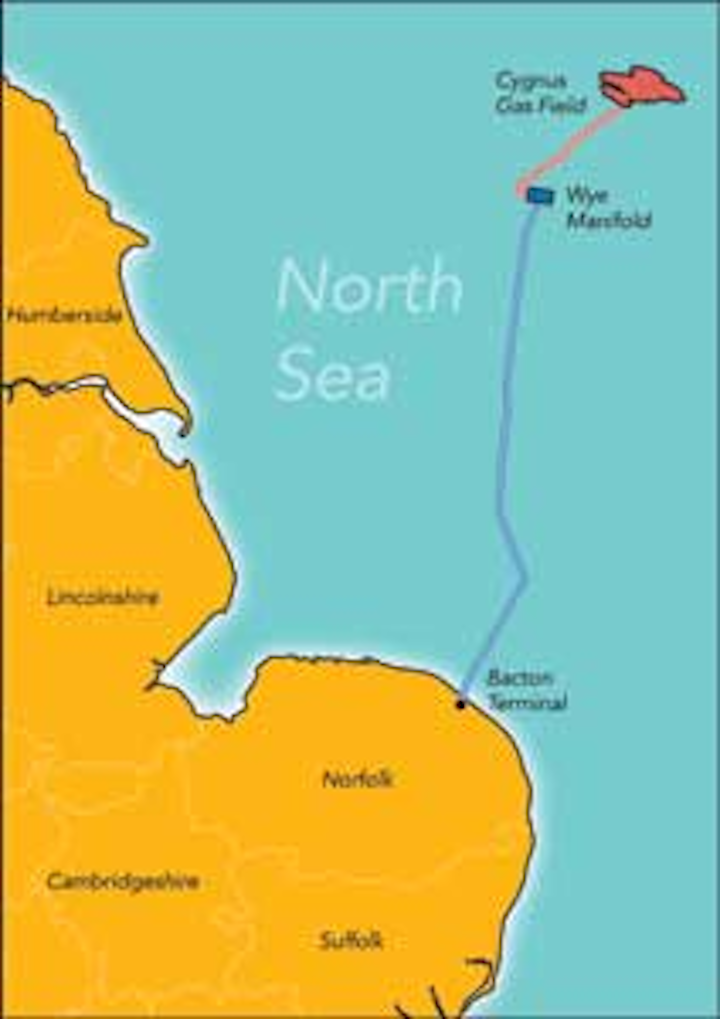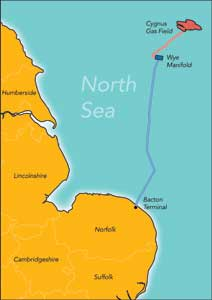 Gas from the Cygnus development will head to the Bacton terminal on the Norfolk coast.
Jeremy Beckman • London
Britain's government has responded to industry lobbying by introducing tax relief on new UK shallow-water gas field developments. Oil & Gas UK chief executive Malcolm Webb welcomed the move, citing the high capital costs of these projects and the high tax rate they incur on production (62%).
Webb said the relief could trigger $3.7 billion of investment in fields in this category. GDF Suez and Centrica also applauded the change, which seemed to be directed mainly at their $2.2-billion multi-platform Cygnus project in the UK southern gas basin that is now going forward. This was the largest undeveloped gas discovery in the region over the past 25 years, with recoverable reserves of at least 636 bcf. The location is 150 km (93 mi) off the Lincolnshire coast, in 25 m (82 ft) water depth.
Cygnus will require two drilling centers, with three bridge-linked platforms on Cygnus Alpha and a single wellhead platform for the separate Cygnus Bravo development. Heerema Fabrication Group's Hartlepool yard in northeast England will fabricate all four platform topsides, with other structures to be supplied by Burntisland Fabrications in Scotland. Ensco will drill the initial 10 development wells, and Saipem will lay the gas export pipeline that will connect to the existing ETS trunkline system to Bacton. Seaway Heavy Lifting will transport and install the platforms. Operator GDF Suez has targeted start-up in late 2015.
Fracturing unlocks Clipper South gas
Another project in this sector, RWE Dea's Clipper South, has delivered first gas, initially at 1.2 MMcm/d from a single well. Production should climb to a peak of 2.8 MMcm/d early in 2013. Clipper South's 13.4 bcm of in-place reserves are in a tight, Permian-age Rotliegend reservoir, requiring the use of multiple fracture techniques that are relatively new to the UK southern North Sea. Up to five horizontal multi-fracced wells will be drilled from the 3,000-metric ton (3,307-ton) steel wellhead platform – the jackupEnsco 92 drilled the first well to a depth of 4,903 m (16,086 ft), stimulated by eight hydraulic fractures. Produced gas from the field, 100 km (62 mi) off the Lincolnshire coast, flows to the mainland via a spurline to ConocoPhillips' LOGGS gas gathering pipeline system. Clipper South will eventually switch to unmanned mode, with the wells controlled remotely from the LOGGS platform.
Off northern Germany, RWE Dea operates the Mittleplatte drilling and production island in the Wadden Sea tidelands, the country's sole offshore oil production center. Recently the company filed applications to drill new exploration wells at four sites offshore the federal states of Schleswig-Holstein and Lower Saxony. It hopes to prove up around 23 MMcm of crude oil, which could be developed by adding new offshore production facilities.
Positive results from Norwegian Sea wells
Early results from Centrica's Cooper exploration well in the Norwegian Sea indicated an oil discovery. The location is in block 6506/11, 5 km (3.1 mi) from the producing Morvin oil and Smorbukk oil and gas/condensate fields, both operated by Statoil.
In the Skarv field area, BP has proven more gas via a well drilled by the semisubmersiblePolar Pioneer during a break from development drilling. However, volumes may only be small. Well 6507/3-9-S was drilled 20 km (12.4 mi) north of Skarv field and 3.1 km (1.9 mi) east of the Marulk field, which came onstream earlier this year.
In the UK northern North Sea, ATP Oil and Gas plans to appraise the Skipper oil accumulation, discovered by Unocal in 1990. Mechanical issues at the time prevented a flow test, but flow studies will be one of the objectives of the new well, to be drilled next year by the semisubmersibleTransocean Arctic III, according to partner Independent Oil and Gas.
Facilities overhaul continues at Statfjord
Statoil has removed a 181-m (594-ft) loading buoy from the Statfjord field in the Norwegian North Sea. The 8,000 ton-plus structure was due to be towed initially to the Yrkes fjord for removal of oil waste and various equipment items, before heading to AF Decom's site at Vats, north of Stavanger, for scrapping. Two other loading buoys had already been taken away from Statfjord and replaced by a new loading system.
During August, Statoil planned to remove the Troll Oseberg Gas Injection subsea manifold from the Troll field. Over the next three years, the company will be responsible for larger-scale projects, removing a jacket from the Ekofisk field center and two compressor platforms in the German North Sea, the latter integral to the trunkline network taking Norwegian gas to markets in Europe.
Exploration spotlight on Ireland's Porcupine basin
Providence Resources expects appraisal drilling on Spanish Point off western Ireland to start next spring. By that point, operatorship of the license FEL 2/04 should have transferred to partner Chrysaor. Spanish Point is a potential 200 MMboe, Upper Jurassic gas condensate discovery in 400 m (1,312 ft) of water in the Porcupine basin. It is one of several untapped Irish offshore finds from the 1980s and 1990s that Providence is reassessing under an ongoing exploration campaign. The company plans to apply modern well completion technologies and advanced 3D seismic techniques, similar to its strategy with the successful Barryroe oil field appraisal earlier this year in the North Celtic Sea off southern Ireland.
In the southern Porcupine basin, Providence operates licensing option 11/9, containing the Drombeg structure in 2,500 m (8,202 ft) water depth. The location is 220 km (137 mi) offshore West Cork and 60 km (37 mi) from the Dunquin prospect, which Providence will drill next spring as part of a consortium led by ExxonMobil.
Drombeg is a lower Cretaceous stratigraphic structure – recent mapping of a seismic amplitude anomaly, extending over 240 sq km (92 sq mi), backs up modeling of a hydrocarbon-bearing sandstone interval. Further studies suggest potentially active hydrocarbon migration in this part of the basin.
China makes its mark in North Sea
Two Chinese companies are set to become major players in the UK North Sea. CNOOC has agreed to acquire Nexen, operator of the Buzzard, Golden Eagle area, and Scott area field developments. Sinopec has agreed to take a 49% equity interest in Talisman UK's North Sea business. Talisman entered the sector in 1994 as a mature field facilities revival specialist, but had recently been looking to reduce its UK capex and abandonment liabilities as it opened up new E&P fronts elsewhere around the world. It currently operates 11 UK offshore installations and an onshore terminal. Assuming regulatory approval for the transaction, the new partners will focus on opportunities for infill drilling, exploration, and field developments.