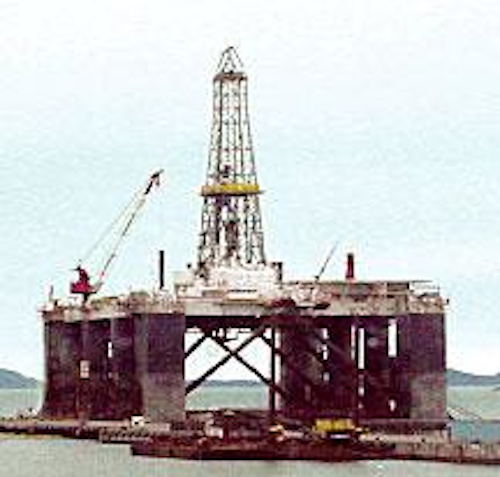 Iain Mitchell,Dolphin Drilling Ltd.
John Harchar, Consultant to Fred.OlsenEnergy ASA
Guttorm Bentsen, Fred.Olsen Energy ASA
The advent of new and improved know-ledge of seabed formations and pore pressures has allowed development of an innovative well design incorporating a reduced number of casing strings with reduced dimensions for deepwater application.
Through the 1990s, a slender well design evolved for shallow reservoirs in benign environment deepwater sectors (1,000-2,000 m water depth) in the Mediterranean, offshore West of Africa, and offshore Brazil. Slender well design is currently being adopted for the North Sea and the Gulf of Mexico. This well design consists of three or four strings of casing, typically a 30-in. conductor followed by 13 3/8-in., 9 5/8-in., and finally the 7 5/8-in. liner. A well with this casing configuration is completed 30% faster than a conventional well and can be drilled using a 16-in. riser and a modified 18 3/4-in. BOP stack.
The advantage is a completion with the same tubing diameter as one drilled utilizing a 21-in. riser. The combination of decreased pipe dimensions with the corresponding decrease in weight of riser and casing and the lower volumes of mud and cement allows the use of a rig with greatly reduced deck and derrick load bearing capacity compared to that of a conventional deepwater vessel. The reduced loading requirements increase the number of drilling vessels that are suited to take advantage of the slender riser system when drilling the slender well design.
The result is a production well that allows for the same flow of hydrocarbons at a greatly reduced overall field development cost (20-40% below a conventional completion). This not only improves the profitability of planned developments but also can turn non-commercial fields into viable projects.
This well design concept resulted in Fred.Olsen Energy ASA making their fleet of Aker H3 drilling rigs competitive for deepwater by purchasing 5,200 ft of 16-in. drilling riser and a new BOP control system from ABB.
Rig modifications
The Aker H3 rigs, operated by Dolphin Drilling, have been modified to increase variable deck load capacity and outfitted with upgraded drilling equipment. As a result, these rigs satisfy the criteria for deepwater slender well drilling. Utilizing slender riser technology, this existing fleet of semisubmersibles can supplement or replace the more expensive deepwater rigs at a subs- tantially reduced day rate. The slender riser system is designed for drilling, completion, and work-over modes.
The operator has taken delivery of 1,600 m of 16-in. outer diameter 1/2-in. wall thickness riser. The existing 18 3/4-in. BOP will be retained to provide versatility for combined operations in shallow water with the existing upgraded 21-in. riser and in deepwater with the 16-in. riser, which will support both 13 5/8-in. and 18 3/4-in. wellhead solutions.
A further upgrade is the installation of a new electronic/ hydraulic multiplex (MUX) BOP control system utilizing fiber optic communication with the BOP. On deck, the MUX control system is containerized to allow for quick rig installation and to sustain versatility of rig choice. The installation also includes remote touch screen technology control stations in the driller's cabin and on the drill floor.
This equipment can be installed on any of the associated rigs, depending on the rig's availability. Additionally, an identical MUX control system is currently in use on the ultra deepwater drillship Belford Dol-phin. Field experience from this drillship adds to the comfort level for skilled and safe operation of the slender riser system.
The rigs will be moored using either a conventional catenary mooring spread or a pre-laid taut fiber or wire mooring system. The choice of mooring solution depends on water depth and the number of wells to be drilled at the location.
Cost benefits
Because the conventional 18 3/4-in. BOP is retained, the slender riser does not limit the external diameter of the wellhead and the tree size. This is important as it allows the use of conventional external diameter wellheads and trees, which in turn allow the operator flexibility to workover the well with either a slender 16 in. riser or a conventional 21 in. riser. The tubing hanger will be sized to drift through the slender 16 in. drilling riser. Thus, the operator has the opportunity to generate substantial long term cost benefits by utilizing smaller and more available rigs outfitted with the slender riser for workovers at greatly reduced day rates compared to that of conventional deepwater vessels.
System interfaces
The selection of a completion program is dependent on the well design and well characteristics. If a heavy workover is anticipated, both horizontal trees and slender wells are favored. Suitably sized christmas tree, completion, and test tree designs, and associated downhole tools are available. As an example, an 18 3/4-in. x 13 5/8-in. 5K horizontal tree can be provided by ABB, as a combination of discrete field proven systems.
The standard 18 3/4-in. external system interfaces with the standard 18 3/4-in. wellhead systems, i.e., a horizontal tree using an 18 3/4-in. mandrel and connector. The internal profile of the tubing hanger and internal tree cap is based on a 13 5/8-in. (horizontal tree on the mudline) tubing hanger profile and system. The tree will use standard components and be configured for the particular field application, such as number of downhole penetrations, locations of pressure/temperature transducers, valving configuration, and other considerations. By using this approach, the tubing hanger system can be installed via the 16-in. slender riser.
FMC has also supplied 13 5/8-in. horizontal tree systems for North Sea jackup and semisubmersible systems, some designed to interface with 18 3/4-in. BOP and wellheads. Kværner has completed a new design for a 5K horizontal christmas tree rated to 3,000-m water depth, using a 13-in. tubing hanger compatible with a 14 3/4-in. drift inner diameter slender riser.
Well control during tubing hanger installation and well unloading (flow testing) can be achieved using Expro's existing 13 3/4-in. outside diameter x 6 3/8-in. inside diameter subsea test tree system. This system uses a direct hydraulic control system specifically designed for use with a moored rig. Being moored as opposed to dynamic positioning is the key element of the horizontal tree slender system, especially in deepwater.
There are various conventional christmas tree designs, which are compatible with slender riser drilling and workovers; including Shell's slim bore system using a tubing head spool with a 12 3/8 in. tubing hanger profile.
The slender well drilling solution is being marketed toward the main operators in West Africa, Mediterranean, Brazil, North Sea, and the Gulf of Mexico.