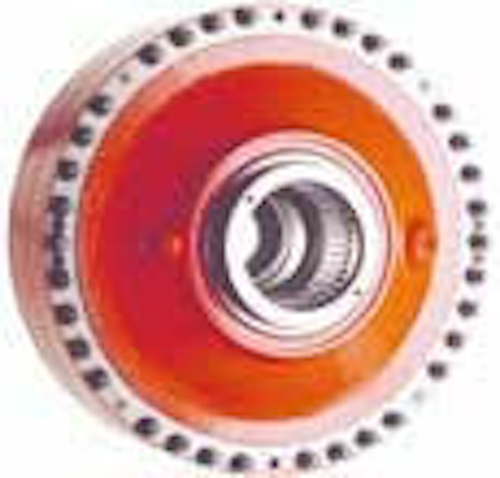 Hägglunds Drives has launched a new addition to its Compact range of hydraulic motors which provides higher torque for the same rpm when compared with other models in the range. The improved power output is expected to make the new motor particularly suitable for heavy load applications (5-10 tons). The company anticipates enquiries for use in ROV/UUV winches, anchor handling winches, and pipelay reels.
The performance of the new motor has been boosted from 13 liters per revolution to 50 liters, which gives a significant increase in power. The motor is currently being subjected to demanding trials in a land-based application.
Vikings for Venezuela
Viking, Hägglunds' longer-established motor range, continues to sell well. Late last year Baker Hughes placed an order for 36 Viking motors and brakes that will be used aboard two jackup rigs currently in Venezuela. The new units will replace the other Hägglunds Drives motors that have been working on the rigs with minimal attention for nearly 30 years. The order includes a re-design of the brake brackets, a solution which allows the current generation of Viking motors to be installed on older jackup rigs. This upgrade is now being offered to all rig owners seeking to modernize their hydraulic jackup systems.
Compact, Viking, and Marathon (another Hägglunds range) are capable of meeting almost every conceivable application. The principal benefit of hydraulic motors, when compared with an equivalent electric motor, derives from the space savings realized through eliminating the need for a gearbox. The motors can also provide very precise torque control. Because they dispense with the need for V-belts and other transmission systems, Hägglunds hydraulic motors are also significantly more power efficient and are used for applications that include top drives and rotary tables. The largest Viking motors are being used on jack-up rigs where anything from 12 to 48 units may drive rack and pinion mechanisms.
The fundamental difference between Compact and Viking motors is that during freewheeling, the center of the Compact motor rotates whereas it is the casing that rotates with the Viking. Both ranges can be used almost without maintenance in demanding environments and any number can be installed in parallel to provide additional power where required.
The Viking motor is particularly suitable for providing direct drive for winches and drums in applications involving high demand paying-out. The design ensures 98% efficiency in controlling tension as both Viking and Compact motors can be used to act as drive, brake or clutch. The flexibility of the design also makes it possible to run a winch on one motor where appropriate and shut down any others that may be present for providing additional power to the drum when it is under load.
Compact motors have been used successfully to power mud pumps on land and the company is now developing their suitability for offshore use. Their reliability and compact size are expected to make them particularly attractive for this application.
For more information contact Ingemar Borg, Hägglunds Drives. Tel: +46 660 870 00, Fax: +46 660 871 60, Email: ingemar.borg@se.hagglunds.com.