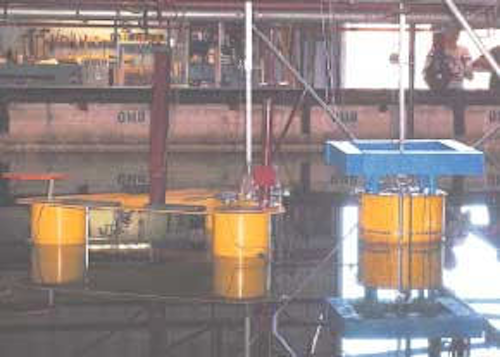 Tender assisted drilling strategies can potentially decrease the capital expen-diture prior to first oil by 50% and the overall investment by 30%, compared to current dry tree development programs. These numbers translate into a substantial reduction in project risk and an increase in expected monetary value.
This value is created by the wells being drilled with a derrick equipment set (DES) erected on the floating dry tree production unit (DTU) as compared to an integrated platform rig, or alternatively, having the wells pre-drilled by an expensive deepwater MODU. The DES operation requires approximately one-third the weight and space of a platform rig because most of its associated equipment and materials are located on a semisubmersible tender unit moored alongside the DTU. This approach decreases the topside payload required by 5,000-6,000 short tons, compared to a DTU designed for a platform drilling rig. This has the potential to reduce the delivery cost of the DTU by a minimum of 20%.
Semisubmersible based tender operations have the same capacities and capabilities as a 5th generation mobile offshore drilling unit (MODU) and have over the last eight years proved to be 15-20% more efficient than those of a platform rig. The wide disparity in performance improvement is a function of the difficulty of the well operation and the number of wells drilled or worked over on a single platform.
Compared to a platform rig, a semi-based tender operation typically provides equipment with much higher specifications. In addition, a modular DES can be erected in a fraction of the time required by a self-erecting platform rig. Detailed operational studies have also identified upwards of 45% fewer hazards in a modern semi-based tender operation, compared to platform rig operations.
Compared to a MODU operation, where wells are pre-drilled prior to the arrival of the DTU, a tender assisted drilling strategy could realize more than a 40% decrease in well costs. This cost reduction is a result of the much lower rig rate required by the semi tender and the elimination of operational tasks associated with subsea equipment.
To achieve this step change, it is necessary to understand how to take advantage of the reduced DTU payload from the DES and how to operate two floating vessels in very close proximity with a 99% "up-time" operating window and a zero risk of collision.
Potential step change
Deepwater reserve potential is estimated at 85 billion BOE. To realize this potential, deepwater oper-ators will have to deliver several more performance step-changes in how these reserves are developed and produced.
The industry has undergone at least three significant deepwater step changes thus far. The first was in the area of geophysical processing and modeling. The second was in the early 1990s when new completion technologies, such as fracture gravel packing, enabled turbidite sand reservoirs to produce at more than double the rate of earlier wells. Another step change was achieved through innovative floating production unit designs and by reducing the cost to engineer, fabricate, and install this infrastructure. As a result, development costs improved from approximately $5.50/BOE to around $2.50/BOE for fields with recoverable reserves in excess of 120 million bbl.
A trend analysis of exploration activities in any given basin proves that the size of the discoveries decreases exponentially over time. The industry fully expects history to repeat itself in the deepwater arena and is learning how to profitably develop these smaller fields.
In the deepwater, development strategies tend to focus heavily on front-end capital expenditures. Hypothetical analyses have determined that a 25% decrease in early capital expenditures can potentially drive a 60% improvement in investment efficiency (P/I). This is primarily due to the huge capital requirements (> $20 million/well), high initial flow streams (> 10,000 b/d/well) and steep declines rates (> 25%/yr).
DTU design/delivery
The design of a Spar, as for any DTU floating production system, begins and ends with its payload, particularly its topside payload. Minimizing total topside payload and the payload corollaries of topside vertical center of gravity (VCG), total wind loading, and wind loading elevation are the most fruitful route to an optimized Spar or other DTU designs. Tender drilling with a DTU, as described, improves all these factors dramatically, especially the total payload and VCG. DTUs are generally designed around one of three well strategies:
Pre-drill all wells with a mobile drilling unit (MODU), then tie back, complete, and workover the wells from the DTU using a self-erecting workover rig. Such rigs generally require operating payload allowances in the range of 1,500-1,800 tons (1,000 hp). Recently, more aggressive sidetracking capabilities have been requested, requiring rigs with 2,800-ton payloads (1,500 hp).
Pre-drill the required wells to meet the planned production plateau rate with a MODU, then tie back and complete these wells with a 1,000-hp rig. When additional wells are required, the DTU is pulled aside by its moorings to allow the MODU to return and drill these wells while the DTU continues to produce. This is referred to as "offset drilling." In this approach, the DTU must be capable of offsetting itself at least 8% of the water depth to safely access the well group. This operation can only be conducted outside hurricane season.
Pre-drill from one to three wells with a MODU. Install a DTU with a fully integrated platform rig. Such rigs have payloads starting at 5,500 tons with specifications increasing in some cases to levels over 9,000 tons. The pre-drilled wells are then brought online using this rig, which is then available for all future well operations.
Other advantages
Tender drilling clearly provides a fourth strategy option. The payload on the DTU for tender drilling operations is around 2,000 tons, which is only slightly more than the payload from a 1,000 hp workover rig, but offers a drilling capability to match most 5th generation MODUs.
For the hurricane load cases, which normally control much of the DTU design, the drillstring setback in the derrick and any pipe on the DTU are offloaded to the tender vessel before the storm, thereby reducing the rig payload on the DTU to approximately 1,200 tons for these controlling cases. This is over a 500-ton payload reduction, compared to the workover rig configuration. Additionally, with the drillstring setback offloaded, the wind loading effects from the rig on the DTU are reduced to those of a workover rig, which is much less than a full platform rig. Thus, the tender drilling configuration, at least for the Spar, provides full drilling capability from the platform with a smaller hull, topside structure, and mooring than any of the other DTU design strategy options, while not precluding either the future use of a platform workover rig or an "offset drilling" operation.
Deepwater tendering
Deepwater tendering has been investigated by several major oil companies for over a decade, but only recently has been considered feasible due to the development and proven performance of robust polyester mooring rope.
Almost two years ago, comprehensive studies were initiated by Drillmar to determine how to safely tender a semi within 60 ft edge-to-edge of a deepwater floating production system (FPS) under all anticipated operating conditions, and then to standby within 1,000 ft during a 100-year extreme survival event.
The US Minerals Management Service requires that all fixed and floating production platforms be designed to withstand a 100-year return period hurricane. It is anticipated that a prudent operator as well as the MMS will require any floating vessel that will be moored in close proximity to a DTU for longer than a year to be designed to meet the same environmental specifications as the DTU.
In order to achieve an operating up-time of 99%, the unit must be able to conduct drilling operations while maintaining a safe clearance alongside the DTU during a 1-year winter storm with one mooring line damaged. Safe clearance (edge to edge) between the DTU and the tender vessel is defined as the required distance between the two bodies to ensure that there is virtually no risk of collision. A minimum safe clearance is equal to 10 meters (33 ft) with 1 mooring line damaged.
In 1,200 ft water depth during a 1-year winter storm in the Gulf of Mexico (GOM), a conventional chain-wire mooring system watch radius would equal approximately 5% of the water depth (60 ft) with 1 line damaged. Therefore, the nominal operating distance between a MODU and a fixed platform would equal 93 ft to maintain 99% up-time.
When both bodies are floating, each unit's mooring watch radius must be considered when it is 180° out of phase. In 6,000 ft water depth, the minimum operating distance to ensure safe clearance between a typical DTU and a conventionally (chain-wire) moored MODU is approximately 480 ft. Obviously, this distance creates operational challenges that eliminate conventional mooring designs as viable options.
Deep draft and tension leg DTUs react to dynamic wave and wind forces very differently from shallow draft semisubmersible rigs and thus are quite likely to have out-of-phase movements.
When tendering, out-of-phase behavior creates significant safety and operational concerns. This situation worsens when a tender or DTU mooring line breaks. One way to better appreciate these issues is to consider them in terms of the telescoping personnel bridge that normally connects the DTU with the tender when well operations are being conducted.
During a Gulf of Mexico one-year winter storm, a DTU next to a taut-moored tender vessel with one line damaged in 6,000 ft water depth would require a bridge with a total stroke capability of over 150 ft. This bridge design criteria is not practical and would indicate that two vessels, each independently moored, even on taut mooring systems, would not support safe and efficient well operations, including personnel movements between units and crane or highline support of the DES operations.
Other challenges addressed during the design and wave basin model testing of the mooring solution were conflict avoidance during one-line-damaged scenarios, vortex induced vibrational interferences between the units due to loop currents, the effects of oscillating forces between the units, changes in pitch and heel angles of the DTU with respect to riser angles, potentially increased riser fatigue resulting from synchronization forces, extreme peak loading of mooring lines due to rogue environmental forces, and polyester rope wear and torque matching.
Passive mooring
A taut mooring system was designed for the tender and subsequently patented applied. It was designed to minimize the vessel's mooring watch radius and to quicken its return period. The taut mooring legs are intended to be pre-installed to allow rapid connection of the tender. During tendering operations, tandem mooring hawsers were designed to achieve the following objectives:
Synchronize the mean and low frequency excursions (more than 50 seconds in periods) between the DTU and tender.
Maintain safe clearance between the DTU and tender during all probable mooring conditions, including a break in any line or hawser.
Cope with relative wave-frequency motions (3-20 seconds in full-cycle period) between the DTU and tender.
When tendering to a tension leg platform, two auxiliary tensioning wire lines are preset using drag embedment anchors and spring buoys. These lines are connected to the tension leg platform to offset the forces incurred through the tandem hawsers.
Retrofit for hubbing
Many existing platforms in the Gulf of Mexico have been turned into regional production hubs used for gathering production from satellite fields. Many E&P companies are finding that they have more satellite development opportunities than production equipment capacity on these hubs. Rather than delaying the development of these reserves, a tendering solution would enable these companies to remove the integrated rigs currently housed on some of these platforms and replace them with production equipment, thereby increasing the platform's throughput capability. Future well work could then be performed using a DES supported by a tender unit.
Deepwater strategy
The potential project value of a deepwater tendering strategy has been validated through engineering studies. Supporting technologies, such as polyester mooring ropes, suction pile anchors, and modular DESs, have been proven over the last decade and are being used today by several deepwater operators.
Dynamic modeling and wave basin model testing have proven that the semi-tender solution can synchronize the low frequency movements of a DTU and a tender unit thus enabling a competitive operating "up time" window for deepwater areas of the Gulf of Mexico, Brazil, and West Africa.
Hazard identification studies have shown that an improved health safety and environmental operation may be expected, compared to alternative platform rigs. Outstanding engineering required for implementation should be addressed on a project specific basis and does not include any known barriers at this time.
Authors
David Tein, Ph.D, P.E. formed David Tein Consulting Engineers, Ltd (DTCEL) in 1992.
Christopher Beato P.E. is the Vice President of Drillmar.
Robin Converse is the Operations Manager for J. Ray McDermott's SparTEC, Inc.
References
SREA
Craig, M., Hyde, M.; "Deepwater Gulf of Mexico more profitable than previously thought," Spirit Energy 76, Oil and Gas Journal, March 10, 1997.
US Patent Application Serial No. 60/238,177; Christopher L. Beato & David Y.S. Tein.
API RP - 2SK.
ISO MODU Code.