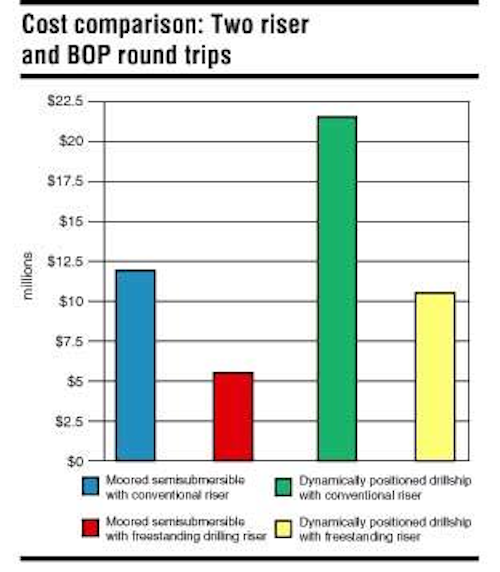 by Al Grundstrom, Cameron
As drilling operations move into deeper waters worldwide, the limited number of rigs capable of drilling at these depths becomes a significant constraint. Using a free-stading drilling riser may offer some relief, allowing smaller rigs to drill in deeper waters.
To illustrate how tight the market is for deep and ultra deepwater rigs, consider the following utilization rates. In March 2001, rates were 60% for second-generation rigs, 78% for third generation, 97% for fourth generation, and 100% for fifth generation.
Drilling contractors are upgrading existing rigs and building new fifth-generation rigs, but the composition of the worldwide drilling rig fleet is slanted toward operations in less than 3,000 ft water depth.
Smaller rigs, deeper water
If second- and third-generation rigs can be used in deeper waters, operators could avoid both the availability and cost constraints of fifth-generation rigs. A Multi-Service Vessel (MSV) or an early-generation semisubmersible rig can be used to install a free-standing drilling riser (FSDR) that would allow a smaller rig to operate in deeper water. The MSV is a new type of vessel first developed by Davie Industries and Cal Dive International. MSVs are designed for such deepwater tasks as well interventions, completions, and pipelay. They also have limited drilling capability. While the MSV concept is new, the FSDR has been proven by successful use as a production riser in the Gulf of Mexico.
This method of riser installation allows under-utilized, earlier generation rigs to be employed immediately on deepwater wells, which is good news not only for the operator, but the drilling contractors who want to put these rigs to work. An FSDR can substantially reduce the time required for certain operations, which translates into significant cost reductions.
FSDR background
Cameron first developed the FSDR in the early 1980s with the goal of improving safety. In deepwater drilling operations, a conventional drilling riser requires quite a bit of time to retrieve. This can hamper a rig's ability to move off location in the event of a storm. In 8,000 ft water depth, it can take as long as four days to pull a drilling riser. To ensure crew safety, drilling operations are suspended long before the threat of a storm is certain. By the same token, another three to four days are needed to re-deploy the riser after the danger has passed.
FSDR design
The FSDR is made up in two sections, a retrievable upper section and a free-standing, lower section. The sections are mated 300 to 500 ft below the surface of the water by an Upper Marine Riser Package (UMRP), which incorporates an annular-type collet connector and an optional non-sealing pipe shear ram. The connector is a Cameron Load King, specially developed for deepwater applications. Riser joints incorporate open-bottom air tanks that provide variable buoyancy for top tension. These tanks can support the free-standing riser section even when the riser contains a 17-pound-per-gallon mud column and the drill string. Below the tanks, all the components are conventional riser equipment.
Cameron's free-standing riser concept was first used as a production riser in the Gulf of Mexico in the late 1980s. It was 1,334 ft long and at that time was the world's largest riser. The Free-Standing Production Riser (FSPR) was the key component in a unique floating production system installed in 1,540 ft water depth in the Green Canyon area. At the time, this was the world's deepest floating production system. When production in this development declined below commercial volumes, it was shut down and the riser was retrieved. This FSPR was refurbished and lengthened for installation in 2,100 ft water depth in the Garden Banks area, where it was in service for four years.
In addition to this field experience, the FSDR concept was modeled and extensively tested in the Texas A&M Offshore Technology Research Center wave basin. Water depth simulated for these tests was 6,560 ft.
A six-well scenario
With a fourth-generation, moored semisubmersible or dynamically positioned drillship, an FSDR saves considerable time in specific tasks. If an operator uses an MSV or other, less-expensive rig in conjunction with a second- or third-generation rig to drill and complete wells in water depths beyond the rig's original design capacity, the savings increases. The two vessels in combination can achieve the same result, at a lower cost, than a fourth-or fifth-generation rig.
To develop six wells in 6,000 ft water depth using an FSDR with an MSV and a second- or third-generation rig would follow a typical procedure. An anchor-handling vessel would pre-install a tension-leg mooring system and rotate the anchors into the optimal attitude. An MSV would then install the 30-in. and 20-in. casing strings with 18-3/4-in. high-pressure wellhead on all six wells. The hole for the 20-in. casing would be drilled without a riser. The MSV would then install a parking wellhead and run the free-standing portion of the drilling riser on this parking wellhead. A second- or third-generation drilling rig would be moored up to the taut leg moorings. Using heavy-weight drill pipe, the BOP would be run on the first well to be drilled. The upper section of the FSDR is run at a depth of approximately 500 ft. The FSDR is then moved from the parking wellhead to the first well, and drilling is completed for this well. The FSDR and BOP are then moved from the completed well to the next well. This involves:
• Moving the FSDR from the completed well to the parking wellhead
• Picking up the BOP and moving it to the second well to be drilled
• Moving the FSDR from the parking wellhead to the second well to be drilled.
This process is repeated until all six wells are drilled. The FSDR is then left on the parking wellhead until the MSV returns to retrieve the FSDR and parking wellhead. The anchor-handling vessel retrieves the mooring system.
In the above scenario and for the following cost comparisons, only one FSDR is used. In a larger development, it may be cost effective to use two FSDRs and two mooring systems. These systems could "leap-frog" from well to well to save even more time. In either case, a second-generation rig can be used because this system reduces the deck-load and deck-space requirements. Using the FSDR, the drilling rig is not required to support the full weight of the riser in air or provide space to stack the riser joints on board. The rig saves time by not having to retrieve and run the entire riser when moving from well to well. Because the suspended load reacting on the rig during drilling operations is reduced, smaller capacity drilling riser tensioners can be used. In addition to the time and cost savings, the FSDR offers the safety benefits of reduced riser joint handling.
Cost analysis
The following cost analysis for a typical deepwater drilling program illustrates the potential magnitude of the above savings. This analysis includes a comparison of drilling and completion costs for a fourth-generation moored semisubmersible or a fifth-generation dynamically positioned drillship, with a freestanding drilling riser system, and a multi-service vessel to perform certain operations off the drilling vessel's critical path.
This analysis assumes drilling a 20,000 ft well in the Gulf of Mexico in 6,000 ft water depth. Calculations assume a day rate of $160,000 for the MSV, $225,000 for the semisubmersible and $400,000 for the drillship. It further assumes that it will take 60 days to drill and complete the well, and that a horizontal wet tree such as Cameron's SpoolTree™ Christmas tree will be installed.
Regardless of the type of riser used, the following steps are required in this typical operational scenario once the vessel arrives on location:
1. Jet in 30-in. Casing
2. Drill and install 20-in. Casing
3. Run BOP and riser
4. Drill well to TD
5. Retrieve riser and BOP
6. Install tree
7. Run BOP and riser
8. Complete well
9. Pull riser and BOP
Even without using a lower cost MSV, the following costs illustrate substantial savings possible with a free-standing drilling riser. These costs were developed from current dayrates and typical times required for the operations mentioned.
Two riser and BOP round trips (Steps 3, 5, 7, and 9 above):
• Fourth-generation moored semisubmer-sible, conventional riser–$12.15 million
• Fourth-generation moored semisubmer-sible, freestanding drilling riser–$5.43 million
• Dynamically positioned drillship, conventional riser–$21.6 million
• Dynamically positioned drillship, freestanding drilling riser–$10.48 million.
Total drilling and completion costs
Total costs for the six-well scenario also illustrate substantial potential savings:
• Using a fourth-generation moored semisubmersible with conventional riser for all operations–$81 million
• Using a fourth-generation moored semisubmersible and MSV with free-standing drilling riser–$61.62 million.
Conclusion
The FSDR offers the potential for substantial cost reductions by allowing the option of a lower cost vessel to perform certain tasks and by reducing the time required to perform these tasks. Just as important, it increases the level of safety for offshore drilling operations.