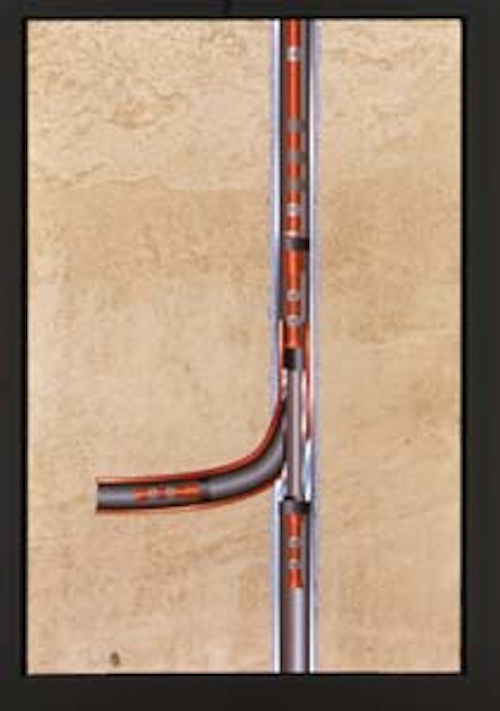 Multilateral systems such as this Halliburton "Multilateral System 3000" are providing operators increased production control through lateral and main bore access.
---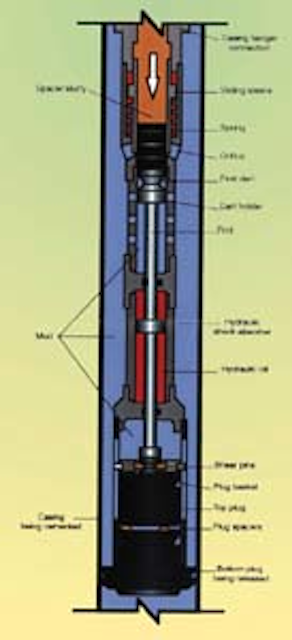 The downhole subsea tool can hold up to three wiper plugs loaded from the surface.
Multilateral technology advancing by "firsts"
Claims of multilateral firsts issued from major service companies with astonishing regularity in the first half of 1996. Halliburton, Baker, and Sperry-Sun all issued statements touting their first-place finishes in various stages of the race for multilateral supremacy.
Baker Oil Tools' proclaimed a February 1996 Gulf of Mexico re-entry, "the world's first cased hole, frac-packed, tubing accessible, dual multilateral well." It is a dual well with 2 7/8-in. tubing in a 7-in. liner in an 8 1/2-in. lateral well bore. A packer in the lateral and a dual packer in the main well bore facilitated the first totally isolated lateral.
Sperry-Sun Drilling Services labeled two of its multilateral installations "firsts"--one in February and one in May. In February, Sperry-Sun shared credit with NAM (Nederlandse Aardolie Maatschappij) and Pressure Control Engineering for the "first selective through-tubing re-entry into a lateral well bore (see Offshore, May 1996)" when they placed and retrieved a dummy plug. Hailed by Sperry as "a multilateral drilling and completion breakthrough," one competitor called tubing re-entry capability "a pretty standard deal" but did concede Sperry-Sun was the first to officially do it.
The May Sperry-Sun statement proclaimed "the world's first retrievable multilateral system (RMLS) installed with full bore capabilities in both the cemented lateral and main well bore." The lateral liner is cemented back to the primary well bore ensuring, according to Sperry-Sun, "mechanical integrity and hydraulic isolation for the lateral."
In that same month, the headline of a Halliburton Energy Services release seemed to dispute Sperry-Sun's claim. HES announced in early May the world's first multilateral system with full re-entry access, lateral liner connectivity, and a hydraulically-isolated liner.
The difference between the Sperry-Sun and Halliburton accomplishments is significant if not immediately apparent. Halliburton claims its completion attained hydraulic integrity, or pressure-sealing, at the lateral-main junction. While a Halliburton spokesman said the pressure limits of a junction is too well- and formation-dependent to permit publishable pressure ratings, he said the client, Norsk Hydro, witnessed the hydraulic integrity test and agreed to its success. The liner cement is the sealant.
Two conclusions can be drawn from the recent spate of multilateral announcements. The technology will soon be a routine completion option and service companies are confident the oil companies are ready to buy that option.
Sonic completes LWD suite
Resistivity, density and neutron porosity LWD measurements have been available and their accuracy accepted by the industry for some time. But a sonic LWD tool, critical to seismic correlation, overpressure detection, and porosity evaluation and thus of particular interest to explorationists, has eluded designers. It is the nature of the tool that has resisted adaptation to LWD. It is, after all, a sound tool. And when a bit is making hole it is also making interfering noise.
Designers were also frustrated by the difficulty of generating a signal through the mud, into the formation, and back to the tool from a drilling BHA by drill collars that are great signal conductors and are as likely to divert the pulse up the collar as outward to the formation. The problem is solved in wireline tools by cutting holes around the transmitters--a strategy with serious drawbacks for a tool whose housing must also perform as a drill collar.
And finally, once the problems of noise and signal direction were addressed, a new technical limitation arose when designers found it impossible to measure "slow rocks," such as those formations offshore with attenuation times exceeding 130 microseconds per ft.
Two manufacturers, Halliburton and Anadrill, claim to have mastered these technical challenges and now market sonic LWD tools. Halliburton has recently introduced the Scout Sonic Service and Anadrill has been running the Isonic tool since 1993. Both claim the capability to measure the high transit times of slow rocks. In the spirit of healthy competition both have expressed doubts in the others' range.
Subsea cementing efficiency
As innovations improve the economics of drilling, the cost of non-drilling time is a tempting cost-cutter's target. Days spent cementing while the rotary idles are the most predictable non-productive events and are particularly nettling in deep water where drilling rig dayrates are escalating. Cementing is also a drilling operation fraught with such dangers as work strings cemented in liners or cementing times prolonged by contaminated cement unable to set up.
Dowell is targeting primary deepwater cementing efficiency with a subsea, cased cementing head system based on a simple plug design. The Deepsea Express system loads as many as three solid wiper plugs from the surface into a basket of a subsea tool (SST) placed below the casing running tool. The well is circulated through SST orifices that access the SST-casing annulus. A dart released from the surface creates a seal at the SST and the resulting pressure forces a traveling rod downward to push the plug out of the basket. Once the plug is gone and the dart in its final position, the orifices re-open for cement slurry flow. The final plug is launched when brass pins are sheared by an additional 3,000 psi internal pipe pressure.
Advantages of the system include easily distinguished pressure increases to clearly indicate the launching and landing of plugs. And the dart's fins expand to match the drill pipe ID to prevent fluid contamination.
By virtue of their design, the plugs are rated to withstand the pressures of casing integrity tests, a feature with a two-fold advantage. Pressure tests balloon the casing, breaks the casing-dry cement bond and leaves a micro annulus. That problem is eliminated by testing against the plug and pliable wet cement. Also, time and money are spent more efficiently as the tests may be performed while waiting for cement to dry rather than spending what often amounts to downtime waiting on cement (WOC).
Copyright 1996 Offshore. All Rights Reserved.