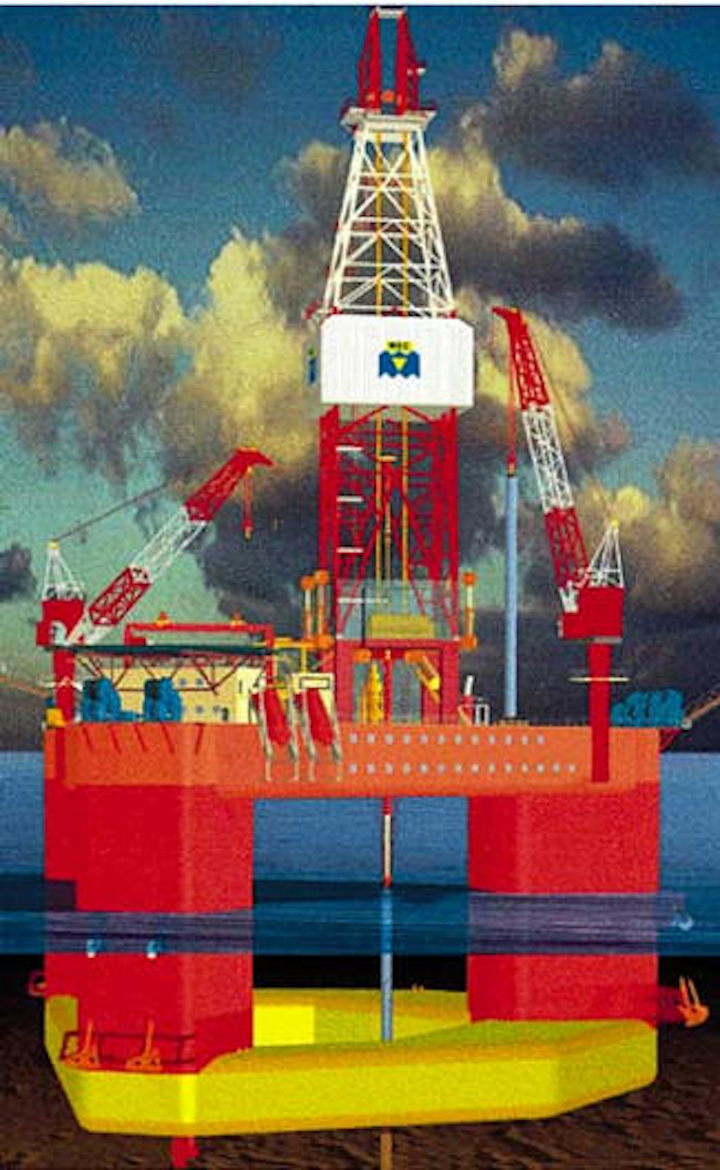 Construction is underway on the first newbuild drilling semisubmersible to serve in the Caspian Sea. The $250 million, four-column vessel is based on Marine Structure Consultants/Keppel FELS' DSS 20-CAS-M concept, and will be operable in water depths of up to 1,000 meters. This is far beyond the capability of the only other available semisubmersible units - Istigal and Dada Gorgud - which are both conversions. Their respective operating limits are 600 meters and 400 meters water depth.
The new rig - yet unnamed - will be owned and operated by Maersk Contractors, and represents the company's first drilling venture in the Caspian. Construction was made possible following the award to Maersk this February of a three-year drilling contract from Exxon Azerbaijan and Chevron Overseas Petroleum Azerbaijan. Following delivery late in 2003, the rig will work in the deepwater Nakhchivan and Zafar-Mashal PSA, operated by Exxon, and the Chevron-led Absheron PSA.
4,000-ton deckload
Maersk claims that this will be the largest and most powerful drilling unit in the Caspian Sea, with variable deckload capacity of 4,000 tons, and with derrick and riser tension capacities each rated at 2 million lb. It will also be equipped with three 7,500 lb/sq in. working pressure mud pumps and a 750 ton capacity top drive. Onboard there will be accommodation for up to 130 personnel. Deck dimensions will be 63.5 meters in length, 64.5 meters in width, with 35 meters depth. Maximum operational displacement for the rig will be 30,000 tons.
According to Gerrit Jan Schep-mann of Marine Structure Consul-tants (MSC), the DSS 20-CAS-M is an enhanced version of MSC's DSS 20-E-DP concept, which was quoted to Schahin-Cury/Petrobras in 1998. For example, the variable deckload capacity has been increased by 500 tons, and the positioning system has been changed from DP to a catenary mooring spread. Like its forerunner, the new version also features vertical riser storage. The rest of the drilling package will be standard.
Caspian Shipyard Company in Baku is building the deck, while Keppel FELS in Singapore is fabricating the rig's four columns, supporting substructures, and the two 90 meter by 12.5 meter pontoons, the drill floor, and substructure. These will be shipped across via the Black Sea, with first shipments due next summer. Award of the crane and drilling packages has not yet been confirmed.
MSC, based in Schiedam, The Netherlands, has a brief for this project that includes basic design (all naval architectural calculations, documentation and main drawings), and obtaining class-type approval from ABS. The naval architectural package covers full structural analysis (local and global strength and fatigue). Special attention has been paid to the connections between the columns and the pontoons, between the upper deck and columns and the brace connections.
Structural testing
Although environmental conditions in the deepwater Azeri sector are moderate, a 1:125 scale model of the semisubmersible has been subjected to typical airflow patterns at the DNW wind tunnel test center in northern Holland. The results were used to calibrate the wind heeling moments for the stability analysis and to verify the environmental forces for the positioning system.
Testing of a 1:50 scale model by Marin in Wageningen included regular and irregular wave tests, with the wire mooring system also fitted in scale to the model. The currently proposed mooring arrangement is based on 3-in. wire chains held in place by eight 12-ton anchors. The wire mooring spread is considered suitable for water depths up to 500 meters, while for deeper waters the mooring spread would be attached to a pre-laid system.
Over the past six years, MSC designs have been chosen for six other new drilling semisubmersibles including the Cajun Express, Sedco Express, and Sedco Energy. Aside from the DSS 20 range, MSC has developed two other proprietary designs. Schepmann describes the DSS-40 as a straightforward, four-column carrier for deepwater operations up to 7,500 ft. Although targeted originally at harsher, North Sea-type environments, it was recently updated for moderate conditions also, by increasing the variable drilling load from 4,000 tons to 6,000 tons, and reducing the air gap and draft to 8 meters and 21 meters, respectively. It could operate either in full dynamically positioned mode or with thrusters and a combined chain/wire mooring system. This concept is currently being promoted to several drilling contractors.
Three-column concept
Also new is MSC's three-column concept, the Delta 7000, which was designed partly in response to contractors' request. This concept is suited for water depths up to 10,000 ft deep in harsh environments.
Schepmann explains: "In high current conditions, you have less lateral area, so the current forces are around 15% lower than those acting on standard four-column units. We have proven this in our calculations. "The environmental forces on the Delta 7000 are the same in each direction. By employing only three columns, you have one less to build, which is cheaper and offers huge storage capacity in the forward column.
"This column will be used for the vertical storage of 100 ft long riser joints. The drilling derrick is located adjacent to the forward column. Thus, the riser can be fed straight into the derrick, and the riser and drillstring are protected from wave impact by this column."