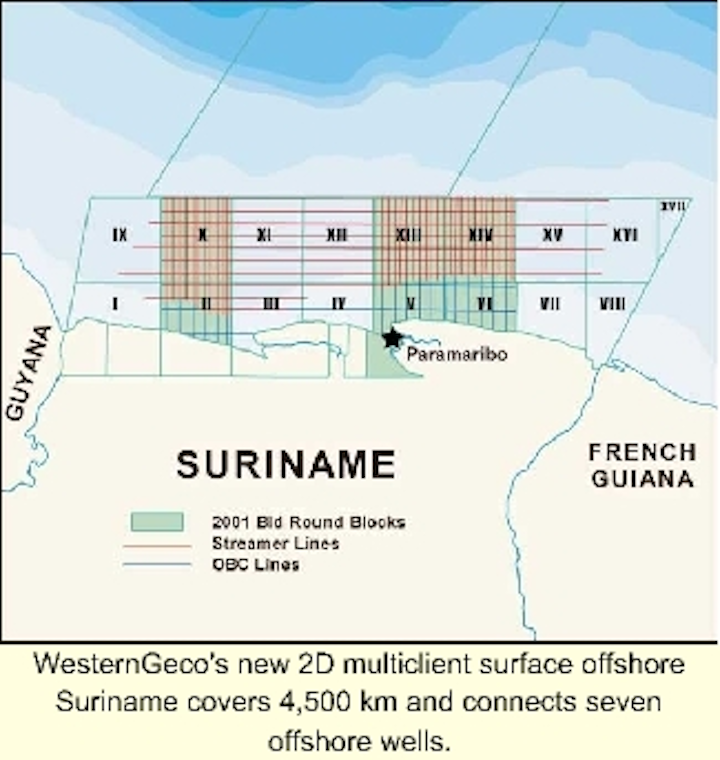 Victor Schmidt
Houston
NMR-LWD does not see matrix and is lithology independent
Numar and Sperry-Sun Drilling Services of Halliburton Energy Services have commercialized the first logging-while-drilling (LWD) nuclear magnetic resonance tool, called MRIL-WDTM. This is a technology advance toward a non-radioactive bottomhole assembly. The 6 3/4-in. OD tool (for 8 1/2-10 5/8 in. holes) went into commercial operation this quarter in the deepwater areas of the Gulf of Mexico.
LWD provides rock measurements before significant fluid invasion of the formation and saves rig time by allowing reservoir information to be included in decisions before wireline tools are employed. Numar began developing the tool in 1996 and decided to commercialize the technology after proving the concept while logging ten wells with prototype tools. Other tool sizes will be added as the market develops.
The tool works by "perturbing" the rock with a strong magnetic field and a radio frequency signal, which manipulates the hydrogen nuclei in the rock fluids. Using a strong permanent magnet, the tool is centralized in the hole by standoffs and wear-bands. The non-radioactive tool does not see matrix and is lithology independent. It will operate in the reconnaissance logging mode in real-time while drilling.
For more detailed measurements, it also has an evaluation logging mode similar to the wireline tool, but measured after drilling. The more detailed measurements are stored in the tool's memory and recovered at the surface after the logging pass.
Two nuclear magnetic resonance (NMR) properties are measured:
T1, the magnetization buildup
T2, the rate of magnetization decay
The two provide measurements for three different porosities, permebility, and direct hydrocarbon typing:
Irreducible porosity - capillary-bound water and clay-bound water
Free-fluid porosity - similar to effective porosity
Total porosity - the sum of irreducible and effective porosity
Absolute permeability - a derived value.
Direct hydrocarbon typing of free fluids present.

---
EXPLORATION
Suriname survey
WesternGeco completed acquisition of a 4,500 km 2D multiclient survey offshore Suriname. A well-tie survey connecting seven offshore wells and a 4 km by 8 km grid over planned bid round areas was performed. WesternGeco is also completing a 1,000 km OBC survey in shallow waters, nearshore Suriname. Sample sections of the data will be available for viewing at the AAPG convention in Denver, Colorado. Contact Staatsolie Maatschappij Suriname N.V. at 597-439781 or email: madaal@staatsolie.com.
Equatorial Guinea
Western Geco's M/V Trident completed a survey offshore Côte d'Ivoire in April and has begun shooting over Vanco's 3,120 sq km Corisco Deep block off Equatorial Guinea.
---
TECHNOLOGY
GeoProbe
Magic Earth announced the release of GeoProbe® 2.5, the company's newest version of high-end volume visualization and interpretation software. Features added to the code include:
Geobody sculpting
Surface-bounded autotracking and clipping
Enhanced user control of graphics and probe interaction.
Michael J. Zeitlin, Chairman and CEO of Magic Earth, said, "We heard a call for a fault and surface interpretation capability, so we added it to 2.5 as a new feature, which we call 'ezFault' and 'ezSurface.' It is more powerful than users expected." Additional information is available from e-mail: pgriffin@magicearth.com.
Web-based E&P
Common Data Access Limited has released Deal Phase 2, which is the Digital Energy Atlas & Library (Deal) web-based service that allows users to access information related to E&P activities on the UK Continental Shelf. The Deal site was launched in September 2000. New data sets have been added, and selected data is now directly downloadable in digital format. A comprehensive set of well header information and 3D seismic outlines is available for the first time as a free downloadable digital dataset. Further information is available by e-mail: j.mcinnes@bgs.ac.uk.
Enhanced OpenSpirit
OpenSpirit Corporation said its new version, OpenSpirit V2.1, adds support for Landmark OpenWorksTM 98.5 and GeoQuest GeoFrame® 3.8 servers, support for basic Earth Models, horizons and horizon properties, improved event gateway functionality, and support for Microsoft Windows NT/2000® C++ clients. It includes system performance improvements and enhanced deployment tools.
Volume attributes
GeoQuest (Schlumberger Oilfield Services) has released Variance CubeTM volume attribute software utilizing OpenSpirit for data access. Variance Cube is GeoQuest's first software application on the OpenSpirit platform-independent framework. The software is able to process seismic data in multiple formats, including the GeoQuest GeoFrame® project database or Landmark OpenWorksTM. It calculates the direct measurement of dissimilarity rather than the inferred similarity of seismic data. During a recent beta test, Norske Shell produced a processed volume more than twice as fast as with any other tool they have available for this calculation.