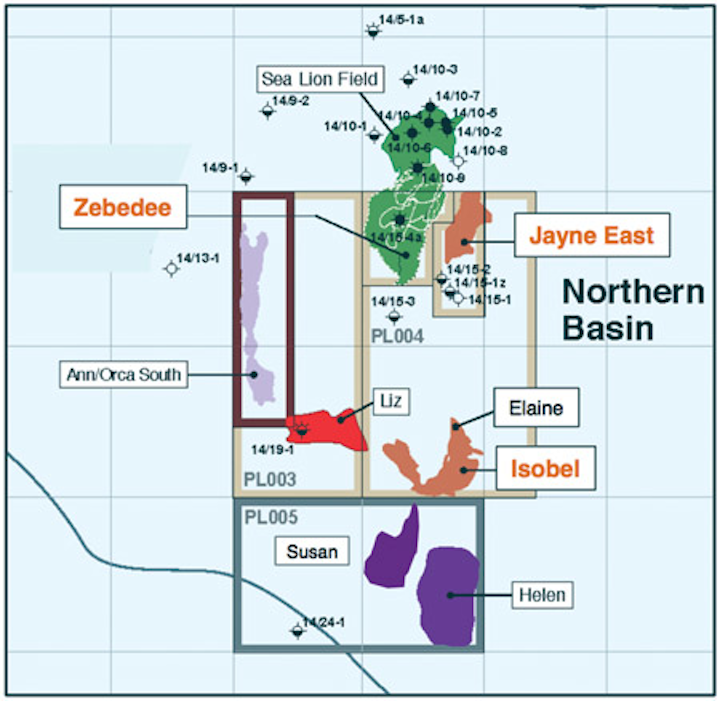 Hunt switches to bigger targets in southern basin
Jeremy Beckman
Editor, Europe
Exploration off the Falkland Islands got off to a flying start earlier this year, with two oil discoveries in the first two structures drilled by the semisubEirik Raude in the North Falkland basin. Last month, the rig was due to spud the first well of the current campaign in the deeper-water South Falkland basin, on the Humpback prospect.
Falkland Oil and Gas Ltd. (FOGL) has interests in all three wells, and is one of the longest-serving explorers in the region. CEO Tim Bushell, speaking at Shore Capital's Exploration & Production Conference last month in London, said it had taken a long time to open up the basin: "Twenty years, in fact, since the Islands' first licensing round. We had to have patience, but now we're seeing signs of progress after proving that this is a commercially viable oil province. Politically, the noise being generated from Argentina doesn't stop us from doing what we do, although it does play on the minds of our investors."
Ever since FOGL began acquiring licenses, initially in the South and East Falkland basins, the company's strategy has not changed, he continued. Its plan has been to prove a concept, unlock hydrocarbons (particularly oil) and eventually exit when the assets become material to the majors. More recent entrants such as Premier Oil, Noble Energy, and Italy's Edison are also looking to prove large volumes of oil, he said, "making it very difficult for the bigger majors to remain sitting on the fence."
FOGL is the largest acreage holder around the islands, with total holdings of 40,000 sq km (15,444 sq mi), and stakes of 40% or more in all its licenses.
In addition to the initial trio of wells this year, it will participate in a fourth on the Jayne prospect east of the Premier-operated Sea Lion field, and potentially others, pending negotiations with the rig contractor for further slots. The London-based independent has sufficient cash reserves despite the fact that the current drilling program was negotiated prior to the slide in rig rates. It has managed this via series of deals over the past few years, starting in 2007 when it brought in BHP to drill the first well south of the Falklands, and continuing in 2012 when Noble came onboard (politically expedient as a US company, Bushell pointed out), along with Edison. Shortly afterwards, FOGL acquired fellow UK independent Desire Petroleum and its holdings in the North Falklands basin, which led to subsequent license farm-outs to Premier and Rockhopper. "Desire had been disregarded by themarket after a series of well failures, but their data room showed they had a large share of the southern part of the Sea Lion field in a low-risk, proven play... We saw this as a chance to prove extra reserves," Bushell said.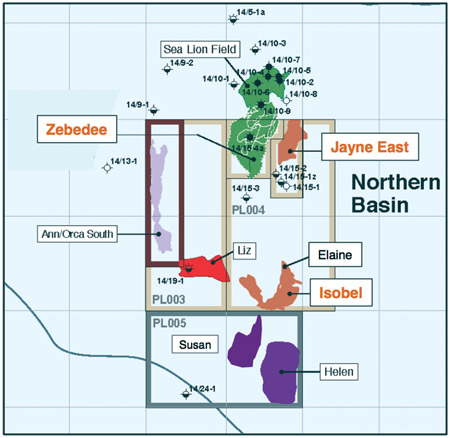 North Falkland basin acreage and prospects. (Maps courtesy Falkland Oil and Gas Ltd.)
Zebedee
The first of this year's wells, operated by Premier, was on the Zebedee structure in license PL004b, viewed as a possible southerly extension of Sea Lion. According to Bushell, the well had seven different targets. It encountered oil and gas at three levels, with most of the pay within two net sands. Measurements suggested the Zebedee reservoir, which may hold 75 MMbbl, is in pressure connection with Sea Lion. The previously undrilled Hector gas reservoir, which flowed gas, is also thought to hold potential for a large oil rim.
Next in the sequence was Isobel Deep, again operated by Premier and another oil discovery. This was drilled 30 km (18.6 mi) south of Sea Lion on the Isobel/Elaine fan complex in PL004.
"Sea Lion is a multiple-fan complex, a rift system such as what you see in East Africa," he explained, "but Isobel Deep was the first test of a completely new fan system...We chose a location where the fans offset each other: in this case, we didn't want to test multiple sands, just a safe location to prove our concept - which we did."
The well encountered 23 m (75 ft) of oil-bearing F3 sands. However, the reservoir turned out to be over-pressured, catching the partners by surprise, and had to be shut-in before reaching target depth, as the rig did not have the right casing. Depending on results from the next wells, theEirik Raude could return later in the year to drill a side track or a re-drill nearby.
"It's not high-pressure/high-temperature by any means," Bushell said, "and there is a positive. Sea Lion has limited reservoir pressure, which means development will require downhole pumps and gas lift. Isobel Deep, though, looks like it could produce under its own steam."
Last month, oil samples from the Isobel Deep well were sent to Aberdeen for analysis to determine whether there are similarities with Sea Lion's crude. "The location was updip in the main channel system," he explained. "Without wireline logs we don't know how big it is, but there could be 150 MMbbl." The well has de-risked the Isobel/Elaine fan complex and FOGL's PL005 to the south, he added, with upside for up to 1 Bbbl in the area depending on results from future wells planned in the Isobel shallow sands and the Elaine structure to the north. If confirmed, this would be far in excess of volumes at Sea Lion.
Humpback
The South/East Falkland offshore basins are 10 times the size of the North Falkland basin, but only five wells have been drilled there to date. Drilling has proven gas and condensate, the largest find so far (and the most southerly) being Borders & Southern's Darwin, thought to hold 130-250 MMbbl recoverable.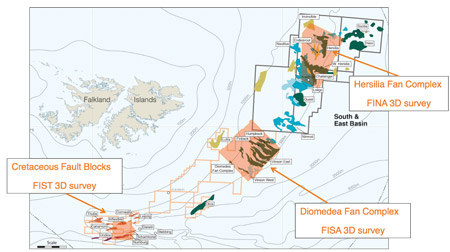 Potential prospects in the South/East Falkland basins.
FOGL had acquired 2D seismic over its licenses, but bringing in Noble and Edison in 2012 provided funds for a much larger, 12,000-sq km (4,633-sq mi) 3D program during 2012-13. "We are still integrating that data," Bushell said, "although we believe the Diomedea fan complex is where we are most likely to find oil. This is a deepwater fan complex with big slope channels and fans, including the [510-MMbbl] Humpback prospect. If that well works, there are a whole series of other opportunities that look like Humpback." Another promising structure is Starfish in the Hersila fan complex to the northeast.
The partners have decided to postpone a planned second well in the South Falkland basin, depending on the result from Humpback, due by the end of July. If it is a success, they may opt for a side track in an attempt to prove more volumes, Bushell said. Later in the year, probably September, FOGL will team up again with Premier to drill the Jayne East prospect in PL004C in the North Falkland basin. An oil find here could be connected to a possible Phase 2 or Phase 3 development of Sea Lion.
Although the various Falklands partnerships missed out on the current cycle of lower rig rates, they expect to be able to renegotiate for any additional drilling beyond the firm wells lined up for theEirik Raude. This could include two appraisal wells on Isobel Deep. Although this is the winter season in the Falklands, conditions can be good or bad at any time of the year, Bushell said, but are generally manageable with a rig this size.
As for Argentina ratcheting up threats of legal proceedings against various participants following the two recent discoveries, Bushell claimed the timing related to the country's presidential elections in October. "The UK's Foreign Office says we need to see who gets elected...there is a general hope that if Kirchner can be replaced with a more sensible regime, things will settle down." •