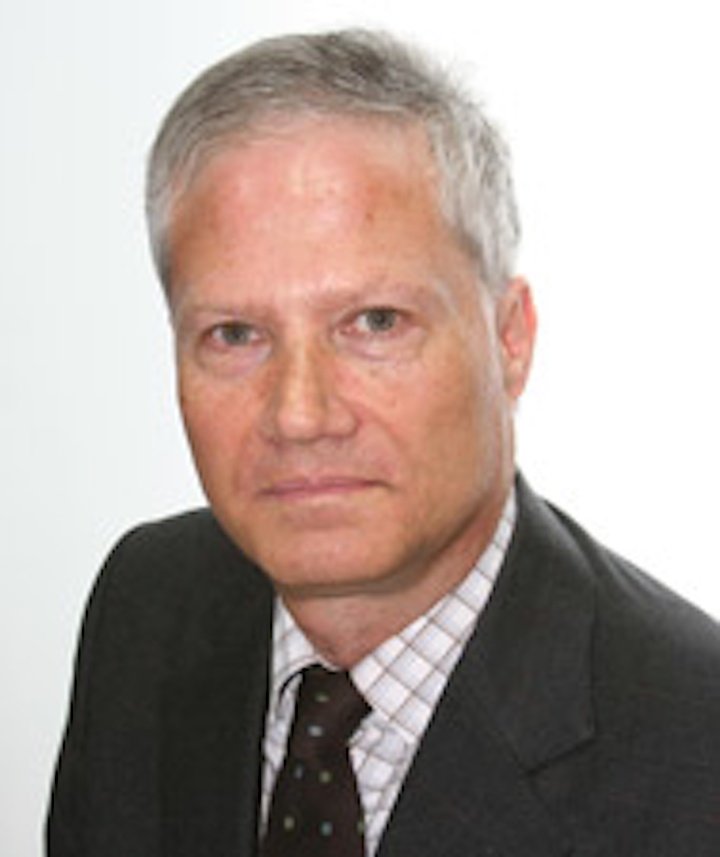 | | | |
| --- | --- | --- |
| | | Jeremy Beckman • London |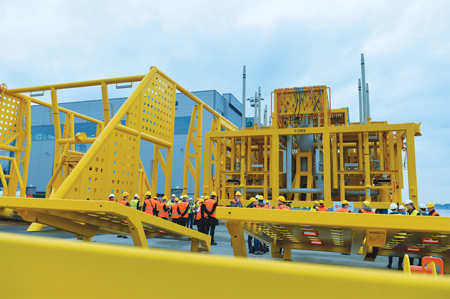 Gullfaks subsea compressor load-out. (Photo courtesy Statoil)
Subsea compressor heads to Gullfaks South
Seaway Heavy Lifting's crane vesselOleg Strashnov was due to install the world's first subsea wet gas compression system last month, at a location 15 km (9.3 mi) from the Gullfaks C platform in the Norwegian North Sea. Operator Statoil developed the equipment in collaboration with OneSubsea subsidiary Framo. It comprises a 420-metric ton (463-ton) protective structure and a 650-metric ton (716-ton) compressor station, incorporating two 5-MW compressors and two coolers. It was due to be placed on the seafloor in a water depth of 135 m (443 ft) where it will be connected to two existing subsea templates and pipelines transporting production to Gullfaks C.
Unlike the technology employed for Statoil's other concurrent subsea compression project, at åsgard in the Norwegian Sea, the Gullfaks equipment does not require the gas to be separated from the produced liquids prior to compression. Instead, the wellstream is homogenized by passing it through a mixer. This, combined with low-pressure production, to be added in a future development phase, should increase the gas recovery from the Gullfaks South reservoir.
Statoil claims the solution is more efficient and allows the use of smaller modules than the alternative option of adding a conventional topsides compressor. OneSubsea also supplied the power/hydraulic controls package for the subsea station, which will operate from Gullfaks C. Following hookup operations this summer, compression should start during the fall.
More contracts issued for Johan Sverdrup
Statoil is powering ahead with main contract awards for the first phase of the Johan Sverdrup project in the central Norwegian North Sea. Allseas' giant new installation vesselPioneering Spirit will lift three of the four platform topsides into position on their supporting steel jackets, starting with the drilling platform topsides in 2018, followed by the processing topsides - at 28,000 tons, the heaviest - and the living quarter topsides in 2019.
ABB has a $155-million order to supply two high-voltage direct-current (HVDC) converter stations that will link the four platform complex to Norway's onshore grid. One of the stations will be located at Haugnsneset where it will convert alternating current from the grid into HVDC that can be transmitted over a distance of 200 km (124 mi) to the second station on one of the platforms. There the DC current will be converted back to AC and distributed to the field's various facilities.
IKM Ocean Design is responsible for detail engineering and subsequent supervision services for the subsea umbilicals, risers, and flowlines. And even though Norway's parliament has yet to approve the development, Statoil has already contracted Aker Solutions for a concept study for Johan Sverdrup's future phases.
Knarr goes onstream offshore Norway
Elsewhere in the Norwegian North Sea, the FPSOPetrojarl Knarr has produced first oil from the BG-operated Knarr oil and gas field, although operations early on were interrupted by an onboard fire. The vessel, leased from Teekay Corp., has a production capacity of 63,000 boe/d and an oil storage capacity of 800,000 bbl. Exploration drilling continues on the license as BG aims to extend the project's productive lifespan, currently estimated at 10 years.
Knarr's gas is exported to the UK via a pipeline that connects to the FLAGS trunkline system. Swedish contractor MMT is claiming a world record speed of 4.5 knots for its inspection of the pipeline, performed by theSurveyor Interceptor ROV and deployed from the vessel Edda Fonnunder a joint project with Reach Subsea. The ROV surveyed the 106-km (66-mi) pipeline, in water depths ranging from 400-140 m (1,312-459 ft), during a 17-hr program. It swam 4-5 m (13-16.4 ft) above the pipe and multi-beam, collecting 0.1 m (0.33 ft) gridsize and full 3D photomosaic data. According to MMTs Ola Oskarsson, "the weather had been dreadful during February and we needed to work fast in the given weather window since the pipe was ready to put in use." They delivered their final report eight days after leaving the vessel.
MMT claims its ROV could potentially reach speeds of up to 6 knots, and that Gassco, the Norwegian operator of the Knarr gas pipeline, sees potential for cost saving of more than 30% compared with normal ROV inspections using a similar equipment spread and smaller support vessels.
Limited incentives for UK exploration
GDF Suez E&P has pulled off its second oil discovery in the UK central North Sea in the past few months. The jackupTransocean Galaxy II drilled the Dalziel prospect in block 22/16, the well flowing more than 8,000 boe/d. Earlier, GDF Suez proved oil in the normally-pressured Marconi structure in the high-pressure/high-temperature corridor of the central sector.
Exploration drilling remains subdued throughout UK waters, and some analysts have questioned whether new measures introduced in Chancellor George Osborne's Budget in March will have much re-ignition impact. Osborne responded to the industry's calls to reduce the rate of taxes on mature and relatively new producing fields. He also introduced a simplified Investment Allowance to help more development projects move forward, although this is unlikely to be extended to opening new frontier plays, according to Mhairidh Evans of Wood Mackenzie.
Osborne additionally pledged to provide £20 million ($29.5 million) to Britain's newly-formed Oil and Gas Authority to commission offshore seismic surveys in frontier areas. Hannon Westwood (HW) welcomed this initiative, but cautioned that in isolation, it would have little impact on exploratory well numbers.
HW called instead for a range of measures to help the UK continental shelf (UKCS) become more competitive internationally for exploration. These included an appropriate fiscal stimulus; state-sponsored pre-competitive geoscience in both mature and frontier areas (in addition to seismic acquisition); early release and more effective sharing of data and information; clarification of the remaining potential and prospectivity of the UKCS; and revisions to licensing policy to include a long-term strategy and regular, but more focused, licensing rounds. •