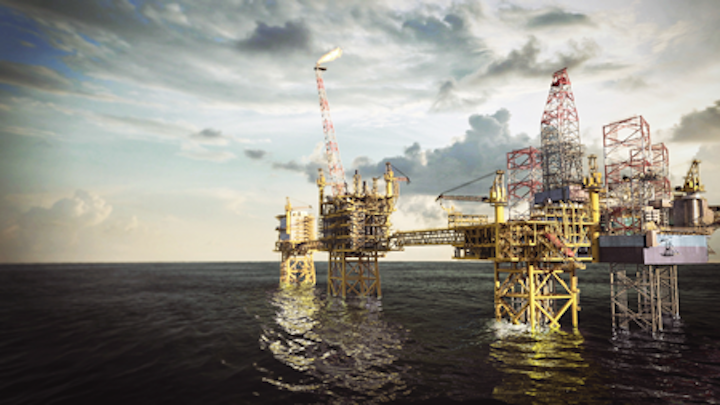 Jeremy Beckman • London
OGA outlines steps to safeguard UK's future
Britain's new Oil & Gas Authority (OGA) has issued its second report on the way forward for the UK continental shelf, following its Call to Action earlier this year. Six months on highlights how OGA has been working with the sector's main producers to improve production efficiency and management of late-life offshore facilities. Another new initiative is an enhanced oil recovery (EOR) strategy, designed to deliver an extra 250 MMboe from the shelf over the next decade, focusing on polymer and low-salinity water technologies.
Revitalizing exploration is also a priority, with recent exploration drilling in UK waters failing to deliver the returns achieved in previous decades (although Chrysaor's recent wildcat on the Mustard structure west of Shetland has reportedly discovered oil). OGA forecasts a total of 16 exploration and appraisal wells across the sector this year, higher than last year's total, but almost half the 31 drilled during 2010.
The association's analysis of failed wells drilled in the Moray Firth and UK central North Sea between 2003 and 2013 identified room for improvement in technical work to avoid drilling poor-quality prospects in the future. OGA plans to implement a pre- and post-drill evaluation quality assurance process with operators and ensure that lessons learned from analysis of the dry holes is shared. In addition, it plans to work with operators to high-grade their prospect inventories and stimulate more drilling, particularly in frontier regions.
In July, Western Geco started work on a UK government-funded seismic acquisition survey over the Rockall Trough area in the Outer Hebrides off northwest Scotland. Only 12 exploratory wells have been drilled here since 1980, including the 2000 Benbecula discovery, but most of the existing seismic data was shot pre-1998. Another area to be surveyed is the Mid-North Sea High, where advances in broadband acquisition technologies and processing techniques will be applied to improve deeper imaging of the Palaeozoic interval.
Culzean, Maria get the green light
OGA has approved the $4.5-billion development plan for the high-pressure/high-temperature (HP/HT) Culzean gas/condensate field in the UK central North Sea. Operator Maersk Oil and partners JX Nippon and Britoil plan a three-platform complex in 90 m (295 ft) of water, delivering plateau production of 60-90,000 boe/d. Start-up is scheduled for 2019.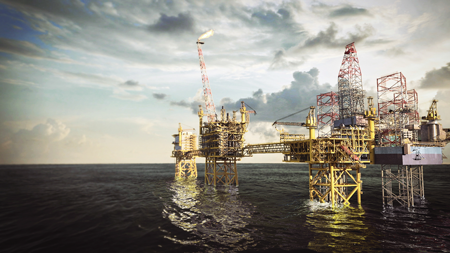 Heerema Fabrication Group is building all three jackets for the Culzean platform complex. (Image courtesy Heerema Fabrication Group)
Prior to sanction Maersk had already placed some of the major construction contracts. Post-sanction awards include the $1-billion EPC order to Sembcorp Marine subsidiary SMOE for the topsides for the three platforms; construction of the jackets for two of the platforms to Heerema Fabrication Group; and the $150-million SURF contract to Subsea 7 which includes installation of a 52-km (32-mi), 22-in. gas export pipeline to be connected to the UK's Central Area Transmission System. Maersk said the project was able to go forward in the current climate thanks to the government's new HP/HT Cluster Area allowance.
Wintershall secured the Norwegian government's approval to proceed with its $1.9-billion development of the Maria field in 300 m (984 ft) of water in the Norwegian Sea via two subsea templates tied back to three existing production platforms. Maria's wellstream will head to the Kristin platform for processing, with the Heidrun platform supplying water for injection into the Maria reservoir, and Åsgard B providing gas lift via the Tyrihans D field subsea template. Odfjell Drilling's dual-derrick semisubmersible Deepsea Stavanger will drill at least six development wells, starting in April 2017, while Expro will supply a workover riser system, including surface test tree and subsea landing string systems.
Forward planning under way for Johan Sverdrup
Statoil has commissioned Kvaerner Verdal to construct the 22,500-metric ton (24,802-ton) jacket for the drilling platform for the Phase 1 Johan Sverdrup development in the central Norwegian North Sea. The operator and its partners are also closing on concept selection for Phase 2, said Statoil's Senior Vice President Oivind Reinertsen during a briefing last month at Offshore Europe in Aberdeen.
Norway's government sanctioned a revised plan for Phase 1 in August that calls for installation of a bridge-linked four-platform complex connected to three subsea water injection templates in 110 m (361 ft) of water, and producing up to 380,000 boe/d. Johan Sverdrup's oil is under-saturated with small volumes of associated gas, Reinertsen said, and much of the gas that is produced will be needed for gas lift purposes (Statoil plans to implement water-alternating-gas technology to increase oil recovery). What remains will be piped to Kårstø: oil and gas pipelines will both be installed during 2017-18.
Phase 2 will tie in more outlying areas of the field to the super-complex either via subsea facilities or jackups drilling on small satellite platforms with eight to 10 well slots, Reinersten said. To take into account the government's stipulation that all new field developments on this part of the Utsira High must be powered from shore, Phase 2 must also come onstream no later than 2022. One of the considerations for the partners is whether to locate the cable importing power on Johan Sverdrup's riser platform (which would serve as the local offshore power hub). Future phases of the project, which could lift the field's production to 650,000 boe/d, remain on the drawing board, he added, but would probably cost in the range of $6-12 billion.
UK decomm on the rise
Spending on decommissioning on the UKCS could overtake field development outlay in 2019, according to analyst Wood Mackenzie. The current prolonged period of lower oil prices, and the likelihood of a modest recovery only in the short to medium term, has forced UK operators to re-evaluate their field life extension plans.
Over the next five years around 140 UK offshore fields could cease production, even if the oil price recovers to $85/bbl, Wood Mackenzie claims. Around 50 fields could shut down earlier if the recovery is restricted to $70/bbl, it adds.
To date, 30 UK offshore fields have been abandoned, and the experience of what is involved has pushed estimates for future decommissioning projects above predictions from a decade earlier. Another factor driving up costs are stricter P&A rules for well abandonment. •