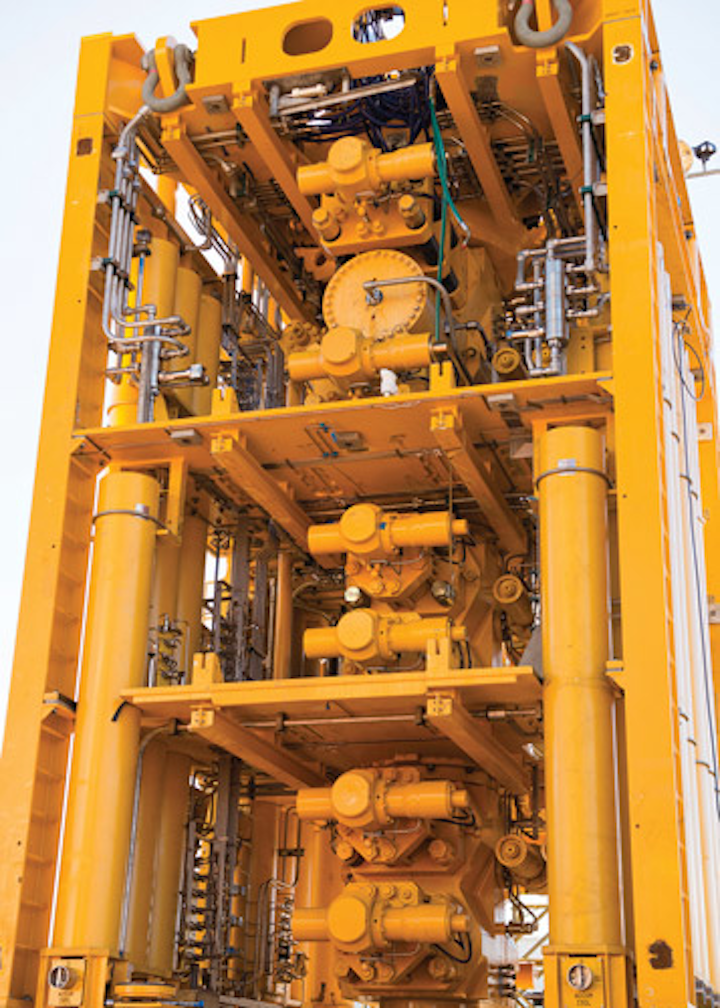 Offshore staff
Houston
In mid-April, the US Department of Interior's (DOI) Bureau of Safety and Environmental Enforcement (BSEE) and Bureau of Ocean Energy Management (BOEM) released two new sets of regulations to ensure safe and responsible offshore oil and gas development in the wake of the Macondo tragedy and Shell's troubled Alaskan offshore drilling program of 2012.
The first set of regulations is aimed at drilling operations in the Gulf of Mexico. The proposed rule addresses well control with measures designed to improve equipment reliability, building on enhanced industry standards for blowout preventers and blowout prevention technologies. The rule also includes reforms in well design, well control, casing, cementing, real-time well monitoring, and subsea containment. While crediting industry for making important strides in these areas, DOI Secretary Sally Jewell noted that the rule is designed "to comprehensively address well design, well control, and overall drilling safety."
The well control measures are derived from, and would implement, multiple recommendations from various investigations and reports of theDeepwater Horizon tragedy, including the BOEM/US Coast Guard Joint Investigation-Forensic Equipment Analysis (September 2011); National Academy of Engineering (May 2012); National Oil Spill Commission (January 2011); Ocean Energy Safety Advisory Committee; Government Accountability Office, and others. BSEE analyzed the results of the investigations, including nearly 370 specific recommendations, and conducted extensive outreach to derive further enhancements from stakeholder input, academia, and industry best practices, standards, and specifications.
Provisions of the set of regulations are broad. Some of the rules that have been included are described below.
Incorporate the latest industry standards for BOPs. These standards would establish minimum baseline requirements for the design, manufacture, repair, and maintenance of BOPs. Existing BSEE regulations do not include recently implemented standards that industry believes are key to ensuring the reliable performance of this equipment. Adoption of these documents will ensure that BSEE's regulations match the performance requirements recommended by the industry in the time since the Deepwater Horizon tragedy. These requirements could help to improve the reliability of surface BOP stacks that have typically been in service much longer than subsea BOP stacks.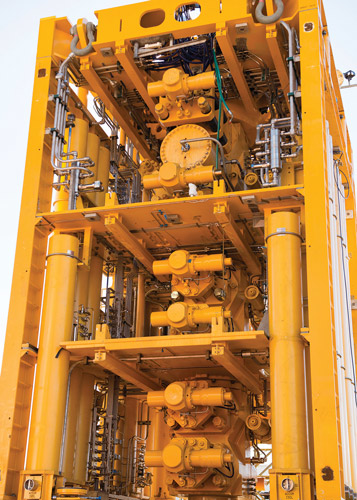 The proposed rules would establish minimum baseline requirements for the design, manufacture, repair, and maintenance of BOPs. (Photos courtesy Cameron)
Require more controls over BOP maintenance and repair. Existing regulations contain requirements related to the maintenance and repair of this equipment. The proposed regulation requires an annual review of the repair and maintenance records of the BOP equipment by a BSEE approved third party to ensure that the equipment continues to meet the original design criteria. This ensures that there will be complete traceability of the equipment even if it is serviced or repaired in a foreign jurisdiction. The proposed regulation contains a performance requirement that the equipment be maintained pursuant to original equipment manufacturer (OEM) requirements, good engineering practices, and industry standards.
The proposed regulation requires complete traceability of critical components. It also includes personnel training requirements for repairs and maintenance. The proposed regulation includes as a regulatory requirement the complete break-down and detailed physical inspection of a BOP at least every five years (currently an industry standard).
Require the use of BOPs with double shear rams. This is now a baseline industry standard (API Standard 53). The use of double shear rams in the BOP stack increases the likelihood that the drill pipe can be sheared in an emergency. The proposed regulation does not include the opt-out provision that the standard contains related to double shear rams. There was disagreement within the industry on whether this opt-out provision was appropriate; however many studies/reviews have concluded this will provide another necessary barrier for wellbore safety.
New shear ram requirements. Shear rams would be required to include a technology that allows the drill pipe to be centered during shearing operations. Some experts believe that the failure of the Deepwater Horizon BOP stack to sever the drill pipe was due to the fact that the drill pipe was not centered. At least one manufacturer is currently marketing this technology.
Require more rigorous third-party certification. Existing regulations require independent third-party verification of shearing capability of BOPs but do not specify any testing criteria. This proposed change places increased controls over the shearing certification process and criteria used to establish shearing performance.
Request comments on severing requirements. This would involve a potential long-term requirement that a technology be installed to allow all equipment in the hole to be severed. Existing BSEE regulations require that the drill pipe be severed and exclude other components in the drillstring from this requirement. Although the use of double shear rams and centering devices increase the likelihood that a drillstring can be severed, the inability to sever components such as drill collars can present significant complications during a well control event. This requirement could help to drive innovation in safety technologies.
Expand accumulator capacity for increased functionality. This will help to ensure that the BOP system will close and seal the well.
Require real-time monitoring capability. This would involve monitoring capabilities for deepwater and high-pressure/high-temperature (HP/HT) drilling activities. The real-time monitoring requirement ensures that the operator has access to onshore technical expertise if needed and that there is another "set of eyes" available during critical operations. Many deepwater operators have onshore real-time monitoring capability. This requirement ensures BSEE access to these facilities. The requirement also applies to shallow water operators involved in high-risk operations.
Establish criteria for subsea well containment testing. This would supplement existing NTL 2010-N10 on well containment.
Increase failure reporting. This reporting would be from operators and drilling contractors to OEMs. The proposed regulation adopts the voluntary industry reporting protocols for reporting equipment issues. OEMS and drilling contractors have stated that reporting of failure data is necessary to address key safety issues.
Adopt criteria for safe drilling margins. This criteria would be consistent with Department of Justice and Office of the Inspector General recommendations arising out of the Deepwater Horizon tragedy. Current regulations require the operator to show the planned drilling margin on the Application for Permit to Drill and do not clearly define the term. The new regulations provide a detailed definition of what constitutes a safe drilling margin and requires that a safe drilling margin be maintained throughout drilling.
Require the use of accepted engineering principles. This proposal would establish general performance criteria for drilling and completion equipment. It requires that packers and bridge plugs meet industry standards and the use of accepted engineering practices when operating on the outer continental shelf (OCS) to reduce risks. The proposed regulation requires that equipment has been designed, tested, and rated for the most extreme conditions to which it will be exposed while in service.
Establish additional ROV requirements. This would establish requirements to assist in closing the BOP stack. The current requirement contains general performance objectives for ROV. The proposed regulation adopts industry standards on ROV intervention capabilities. This provision will help to standardize this equipment.
Establish additional cementing guidelines. This would establish more guidelines for cementing and the use of centralizers. The proposed regulation provides a general performance obligation to ensure that the operator provides the centralization needed to ensure proper cementing of the well.
Increase BOP testing. This proposal would make the testing frequency of BOPs used on workover operations the same as drilling operations. This change will reduce the testing frequency for BOPs in workover operations. This change will result in less "downtime" during operations.
Request comments on changing the test frequency. Comments would be solicited and proposed to change the test frequency for both workover and drilling BOPs from 14 days to 21 days. BSEE has historically relied on pressure testing of BOPs in the field to establish the reliability of BOP equipment. BSEE requests reliability data to support the change and requests comments on whether the proposed requirements will increase equipment reliability enough to justify a 21-day test frequency.

Cameron's Cognition BOP monitoring system provides real-time monitoring and condition assessment.
The new Alaskan regulations cover offshore exploration drilling operations within the Beaufort Sea and Chukchi Sea planning areas only. They use a combination of performance-based and prescriptive standards to codify and further develop current Arctic-specific operational standards to ensure that operators take the necessary steps to plan through all phases of offshore exploration in the Arctic, including mobilization, drilling, maritime transport and emergency response, and conduct safe drilling operations while in the areas.
Specifically, the new regulations will require operators to submit region-specific oil spill response plans, have prompt access to source control and containment equipment, and have available a separate relief rig to drill a relief well in the event of a loss of well control. The proposed rule continues to allow for technological innovation, as long as the operator can demonstrate that the level of its safety and environmental performance satisfies the standards set forth in the proposed rule.
According to the DOI, the proposed regulations have been developed with significant up-front public input from the State of Alaska, North Slope communities, industry and non-governmental organizations. The proposed regulations will be open for additional public comment to ensure transparency and solicit feedback from all stakeholders. The DOI will continue rigorous stakeholder engagement as well as formal tribal consultation with indigenous Native American groups in the region. A draft environmental assessment, required by the National Environmental Policy Act, is also available for public comment.
While the new Alaskan regulations will have limited impact on the larger offshore operator base, the impacts of the Gulf of Mexico rules will strike a fairly large operator base across a large area of operations. The DOI estimates the proposed drilling safety rule would cost the industry a total of about $883 million over 10 years but does not expect the rule to impact any future offshore production, notes James C. West, Senior Managing Director & Partner oil and gas research firm EVERCORE ISI. The firm, in a recent report, believes that the "estimate could be too high however as several of the proposed regulations are already industry standards." Key cost areas are defined by West in the report, as follows:
The largest costs incurred is from real-time monitoring of wells (45.92% of the total), which involves the monitoring of well operations on rigs that have a subsea BOP or surface BOP on a floating facility, and rigs operating in HP/HT reservoirs, as well as the onshore storage of data. The estimates assume an average cost per day of $5,000 to perform continuous monitoring, and estimates that half of rigs with subsea BOPs already perform this regimen.
The next largest projected cost is from alternating BOP control station function testing (28.35%), which would require that operators designate BOP control stations as primary and secondary and alternate the testing stations each week. The itemized projections illustrate that only a minor revenue opportunity is presented from manufacturing new equipment necessary for compliance with the proposal, and that the vast majority of the costs arise from inspection, monitoring, and testing duties
Not unsurprisingly, new subsea BOP systems would comprise a modest $385,000 in incremental costs over the 10-year period (5.67%) per company. Given the influx of newbuild floaters replacing older rigs in the Gulf in recent years, the majority of floaters working in the region are already outfitted with the latest safety equipment, often with two BOP stacks. With the exception of one floater with four rams and four floaters with five rams, the majority of the contracted GoM floater fleet has BOP stacks with six or seven rams that should meet the majority of new standards. •