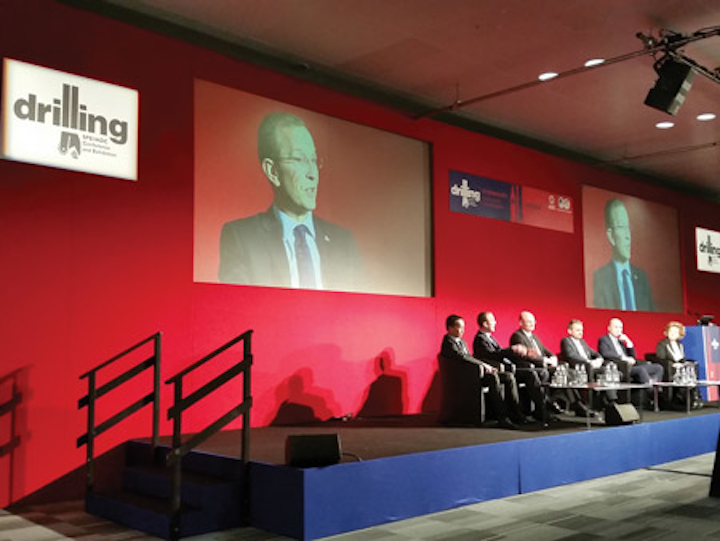 Drilling industry open to greater collaboration
Jeremy Beckman
Editor, Europe
Controlling costs was the central preoccupation of panelists at the plenary session at this year's SPE/IADC drilling conference in London. The session, entitled "Successfully Delivering Wells in a Changing World," brought together speakers from three major operating companies and two of the industry's leading well service groups.
Gary Jones, the head of BP's Global Wells Organization, said the lower oil price had lopped 50-60% off oil companies' revenues. The only way to respond, he added, was to cut capital, with apparently two choices: either stop activity, or do it for less money. "We still need to recover reserves," he pointed out, "so if we stop activity altogether, there will be no work for anyone."
Selective cutbacks are inevitable, he suggested, "as certain reserves are not attractive at current prices, while others will not be onstream for 10 years. But the other option is to look at doing things more effectively. It's not in our interests to cut the margins of our suppliers as that means they won't train their staff or bring through the technology that we need. The question is, where are the efficiencies to be achieved, and how can we drive the overall costs of our wells down? If we can do this, we can bring margins up."
Jack Winton, leader of KCA Deutag's operations division, said that for any contractor, "contract certainty leads to long-term collaboration benefits. There is a danger in this environment of switching to short-term contracts. It's better to focus on a long-term vision for projects, with long-term key performance indicators that bring benefits to clients."
Steve Kaufman, president of drilling & measurements at Schlumberger, said one positive from the current oil price - "and it's a welcome change," he added - "is that it's forcing all of us to talk more about the health of the industry long term. From Schlumberger's perspective [and that of other service companies], it's important to discuss with operators...how to be more aligned with their goals, and at the same time explain where we believe efficiencies can be made."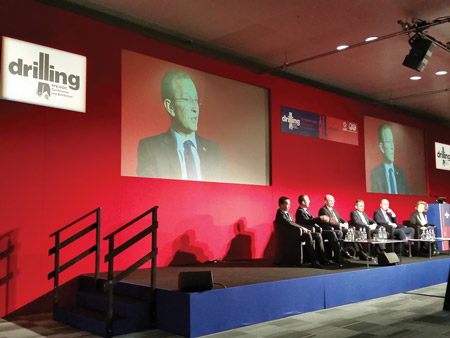 The panel at this year's SPE/IADC drilling conference plenary session. (Photo courtesy Society of Petroleum Engineers)
In the current situation, Kaufman suggested, "the industry can do a lot of soul-searching on issues such as, what is the size of the resource we need to invest in to drill wells? It's massive, particularly in the Gulf of Mexico where we are drilling high-cost deepwater wells. Today we provide to the industry 74 different sizes of rotary steerable systems, mud systems, casings, and completions. How can we streamline this better in order to take a huge amount of the cost out?"
Ivan Tan, vice president, wells HSE for Shell International Exploration & Production, said the current landscape "requires us to be more competent and efficient, but not reducing costs via deferring projects - otherwise when the oil price recovers, we'll be back to square one. Should we be aiming for a more transformational approach toward the supply chain? With contracts for drilling wells, the operator typically takes on much of the risk. To motivate service companies maybe there should be a more of a model under which we are all part of a team sharing some of the risk."
Arne Lyngholm, Statoil's chief engineer of drilling technology, said his company had a long history of bringing service companies and contractors into its team for projects from day one, treating them as Statoil employees. "I'd also like to see bigger collaboration with other operators that leads to them approaching service companies in the same way, rather than, say [the reality of] Schlumberger having to develop different specifications for Statoil than for Shell or BP."
"Most of us are engineers," said BP's Jones, continuing this theme. "As leaders in this industry we should be thinking about what we are really trying to achieve, and one answer is, to raise standards. We can do that in different ways. One example is training: Maersk Drilling's simulators in Denmark are configured to train drilling teams, service staff, and operators to understand how people make decisions and interact.
"When we talked to Maersk about their approach, we told them we'd be supportive if they also built a similar facility in Houston. But we didn't just want BP involved, so Maersk is now doing the same thing in Houston for all operators." Schlumberger's Kaufman said: "I'd like some of my well site team to be trained in the same way."
Shell's Tan said there was a high level of collaboration in safety training driven by organizations such as IADC and various joint industry projects. However, there was less drive in the industry to collectively establish performance standards for equipment, he claimed, partly due to some companies' concerns over their risk profile if something goes wrong. Subsea wellheads in particular, are sorely lacking in industry standards, he suggested.
"Building up on each other on standards is a real issue," acknowledged KCA Deutag's Winton. "Previously we built a rig to an operator's API manual. Now we're adding our standards, the regulator's standards, so that things just build up...we should be making the process as safe as possible, but at the same time more efficient."
Kaufman pointed out that for development of new technology to succeed, there needs to be a return on the investment. "If we gold-plate something to the point that it becomes too expensive, shame on us. Can we take technology forward and innovate faster? Yes...but we also need to establish who we want the innovators of technology to be, us or the operators. Development of technology subsurface can be done faster, however we need to stop getting bogged down by Intellectual Property rights."
BP's Jones added: "As leaders, we need to get back to the reality that we don't always need to be innovative. We have built our cost base up to the point where we can't develop 100-200 MMbbl reserves in the Gulf of Mexico economically. We need to focus more on reliability, creating a service that doesn't need back-up."
Statoil's Lyngholm echoed Jones' point. Following an internal review on standardization measures, he said, Statoil expects 60% of its wells next year to feature a standard well design, but the company is looking at further ways of consolidating this process and cutting out unnecessary procedures. One example is an insistence on redundancy measures. "Why do we always have to order back-up equipment?" Lyngholm asked. "Why don't we just order what we need?"
Kaufman confirmed that Schlumberger was in discussion with various operators on this same issue of reducing waste and the number of back-up items needed. Shell's Tan suggested the problem was due to a level of conservatism creeping in to well designs as the scope grows - "that's the biggest driver of costs. We need to make the process more efficient, and learn from our past shortcomings."
Jones applauded the general drive toward greater levels of automation in drilling, but said there was room for improvement in taking hazards away from drill crews. "And in our training, we should not be blaming our people [for taking the wrong decisions] but instead investigating why they behaved the way they did. The IADC could be a great player in this regard."
Kaufman said Schlumberger was working on moving operations of drillers increasingly away from the well site to the office. This is leading to efficiency improvements, he claimed, as the office environment allows them to view multiple rig operations. It also leads to improved safety, due to the risks associated with getting them to the well site in the first place (and back). •