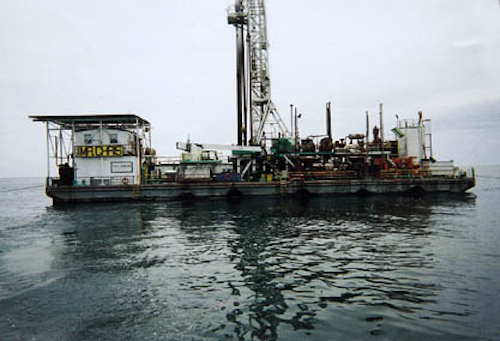 Jeremy Beckman
Editor, Europe
Drilling barge Mr. Chris.
Relocating pipelines once fields exhaust
When Talisman Energy bought Pembina Resources in 1997, it gained over 100 million boe of proven and probable reserves. The package also included some of Canada's most productive offshore acreage - in Lake Erie, Ontario.
Gas has been produced from the Canadian side of the lake since the 1950s. According to Chris Hustad, one of several engineers who moved to Talisman from Pembina, "the total volume produced remained below 10 MMcf/d until significant development occurred in the mid to late 1970s.
"Volumes increased to 40 MMcf/d by the early 1980s. However, low gas prices that decade reduced the activity level and along with declining production from the major fields, caused volumes to decline from these peaks. Development drilling in the 1990s has maintained the volumes at 27-32 MMcf/d, and current production is around 30 MMcf/d."
Oil is also known to exist within certain areas of the lake. "Occasionally," says geologist
Tony Benincasa, "our drilling and completion operations have encountered an oil leg within our reservoirs. In addition, deeper test penetrations of formations underlying our reservoirs have infrequently generated oil shows at several locations scattered across Lake Erie. However, present legislation does not allow fluid production from the lake, so when we do encounter fluids, we either plug the fluid-producing interval or abandon the well."
Legislation does however allow production of oil from onshore locations. Talisman has recently drilled a horizontal well under the lake from the shore. It has a 700m horizontal section. The well is currently being completed. "We have plans for more locations for oil drilling under the lake," says Manager of Ontario operations Keith Hibbert, "but with the distance out to the gas fields, it doesn't make sense to drill directionally for gas."
Minimal wells
Lake Erie, measuring 80 miles by 200 miles in area, is smaller and also shallower than the other Great Lakes, a factor which helps to limit drilling expenses. Typically, a Lake Erie well costs C$175,000 to drill, says Ed Connolly, Manager of Drilling. Completions and facilities cost about one tenth of the outlay on shallow water wells elsewhere. The fact that the gas pockets are not deep-lying - generally around 1,500 ft beneath the lake bed - also keeps well costs down.
On average, a Lake Erie well takes four days to drill. It will then be completed and either acidized or sand fraced, an operation which normally takes another four days. Talisman upped activity markedly in 1998, drilling 24 wells, and a further 12 are planned this season. All are development wells. The drilling expenditure for 1999 is estimated at $4 million. Operating costs are on average around $6 million/yr.
"It's very much a low cost operation," says Bob Mitchell, Vice-President, Canadian Operations, "but that enhances profitability. Most of the wells are very small, producing on average 100 Mcf/d." Around 800 wells have been drilled on the Canadian side of the lake, of which 178 currently are shut in or suspended.
With the takeover of Pembina, Talisman inherited its own, small drilling fleet, including two vessels and a jackup. Talisman decided to increase utilization, and hence the number of wells drilled, as a way of improving the project's economics further. However, the Timesaver II jackup, built in 1964, is currently out of service. The two vessels are:
L.J.Goulet, built in 1957 as a grain ship, then converted to a drillship in 1974; capable of drilling in water depths up to 210 ft; has a maximum drilling depth of 5,000 ft; all required services and materials for 20 wells can be accommodated in the hold; and is fitted with decompression chamber for divers.
Mr. Chris, built in 1973, converted to a drilling barge in 1973 by Pembina Exploration; is capable of drilling in water depth of 220 ft; has a maximum drilling depth of 5,000 ft; all required services and materials for five wells can be accommodated on deck; amd os fitted with a decompression chamber for divers.
Simple facilities
Facilities on these vessels are kept simple, in the interest of minimizing drilling costs. "They don't even have motion compensators," says Connolly, "so if the waves get too high, we just have to stop drilling. But we always have the ability to lock off and seal, so that a well is never live during intervention by divers."
Wind and ice are the main hazards to operations on the lake. The normal drilling season runs from April through September. During the winter, the vessels are mothballed at Port Maitland, Ontario, to avoid ice build-up/bad weather damage. Dedicated support boats bring out supplies to the drilling crews as needed.
The need to restrain costs does not prevent drilling in complex sands. According to Benincasa, "one of our main offshore reservoirs is an estuarine deposit with a fairly complex section of interbedded sandstones and shales. These sands have been worked for almost four decades and a fairly adequate understanding of these deposits has been reached.
"A common lifespan for a Lake Erie sandstone well can be 10-20 years, sometimes longer. Some of the earliest Lake Erie wells drilled in the late 1950s and early 1960s are still in production. Carbonate wells have a similar life span of several decades."
The pipeline network extends over 550 miles in total, but with no fixed production installation offshore, a novel and flexible export technique has been adopted. Keith Hibbert explains:
"A typical well tie-in is completed by tugs towing the necessary pipe between the new well location and the chosen tie-in location. The selected tie-in location is in some cases an existing well. Alternatively, it may be an existing pipeline that happens to be in close proximity and can handle the additional production volume, or it may be a location that is a part of a complete new system that is under development.
"In the case of a new pipeline, double random lengths of pipe are welded into 2,000-3,000 ft stringers at onshore facilities where water depths allow tugs to get close enough for tow cables to be attached. Maintained as a dry pipeline, the stringers are welded together as the tugs drag the pipe into the lake until the required length is achieved or until we approach the pulling limit of the tug.
Relocating pipe
"If the requirement for the pipeline can be completed with pipe that is available from an existing location, the pipeline will first be pigged clean to address any environmental concerns and then dragged along the lake bottom in a similar fashion as new pipe coming off a dock site. In some cases, relocating pipe requires under-running to reduce the lake bottom suction/drag factor in order to get the pipe moving, and purging to air in order to lighten the tow. A section of pipe becomes available for relocation when produced gas volumes do not exceed operating costs and the pipe is in a condition that suggests continued use is feasible.
"Lake Erie pipelines are 2, 3, 4, 6 and 8-in. in diameter, and in recent years have been purchased as Cat I seamless, grade 290 steel pipe, rated for sweet or sour service. Building all pipelines to a sour grade spec has proven beneficial as it allows the option of future relocation to any other area.
"Pipeline inspections are not conducted on a routine basis unless a problem has been identified. Leaks resulting from any force induced by ice, anchors, or fishermen are all immediately isolated up and downstream. Damage is then surveyed. Replacement sections are moved in and repairs are completed.
"Union Gas is the company which transports most of our gas. The actual purchaser of most of our gas is Consumers gas. Our gas is a relatively small volume compared to the total market in the area. Consumers would handle any gas we could produce from the lake. However, although our volumes are small compared to what is consumed in southern Ontario, we are the largest gas producer in the province, at around 30 MMcf/d.
"There are five gas plant facilities located along Lake Erie which receive gas from the lake and process it. Our current plans call for us to build a gas plant at Port Burwell. This will allow us to bring some sour gas ashore for processing (the gas is currently shut-in). We will also re-route some of the sweet gas offshore to this facility, allowing us to improve our drawdowns. The proposed plant would have two processing streams, one for 5 MMcf/d sweet gas and one for 5 MMcf/d sour gas. The project would take approximately eight months to bring on stream, once approval is in place."
The US side of the lake towards Cleveland used to be heavily polluted. Following a major clean-up operation, there is not enough phosphorus now on that side even for algae to survive.
US aspirations
Talisman would like to drill in the US portion. "We know the gas is there," says Marc Mereau, Manager, Western & Ontario Operations. "Our drilling practice would be safe and environmentally friendly. We've never had an incident in the lake. But it's a political situation.
All four states adjoining the lake on the US side would have to agree to our entry, however, not all would benefit from the resulting revenue, as not all are located near the gas deposits. New York is talking about the possibility of awarding drilling licences, but that's probably some ways off."
---
Lake Erie geology difficult to map
Lake Erie has both carbonate and sandstone reservoirs of Silurian age. According to Talisman's Tony Benincasa, "The sandstone reservoirs are Early Silurian with the oldest reservoir being the Whirlpool Formation, a thin (up to 6 meters) light gray, fine grained, relatively homogenous, quartz sandstone deposited in the eastern half of the lake. The Grimsby Formation is a slightly younger (but also Early Silurian) estuarine deposit of interbedded sandstones and shales located in the eastern two-thirds of the lake.
"Here, the quartz sandstones are fine grained, moderately to well sorted and principally red in color, grading upwards to gray-green towards their upper boundary. The color differentiation is due to post-depositional diagenesis. The sandstones are interbedded with thin shallow marine shales and the entire Grimsby Formation is generally 10-12 meters thick, occasionally up to 18 meters. Sandstones comprise 50-70 % of the Grimsby Formation. Gas produced from these two formations is sweet.
"By Middle Silurian time, the principally siliclastic sedimentation of the Early Silurian changed to primarily marine carbonate deposition. Carbonate platform deposition occurred over the entire area of Lake Erie and patch reefs of the Guelph Formation developed where the west half of the lake is currently located. These patch reefs form Talisman's Lake Erie's carbonate reservoirs.
"The easternmost patch reefs are located in the central part of the lake and build in thickness westward from approximately 10-20 meters to over 40 meters. They are normally 5-600 acres in areal extent and occasionally amalgamate into a larger complex. The reefs have been karsted and dolomitized which enhanced porosity and are capped by anhydrites which provide a very effective seal. The gas contained within them is sour (up to 2%).
"Mapping of the offshore formations can be problematic. Wells drilled in the late 1950s and early 1960s were drilled commonly with a cable tool rig and not logged. Geological information (formation tops and so on) was recorded using "drillers terms" and other records, with the result that test and production data are incomplete. Other wells were logged with historical well logging tools. More recent wells have better data, but reconciling the historical with the modern is a complex task.
"Seismic coverage of the lake is fairly extensive but, again, the different vintages of the data present challenges to our geophysicist. In addition, the nature of the rocks themselves, along with the lake's geomorphology, makes seismic data processing difficult. No 3-D surveys have been recorded on the lake. Present data sets are considered deficient and further seismic work is planned."
Copyright 1999 Oil & Gas Journal. All Rights Reserved.