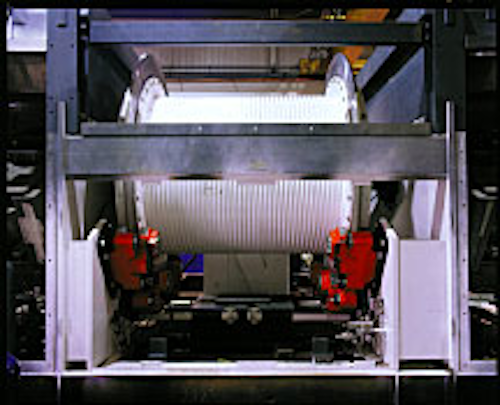 Contractors respond to benefits of Hitec system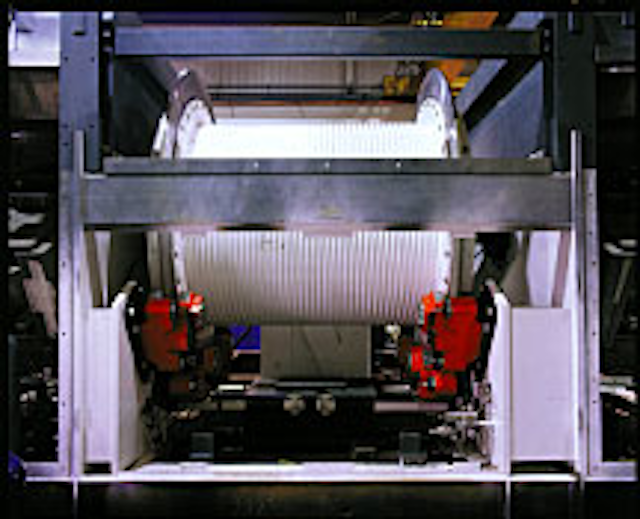 Hitec's integrated drawworks and heave compensation system offers the benefits of reduced weight in the derrick and simpler maintenance.
Hitec's first Active Heave Drilling (AHD) drawworks is now in use on R&B Falcon's newbuild drillship Deep water Pathfinder.
The Stavanger-based company has sold a further four units to the same contractor, two for drillships and two for semisubmersibles. The second unit is now installed on Deep water Frontier and due to come into operation in April. A further three units have been sold to Sedco Forex for installation on its three advanced new semisubmersible, and one to Navis for the Navis Explorer 1 deep water drillship.
The unit offers accurate and active heave compensation, and a series of benefits including greater speed of tripping and running operations and a wider operational window, Hitec says.
Unlike other heave compensation systems, the AHD system has been designed as a functionality of the drawworks, rather than as a separate piece of equipment, says Knut Haga, the AHD project manager. The technology has taken several years to come to fruition since the idea was formed in the early 1990s in connection with the birth of the Navis concept of a drillship with minimised heave, roll and pitch motions.
AC driven
It also had to await the development of the AC-driven drawworks, which is a key part of the concept. This feature also marks it out from most existing drawworks, which are DC-driven. This part of the puzzle began to be put in place in 1995, when Hitec delivered the world's first AC-driven drawworks to Norske Shell's Troll A platform.
The AHD drawworks features a single-speed, single-shaft, direct gear drive and six AC motors developing a total 6,900 hp. There are hydraulic disc brakes but these are used for parking/ emergency braking only.
The vessel's vertical movement is accurately measured in real-time by a sophisticated motion reference sensor and compensated for by spinning out and taking in wire on the drawworks drum. The AHD drive system provides very precise regulation. Its creep speed is less than 5 cm/sec, says Haga. In contrast, traditional DC-driven systems have to be braked out, making them difficult to control.
The motors are used for both hoisting and braking. This simplifies the drawworks operation, while the available power provides optimal speed for the full range of operations. Because breaking capacity is much higher than in a traditional system, the AHD system enables the riser to be lowered at 3 ft/sec, about three times the speed of traditional systems. This means that the time spent handling heavy loads such as riser and BOP, and also in tripping operations, is greatly reduced.
Low weight
The drawworks itself weighs approximately 80 tons, is 10 meters long, 4.5 meters high and 3.5 meters wide. It is self-contained, with its own lubrication and cooling systems, and needs only to be hooked up to the rig's power and water systems.
One huge advantage of the AHD, Haga says, is the fact that the complete weight of the active and passive top-mounted compensator is removed from the derrick, thus reducing the weight on the derrick structure compared with traditional compensation systems. These weight reductions lower the vessel's center of gravity and thus enables the deckload to be increased.
Unlike the traditional cylinder-based compensation system, the range of response of which is limited to the cylinder length, the AHD system of drum plus wire has no such limitation.
"Another advantage of the system is that there is less downtime, less waiting on weather," says Haga. An independent study carried out by Rogaland Research showed that in typical North Sea conditions, using the AHD could save up to 42 days a year on a large drillship and up to 18 days on a semisubmersible, compared with a traditional passive compensation system.
The drum, which is two metres in length, has a diameter also of two meters, somewhat larger than in the traditional drawworks. This helps to reduced bending of the wire rope and hence extend its life. Wear is also minimised as there are only two layers of rope on the drum.
The AHD drawworks contains fewer moving parts than a traditional system, and hence requires less maintenance. Similarly AC motors require less maintenance than traditional DC motors. Because there is no equipment up in the derrick, maintenance operations are both easier and safer.
The unit installed on Deepwater Pathfinder has performed as intended in its first few weeks. "We've not found any kind of design hiccup, or had any big surprises," says Haga. The unit and its constituent parts had undergone a full range of testing, both at Hitec' s works where the control system was built and at National Dreco in Canada, where the drawworks and mechanical parts were built and the unit assembled.
Copyright 1999 Oil & Gas Journal. All Rights Reserved.