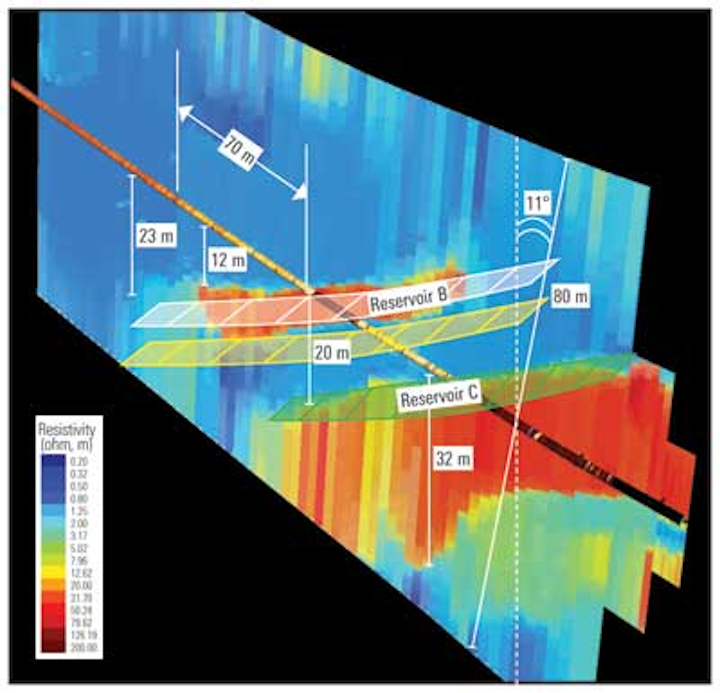 Dick Ghiselin
Contributing Editor
Offshore magazine asked measurement-while-drilling/logging-while-drilling (MWD/LWD) providers to highlight their latest advances, and the responses demonstrate the growth of applications for real-time information. The annual MWD/LWD services directory provides a detailed and comprehensive listing of the downhole technology that is currently available in the market.
Schlumberger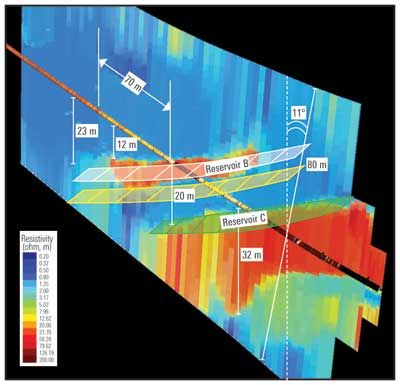 GeoSphere LWD large volume imaging tool mapped three reservoirs and enabled wellbore steering to complete all three. (Courtesy Schlumberger)
Directional drilling precision and geomechanics analysis have benefited from the latest innovations from Schlumberger. Two new logging-while-drilling (LWD) services have been announced to improve measurements in those areas respectively.
The GeoSphere reservoir mapping-while-drilling service enables engineers to image a huge reservoir volume, coaxial with the wellbore, and more than 200 ft (61 m) in diameter. Typically this transcends any borehole effects such as washouts and mud filtrate invasion, and provides clear resistivity mapping in real time as drilling progresses. With unparalleled depth of investigation, it is easy to identify reservoir "sweet spots" in plenty of time to steer into them. Also, avoidance of reservoir boundaries and geohazards is greatly enhanced by a combination of early warning and sharp images that help drillers recognize the hazards and steer clear of them.
Recently, Petrobras used the GeoSphere service to land three offshore wells in multiple channel sand bodies of unknown depths without the use of pilot holes. With a clear map of each channel with respect to its neighbors, engineers were able to select the optimum well trajectory to land in each. On two of the wells, alteration of planned trajectories was required based on real-time mapping information. Also, while landing the wellbore in the first two sands, the engineers were able to image the third sand lying 13 ft (4 m) beneath the second sand. All three sands were mapped including their relative positions, thicknesses, and horizontal extents. Structural dip and depth distribution were determined, and the reservoir base was shown to be 10 ft (3 m) higher than expected, prompting a crucial model and trajectory update. 3D reservoir maps based on surface seismic were altered to reflect the new information from the GeoSphere surveys. Sweet spots in all three channel sands in each well were penetrated and reservoirs were accurately mapped.
The SonicScope 825 multi-pole sonic-while-drilling service was used in the South China Sea to provide critical geomechanics analysis to reduce drilling risk in a high-pressure/high-temperature (HP/HT) and stick-slip environment. Faced with a narrow drilling margin, and the presence of a very high-pressure formation, the operator performed a detailed analysis of the reservoir based on sonic memory data from four offset wells and surface seismic images. As drilling progressed, engineers were able to match real-time observations from the SonicScope 825 tool with geomechanical information from the preparatory analyses. As a result total depth (TD) was reached without incident and in good time.
Real-time compressional and shear slownesses were obtained through the high dip region that had previously caused considerable stick-slip issues. A high-porosity gas formation was penetrated and evaluated despite evidence of deep mud filtrate invasion.
Halliburton
With their ability to provide real-time data contemporaneously with drilling, the popularity of LWD solutions is rapidly growing. Bimodal acoustic LWD logging using the X-BAT service from the Sperry Drilling Services division of Halliburton has reduced uncertainties in deep and ultra-deepwater wells. Steady improvement in LWD quality along with a broader service offering has made LWD measurements challenge those made with wireline devices, especially in high-profile deepwater environments. Of particular value are the acoustic tools that enable accurate geomechanics information to be derived. The XBAT service provides bimodal compressional and shear measurements along with an ultrasonic caliper log. These update the pore pressure and fracture pressure models to keep equivalent circulating density (ECD) optimal for the formations being drilled as they are being drilled. The caliper provides vital information on borehole integrity. Not only does the XBAT service provide vital real-time geomechanics information, but it ties-in nicely with surface seismic surveys.
In that regard, real-time measurements of compressional acoustic waves and density can be combined to create synthetic seismograms. Typically run while drilling, these measurements allow alterations of surface seismic data to update the model and keep the well on track. By enabling time-to-depth conversions, the synthetic seismogram complements log measurements.
Many, if not most, deepwater wells have very tight drilling margins. Real-time ability to make adjustments to maintain balanced drilling conditions pays off in many ways. Safety is but one of them, although it is the one most cited.Drilling efficiency, bit life, and borehole quality are also affected by ECD. With real-time dynamic measurements, every aspect of hydraulic force at the toolface is known, including the static pressure from the mud column, but also the surge pressure when the pumps are restarted following a connection and the kinetic pressure caused by mud circulation at the bit nozzles.
With all the emphasis on completions, geomechanical measurements have become some of the most critical in the formation evaluation program. By combining complementary LWD services in a single bottomhole assembly (BHA), critical information can be obtained to merge into the 3D reservoir model, benefiting all subsequent decisions. Both drilling and completion activities benefit from rock stiffness, texture, and stress information. To have this information in real-time while drilling adds to its value.
Displaying 1/2 Page 1,2, Next>
View Article as Single page