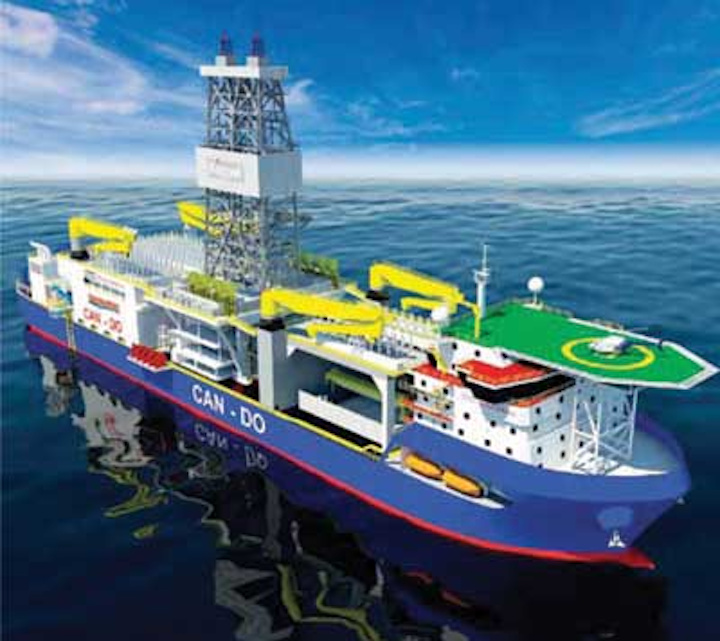 New drillship aims for operations offshore Brazil, West Africa
Gurdip Singh
Contributing Editor
Singapore rig builder Keppel continues to take on the challenges of operating in a high-risk offshore oil and gas sector by using innovative designs, efficiency-driven capabilities, and close working relationships with its customers.
"Pressure is always felt. And we treat all our competitors, including the Chinese shipyards, very seriously," says Tong Chong Heong, CEO of Keppel Offshore & Marine. But he is quick to point out the advantage of being strategically located in the world's major hydrocarbon producing regions such asBrazil, the US, Caspian Sea, and Southeast Asia, as well as China.
"Additionally, our policy of being where our customers want us to be, and where the market is, has also helped us. Being close to the customers means…that if it is a requirement to be built there, that they (the competitors) would have no advantage compared to us," Tong says.
He also sees the potential of venturing into more regional yards within the Association of South East Asian Nations (ASEAN), especially in Malaysia and Thailand. It will be a way to expand its shipyard network outside of its expertise base but land-short Singapore facility.
Keppel, he says, is driven by innovations to meet the ever increasing demand for efficiency from international hydrocarbon prospecting companies. The company will have to continue to strategize business across the globe, especially given the strong competition from China-based shipyards. "Obviously, competition from China is a big threat," he says, noting China's low-cost funding support to projects implemented at Chinese yards. "But we have been in this business long enough. We have clientele loyal to us, and they know that we will deliver reliably on time and with the quality expected. Owners who build rigs with us will not have to have the contingency set in to overcome surprises." By this he means any delay in completion of capital-intensive project at a shipyard would result in costly disruption to businesses, especially the production from offshore oil and gas fields.
"Risks are always looked at very carefully at Keppel. But then there is a risk and a reward we should also be mindful of," Tong points out. "The capabilities and efficiency in the newly built rigs are higher at 10%, 20%, and 30% in terms of time required, in terms of ability to drill deeper, in harsher environment, and more complicated wells."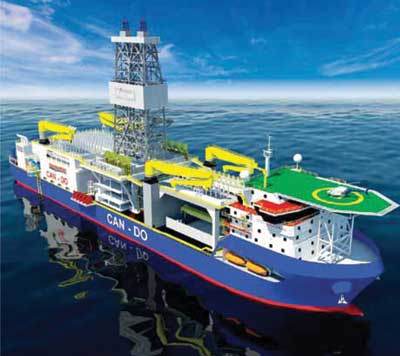 CAN-DO drillship will feature next-generation 20,000-psi BOPs. (Image courtesy Keppel Offshore & Marine)">
TheCAN-DO drillship will feature next-generation 20,000-psi BOPs
Engineering centers
With engineering centers in Singapore, Bulgaria, Mumbai, Shenzhen, and Houston, the company offers its customers 24 hours a day, seven days a week engineering services. "Our engineering offices in Singapore and around the world collaborate seamlessly through an advanced web-based environment offering 3D design tools and data management functions," he says.
"This state-of-the-art system enables our engineering centers operating in different time zones to work on projects with high efficiency, around-the-clock," says Tong, who retired in February 2014, leaving behind a legacy of managing multi-billion dollar projects.
The company secured S$7 billion ($5.48 billion) worth of orders in 2013, taking its total order book to S$14.2 billion ($11.12 billion), which will keep the group's shipyards busy through to 2019. It delivered a record 21 rigs in 2013. Keppel remains the world's leadingjackup drilling rig builder, but is also an established semisubmersible rig builder.
Its latest drillship is designed specifically to do development and completion drilling as well as exploration drilling, particularly in the deepwater hydrocarbon-rich regions such as offshoreWest Africa and the presalt basin of Brazil, where supporting infrastructure is less developed.
The drillship,CAN-DO, has increased deck space so companies can drill more wells more efficiently. Comparatively, the present drillships in the market are meant mainly for exploration drilling, where the limited deck load restricts activities. "But for CAN-DO, we discussed the design with the (rig) owners, operators, and oil majors to expand the drillship capabilities. As such CAN-DO will be a development and exploration drillship," says Tong. "You have to be creative, innovative, and decisive in coming up with something that will fill the niche market."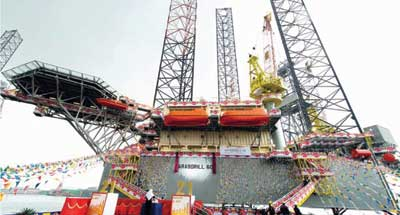 The jackup Arabdrill 60 was the 21st rig delivered by Keppel FELS in 2013, a new construction record for the company.
He concedes that all these designs and engineering have not come easy. "It has been a long and arduous journey at Keppel." It began as a ship repair department in a Singapore port in the early days. Incorporated in 1968, the then Keppel Shipyard Pte. Ltd. has grown into one of Singapore's top conglomerates, with global operations. Property, telecommunications, and energy services are among other businesses under parent group Keppel Corp. Within the group is Keppel Offshore & Marine.
"Of course, we started off building rigs to others' designs or owner specified designs. Increasingly and eventually, with experience gained, we were than able to do our own design and won the confidence of rig owners," he says. "We have since then developed many designs for both the jackups and semisubmersibles and now the drillship,CAN-DO."
He points out the company has had good opportunities to work with international engineering experts since the 1970s. "This has given us the opportunities to overcome the challenges and, today, we are able to offer turnkey projects," he stresses.
Building to others' designs gave the company the introduction to serving the offshore oil and gas sector. Keppel had the advantage of working closely with rig operators to gain the understanding of "what it takes to be a designer of better rigs," he says.
Tong reveals that the company always wants to do more than build rigs designed by others. "It reaches a point whereby, if you just simply wait for or continue to build on others' designs, all the improvement or the changes would continue to remain with the designers."
But the company's determination is to build rigs on its own designs. "We felt that a yard such as ours has the expertise to build to our own designs. This also helped keep all the improvements within our own designs. I would say we have come a long way from the late 1960s or early 1970s."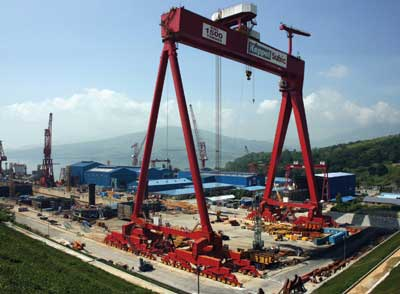 Keppel Subic Shipyard added a 1,500-metric ton (1,653-ton) gantry crane, which has the greatest lifting capacity of all gantry cranes in Southeast Asia.
Prospects
"Outlook for the upstream business is still relatively bright. Exploration and production spending is still on the uptrend, and our business is directly linked to all these upstream investments," he says. Tong thinks that shale oil and gas will take a while to reach every global market. So, conventional hydrocarbon resources will remain the preferred sources of coping with energy demands in developing countries.
He also assures that more efficient equipment and instruments are available for increasing exploitation of conventional hydrocarbon resources, though there is a concern about replacing depleting oil and gas reserves.
Tong highlights Mexico's energy reforms and its all out efforts to increase oil and gas production. "All these augur well for the rig-building industry. More and more rigs would be required and more drillings would be done that would lead to higher rate of production," he says.

Click to Enlarge
The company has the experience of managing through lean periods during economic downturns. "Sometimes, the downturn is good for the whole industry as it stops a lot of speculators from going all out to do more than really necessary," he says. "It is a kind of awakening for investors not to rush into speculative projects. Also, it would leave such investments to bona fide kind of investors/builders and leave the owners to plan for better projects."
He recalls the lean period of the late 1980s and early 1990s. "We are basically a shipyard with a big engineering team. When there were not any rigs to build, we felt then that there was a need for some rigs that would be required. Not forgetting that there has been a big lull from 1980s to 2000s, when hardly a rig was built. We then saw the potential requirements of some new capacity rigs. As a shipyard, when we don't have enough jobs, we will have to make a decision. And our decision then was to really build a rig on speculation. It turned out to be the right decision because before we had completed the unit, we had buyers."
Though there are many rigs being built today, the bulk of the rigs in operation will soon be more than 30 years old. Then, there should be another round of improving the rigs, in designs and capabilities, and meeting the need to increase efficiencies in new rigs compared to the older drilling units.
"We definitely like to see Singapore prosper with more of these high-value (rig) products over the next 10 years and compete in the global market," he says.
The industry also enjoys the Singapore government's support in terms of training, research and development, innovation, and automation. There is growing collaboration with local universities. "I think the offshore oil and gas industry of Singapore can play a much bigger role than we presently are playing," says Tong. "Keppel is always proud in R&D work as the money invested is producing better systems, designs, and processes. We do not shy away from using whatever modern technology to help us in reducing our man-hour costs."
Within Singapore yards, one of the innovative ideas is the use of a floating dock, given the limited availability of water-front sites. "Rather than just simply transporting a project from China to Singapore, for example, we decided to use the floating dock. And so far it has served us very well," he says.
Tong also emphasizes the company's safety culture, built over the years in Singapore and now entrenched into the daily operations at its global business centers.