Advances in rotary steerable systems deliver big benefits to operators
Dick Ghiselin
Contributing Editor
Rotary steerable systems (RSS) have proven to be the go-to tools for precision directional drilling. They have enabled the leap from geometrical steering, where the driller follows a prescribed borehole trajectory, to geological steering (or geosteering), where the driller uses real-time data from the logging-while-drilling (LWD) tool string to steer the bit into reservoir "sweet spots" for maximum productivity.
Offshore surveyed the market, and as usual the market did not disappoint. The following is a synopsis of the latest in rotary steerable technology from leading providers.
Weatherford International
Weatherford is introducing the updated Revolution suite of RSS tools, a range of motorized and non-motorized solutions to meet specific well and reservoir needs. The five new applications-based products are as follows:
Revolution Core – delivers high performance in conventional and offshore extended-reach wells by reducing non-productive time and enabling precision drilling with on-the-fly downlinks. Its design allows for high build rate and low tortuosity in lateral and tangent maneuvers, and is fully compatible with the company's suite of LWD formation evaluation services. Importantly, the system measures all phases of vibration for mitigation strategies in real time with on-board whirl and stick-slip sensors.
Revolution 16 – delivers 16°/100-ft (16°/30-m) build rate performance. According to the company, this is the industry's first 16°/100-ft system. It allows deeper kick-off points to maximize reservoir exposure, and reduces drill time with single-run vertical-to-horizontal drilling with enhanced wellbore tangent, exceeding industry standards while improving the quality of 3D wellbores.
Revolution Heat – industry-leading high-pressure/high-temperature (HP/HT) performance. This enables extended-reach drilling at bottomhole temperatures exceeding 300°F (149°C). The tool provides real-time monitoring featuring geologic control with near-bit inclination and gamma ray sensors. The company says the tool reduces complexity in HP/HT environments with complete LWD and MWD evaluation capabilities.
Revolution V – delivers vertical stability in conventional and unconventional wells. By measuring deviations continuously and making necessary corrections, the tool maintains an absolutely vertical hole to reduce drag. This allows drillers to maintain a constant pace through the entire vertical well profile.
Revolution SRT – is a slide-reduction tool that provides continuous motor rotation in standard and unconventional wells for low-cost applications. The tool maintains continuous rotation that reduces sliding friction while providing full 3D control in a rotating environment.
National Oilwell Varco
Continuous inclination logs are compared in Pauls Valley offsets, VDT (red) vs. Pendulum assembly (black). (Courtesy NOV)
NOV has introduced a new Vertical Drilling Tool (VDT) that combines a point-the-bit system with continuous inclination feedback from downhole. The combination drives an autonomous RSS designed to reduce cost/ft in high-volume markets with challenging geology. A clean, precisely vertical borehole pays off with reduced torque and drag when the build and lateral sections are drilled, a quality particularly valuable in extended-reach wells.
Recently, in Pauls Valley, Oklahoma, the VDT eliminated three days of drilling time on an offset well. Drilling a 77⁄8-in. vertical section from 1,617 ft to 6,150 ft (493 m to 1,875 m), the system maintained verticality within 0.7° compared with a standard pendulum assembly in a nearby offset well that struggled to maintain less than 4.0° of verticality while drilling with reduced weight-on-bit. The NOV tool drilled with a 53% increase rate-of-penetration, and the lowest overall drilling cost/ft in the field – 25% less than that of a direct offset.
NOV has developed its Lateral Drilling Tool (LDT) in the popular 4.75 size to give operators an alternative to high-cost RSS. The point-the-bit LDT claims increased ROP and hole quality, as well as full compatibility with third-party LWD/MWD systems. On a recent comparison test in Belmont County, Ohio, the tool drilled a Utica Shale target at 120 ft/hr (46 m/hr) compared with 33 ft/hr (10 m/hr) on a nearby offset. Total drilling hours to complete the approximately 8,500-ft (2,590-m) interval were 69.5 hours compared with more than 260 hours for the offset, amounting to $253,460 in overall savings. According to the company, a 400°F (200°C) model is available upon request. This is a record for RSS.
Baker Hughes Inc.
Baker Hughes recently announced it has drilled a total of 10 million ft of unconventional shale-play borehole with its AutoTrak Curve RSS system. This milestone was achieved within two years of the equipment's commercial debut. Chief among the advantages offered by the system is its ability to land laterals closer to the vertical section, giving greater access to target formations while reducing drilling time to total depth. According to Baker Hughes, the system is ideal for "designer wells," where rapid trajectory changes may be required to avoid collisions with other boreholes from pad- or platform-drilled wells, or to avoid geohazards. The ability to change targets on the fly allows drillers to react promptly to reservoir sweet spots identified in real time by LWD tools, even in thin reservoirs.
Schlumberger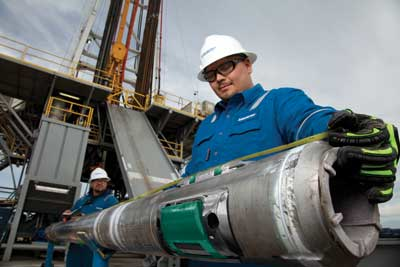 The PowerDrive Orbit's ruggedized pad actuation system is designed to tolerate the most difficult drilling conditions of shock and vibration as well as aggressive drilling fluids. (Photo courtesy Schlumberger)
With more than 135 million ft of drilled hole to its credit since its debut in 1998, the Schlumberger PowerDrive RSS series welcomed its latest member with the PowerDrive Orbit.
The newest system expands the series' operating envelope by extending system life, delivering precise directional control, and increasing drilling efficiency. It does this with a newly designed and ruggedized pad actuation system and a three-axis shock and vibration real-time measurement that helps optimize bit life and protect tools in the LWD string. ROP has been boosted by a 75% increase in rotational speed to 350 rpm. The system features multi-axis continuous inclination and azimuthal gamma ray capabilities that reduce uncertainties in well positioning and enable self-steering to deliver a smoother borehole.
Tested worldwide in more than 500 runs over two years, the system recently set records for a Middle East operator which required directional control while drilling deep laterals in a challenging onshore well. The PowerDrive Orbit drilled 12,690 ft (3,869 m) in a single run, extending lateral length by 33% and completing the operation 21 days ahead of schedule.
The system offers dual downlink capabilities. The first option allows for downlink activation by a traditional flow change command, and the second is a new collar RPM-based feature that allows direct activation by changing the collar's rotation rate. The flow change command, which is typically used, is less affected by stick-slip vibration and high torque. The new collar RPM-based command is less affected by the slow reaction of the mud pumps while drilling. This application allows the RSS to be run on any type of rig, including mechanical rigs without a silicon-controlled rectifier, which require fast manipulation of surface pumps to send a command.
Halliburton
Halliburton's Sperry Drilling Division took its new Dirigo RSS, electromagnetic telemetry, and ADT drilling optimization service to Argentina to tap unconventional natural gas reserves. The area is characterized by hard formations and challenging drilling conditions.
Halliburton recommended its GeoPilot Dirigo 7600 series RSS, with electromagnetic communication and ADT real-time downhole conditions monitoring, including vibration, bottomhole pressure, and other parameters affecting drilling efficiency.
Continuous directional control at high penetration rates is achieved with the Dirigo system because the entire string rotates, reducing friction, drag, and ultimately drilling time. The system was used to drill the east half of the build section and the lateral in a single run, seven days ahead of schedule. EMT high bandwidth communication transmits real-time data without a continuous fluid column, allowing rigs to multi-task. The ADT service helps drillers optimize downhole conditions that could damage or delay drilling. ROP averaged 28 ft/hr (8.5 m/hr) with build rates up to 10°/100 ft (10°/30 m).
The following RSS survey may be used to compare features of each company's systems.