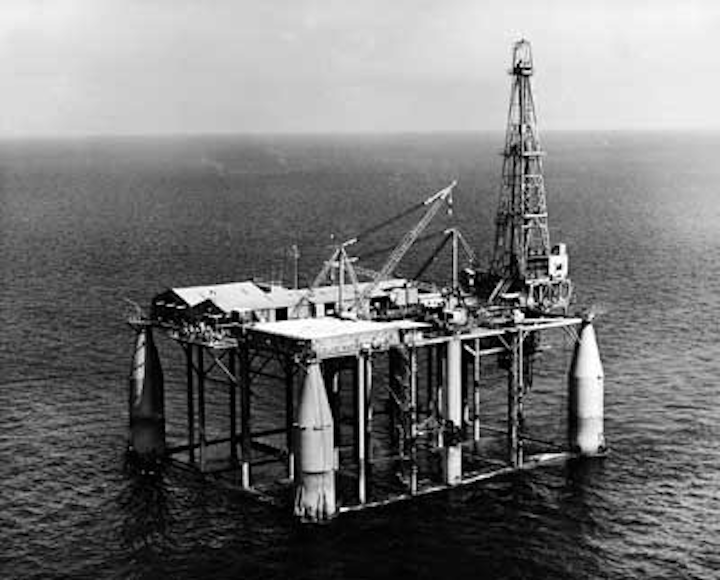 Shell's leadership in the 1960s paved way for deepwater development
Tyler Priest
University of Iowa
The first question people often ask about the history of offshore oil is "when did it all begin?" The answer is elusive. Do we place the origin in 1896, when real estate speculator H.L. Williams promoted the drilling of the first wells in the ocean, from piers built off Summerland, California, into the Santa Barbara Channel? Or did it happen five years earlier in Ohio, where the first oil well completely detached from land was drilled in a manmade reservoir called Grand Lake St. Mary's? Do we date the birth of the offshore industry with the Creole platform, the first freestanding platform in the ocean, completed in March 1938 by Pure Oil and Superior Oil, a mile-and-a-half offshore and 13 mi from Cameron, Louisiana? Or does the honor go to Kerr-McGee's Kermac 16, the first well "out-of-sight-of-land" that began producing oil on Nov. 14, 1947, 10.5 mi from the shore of Louisiana's Terrebonne Parish?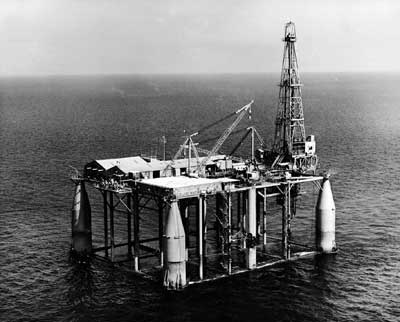 In January 1962, Shell spudded a record-setting offshore well in 297 ft of water in the Gulf of Mexico with theBlue Water 1, the industry's first semisubmersible drilling rig. (All photos courtesy Ronald L. Geer)
A persuasive case can be made for each of these "firsts." But none are technological precursors to the modern offshore oil industry. They all involved some kind of variation of land drilling techniques applied offshore. Such adaptations required great bravery and fortitude, but not the conceptual or imaginative leap that decoupled the rig from the seafloor and made possible the floating operations and subsea engineering of today, which are impossible to confuse with drilling on land.
That leap was first made in January 1962, when a strange contraption under lease to Shell Oil, called theBlue Water 1, spudded a record-setting offshore well in 297 ft of water in the Gulf of Mexico. This was at least three times deeper than wells drilled by other mobile drilling vessels, such as submersibles and jackups. Outside observers struggled to figure out how the Blue Water 1 could remain nearly motionless in those depths on the open seas. The New Orleans papers wondered at length what was happening. Rumors spread that it was sitting on a coral reef. Curious competitors spied from helicopters and workboats. One helicopter even brazenly tried to land on the rig's heliport before it was waved off. Oklahoma senator Robert Kerr, whose company Kerr-McGee was heavily committed to offshore, personally circled the rig for many days, first in an airplane and then in a boat. But like all others, he came away with few clues.
The maiden voyage of theBlue Water 1 took place a month before NASA astronaut John Glenn became the first American to complete an orbit of the earth. Both missions revealed a newfound human ability to explore frontiers beyond the comfort of terra firma. On Aug. 14, 1962, Shell Oil dramatically disclosed the details of its new "floating drilling platform." With an eight-anchor mooring system hidden under the water, this converted submersible was equipped to operate in 600 ft without resting on the bottom. Announcing successful drilling from the platform, Shell also reported technical progress in completing ocean-bottom wells by remote control from the surface.
The unveiling of theBlue Water 1 ended two years of speculation in the industry about what Shell had been up to with its mystery rig and captured national headlines heralding a double technical breakthrough. "Oilmen can now find and produce petroleum from the open sea regardless of depth of water or distance from land," reported the Wall Street Journal.
Shell's Blue Water breakthrough resulted from an exceptional combination of vision and creativity. No longer satisfied with gradually inching out into slightly less-shallow waters, the company's E&P leaders took a calculated risk in the mid-1950s to see if they could redefine the possibilities of finding oil in the ocean.
At that time, many people in the industry had come to believe that offshore development had reached its limits. None other than Shell Oil's New Orleans Vice President Bouwe Dykstra, a tall, steely-eyed Dutchman who had been a driving force behind Shell's successful moves into shallow water, argued that venturing deeper than 60 ft would be folly. Even if it were possible to develop the kind of equipment needed for those depths, he insisted, well costs would be prohibitive. Bothered by both safety and economic risks, Dykstra felt that the company would be better off managing its production in the shallow water.
Head office E&P management at Shell was more sanguine about what was then considered "deepwater." Exploration Vice President Ronald E. McAdams and Executive VP for E&P Ned Clark trusted in the company's technological capabilities, and they believed that offshore was the only place left in the United States where Shell could stake a competitive position. The other majors had tied up the best undeveloped properties onshore – Socony (Mobil) and Socal (Chevron) in California, Humble Oil & Refining along the Texas Gulf Coast, and Texaco in South Louisiana. For Shell Oil to remain a viable E&P company in the US, moving deeper offshore was imperative.
Displaying 1/2 Page 1,2, 3Next>
View Article as Single page