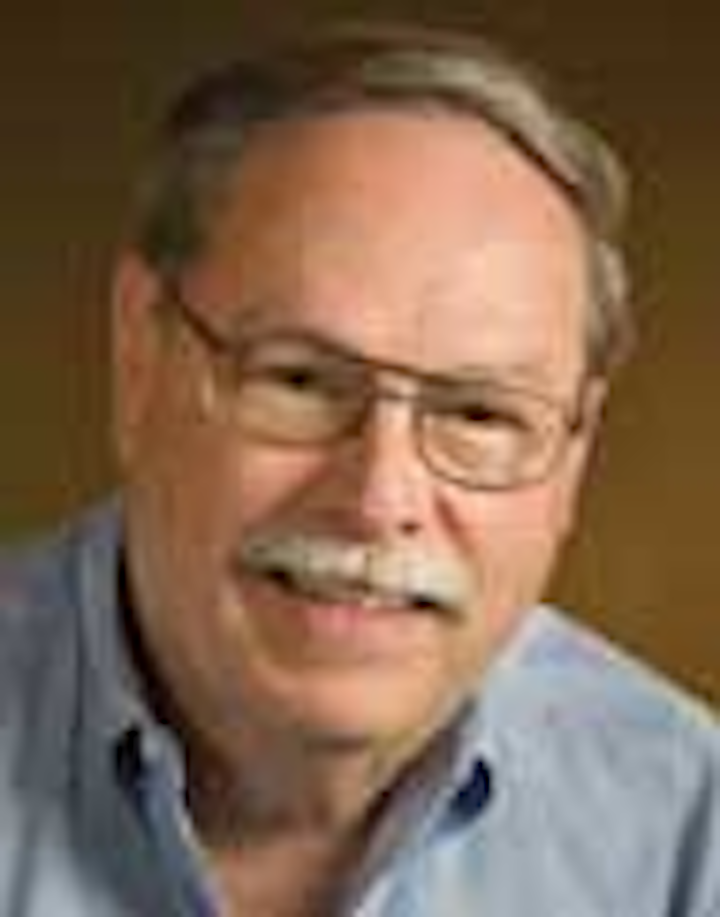 | | | |
| --- | --- | --- |
| | | Dick Ghiselin • Houston |
There are many definitions of the word conservation. According to Webster's New Collegiate Dictionary, conservation is defined as conserving, preserving, guarding, or protecting. When applied specifically to natural resources, it relates to maintenance and supervision.
This editor suggests an additional definition as applied to equipment or assets is "extending useful life." The industry recently experienced an excellent example of this latter definition when Shell announced completion of its plan to use the Auger TLP to process production from its Cardamom field.
Discovered in 1995, the Cardamom field is located in Garden Banks block 427, about 225 mi (362 km) southwest of New Orleans. Vertical depth to the reservoir is more than 25,000 ft (7,620 m). Water depth is greater than 2,720 ft (800 m), and the reservoir is subsalt, making its discovery technically challenging. The ultimate solution involved advanced exploration technology with its ability to image beneath thick salt layers.
For its part, Shell exercised many of the core principles of conservation in developing Cardamom production by making maximum use of the existing Auger asset. The decision was even more appropriate considering that the Cardamom discovery well was actually drilled from the Auger platform. Although the decision to use Auger required additional expenditures, the net effect saved considerable cost. The expenditures were needed to upgrade the existing process train; install additional subsea receiving equipment; and increase the liquid handling, cooling, and storage capacities.
Taking a global view, the decision was a victory for conservation in many ways. First, using the existing facility allowed Shell to tieback Cardamom wells to the "mother ship" as they were completed. In fact, the first production from Cardamom began in 2010. All the receiving and processing equipment was already vetted, and had performed safely and efficiently for over two decades. This is another way of saying that if there were any "bugs," they had certainly been remediated by now. The tension-leg concept is a proven one and several TLPs are currently producing oil around the world. Engineers deemed that Auger had many years of useful life left.
Total gross ultimate recovery from Auger was estimated at about 300 MMboe with a 2:1 gas/oil ratio. Cardamom ultimate recovery is estimated at 35 MMboe. Auger's production capacity at the outset was expected to be about 42,000 b/d of oil and 125 MMcf/d of gas, but two separate upgrade projects raised capacity initially to 72,000 b/d of oil and 165 MMcf/d, and later to 100,000 b/d of oil and 300 MMcf/d of gas. Adding more than 10% ultimate recovery to an already profitable asset is conservation at its best.
Deepwater tiebacks have increased in popularity as a way to conserve infrastructure. Why build a new production facility if you can tie subsea wells back to a facility already in place? This is particularly beneficial if the existing facility is under-utilized. The Independence Hub was designed to accept gas production from 16 fields, process it and commingle it, ultimately shipping it to shore in a 20-in. pipeline. The Independence Hub is operating under its maximum capacity today, so it too could offer an economic solution to a neighboring producer.
Recently, Statoil also employed this strategy with two tiebacks offshore Norway. In mid-September, the company reported that it had started production from the Fram H-North and Svalin C satellites in the Norwegian North Sea. These are the eighth and ninth of the company's fasttrack development projects offshore Norway.
Fram H-North, thought to hold around 10 MMboe recoverable, is in the Troll area. It has been developed using a standardized subsea template that can accommodate four wells, and is connected by 5 km (3.1 mi) of pipeline and umbilicals to the existing subsea template on Fram West A2.
Svalin C in the Grane area contains just over 30 MMboe. Development called for a subsea facility with two wells, 6 km (3.7 mi) southwest of the Grane platform.
The plan for development and operation (PDO) for Svalin C was submitted in June 2012 and approved by the Ministry of Petroleum and Energy in November 2012. The Fram H-North partners took their investment decision in summer 2012. In this case, the project was exempt from having to submit a PDO.
Statoil says drilling and well activities on Fram H-North turned out to be more difficult than expected, while Svalin C encountered issues connected to deliveries of the control system for the subsea template, resulting in a delayed production start.
Millionth barrel produced at Prirazlomnoye
Meanwhile, in the Russian arctic, Gazprom Neft Shelf LLC is employing a different strategy. The company recently announced that the Prirazlomnoye field has produced its millionth barrel of oil. A tanker is currently being loaded, and a further two tankers will transport around 1 MMbbl of oil from the Prirazlomnoye field before the end of the year. In total, 2.2 MMbbl are expected to be produced at Prirazlomnoye in its first year.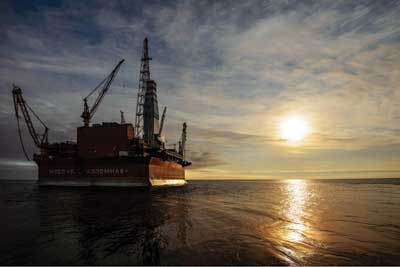 Gazprom Neft Shelf LLC says that the Prirazlomnoye facility is the world's first project involving oil extraction on the Arctic shelf by means of a stationary platform. (Photo courtesy Gazprom Neft Shelf LLC)
Prirazlomnoye is the world's first project involving oil extraction on the Arctic shelf by means of a stationary platform. Extraction as part of pilot production began in December 2013. The new Prirazlomnaya offshore, ice-resistant, stationary oil production platform was developed for this field to facilitate all technical operations, including drilling, extraction, oil storage, preparation, and shipping.
One production well has been drilled and an injection well should be completed soon. There are plans to complete the main drilling work for an absorption well by the end of 2014. Four more wells are to be drilled in 2015. In total, the project will involve the commission of 36 wells, comprising 19 production wells, 16 injection wells, and one absorption well.
The Prirazlomnoye is 60 km (37 mi) offshore in the Pechora Sea. Recoverable reserves of oil at the deposit are in excess of 70 MM metric tons (77 MM tons). Gazprom Neft Shelf LLC is the project operator and subsurface license holder.