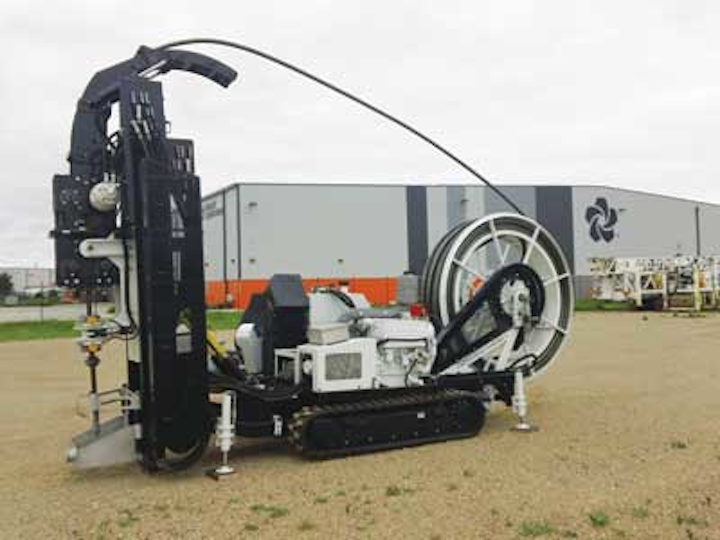 Wendy Laursen
Contributing Editor
Australia has invested heavily in the oil and gas industry but with increasing capex and the ever-increasing demand, the country is focusing heavily on R&D to help mitigate costs while continuing to attract foreign investments to develop its oil and gas reserves.
Australian researchers have pinpointed three areas in which costs can be decreased through innovation and new technology.
An estimated 1,864 mi (3,000 km) of pipeline is planned offshore Australia over the next 10 years at a cost of more than $15 billion, and with 30% of this relating to stabilization measures, operators have a vested interest in reducing pipeline cost.
Pipeline stability in Australia is uniquely challenging due to the onerous metocean and seabed conditions, and the prevalence of light gas pipelines. Current design approaches are flawed because they neglect the potential benefits of seabed mobility. This mobility, for example through scour, changes the topography and strength of the seabed. If scour holes form around a pipeline, the hydrodynamic lift is reduced and the soil support is altered. The pipe may sag into the scour hole, and as the scour holes spread along a pipeline, self-burial may occur.
A new R&D concept, O-Tube, recently launched to help alleviate pipeline costs. Developed by Woodside Petroleum Ltd., Chevron Australia, Wood Group Kenny, Atteris PTY Ltd., and the University of Western Australia (UWA) as part of the Stable Pipe JIP, O-Tube was built by an UWA in-house technical team led by Winthrop University professors Liang Cheng and David White.
O-Tube is a facility that rapidly circulates 66 tons (60 metric tons) of water to simulate underwater conditions during tropical cyclones. The program has provided significant economic benefits to Woodside including the life extension of one of Australia's most important pipeline assets – the trunkline from the North West Shelf Venture gas plant on the Burrup Peninsula to the offshore North Rankin A platform. It has also been used for optimization studies for Chevron Corp.'s Wheatstone project pipelines, providing significant savings, according to the company.
O-Tube experiments allow direct measurement of the pressures applied to a pipeline by cyclonic waves with up to 1 in 1,000-year return periods. The changing topography of the seabed is captured by digital imaging methods including binocular infrared scanning. This allows new theoretical methods to be developed for predicting seabed morphology. Once calibrated against the O-Tube results, these methods then provide a basis to optimize the design of seabed pipelines and other offshore infrastructure.
This new research program recently won the 2014 Australasian Industrial Research Group Medal for Australasian Major Industry Technological Innovation.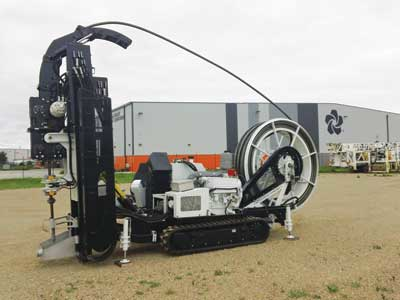 Coiled tube drilling. (Photo courtesy professor Brian Evans of Curtin University)
Mobile foundation, mudmats
UWA professor Susan Gourvenec is developing a mobile foundation that could replace mudmats, which are used to support subsea flowlines. Mudmats, typically 16 to 49 ft (5 to 15 m) in edge length, can at times measure more than 131 ft (40 m). Mudmats transfer the weight of the structure they support over a sufficiently large area of the seabed to avoid settlement, resisting the lateral loads applied by the connected pipelines as they undergo cycles of thermal expansion and contraction.
Gourvenec said that as developments move into deeper water, seabed soils can be extremely soft, requiring larger and heavy mudmats, and installation from a heavy-lift vessel. This adds to project expenses. As an alternative, her mobile foundation technology acts in a way that is similar to snow skiing except that it would just move a few meters to absorb some of the loads experienced by the flowlines.
Improved drilling technology
Professor Brian Evans of Curtin University, a member of the Deep Exploration Technologies Cooperative Research Center, works with other universities, mining and drilling companies, and the Australian Commonwealth Science & Industrial Research Organization to deliver new mine site drilling technologies of the future.
"One of the major road blocks to any exploration and production program in both oil and gas, and mining, is the cost of drilling," he said. His research team is working on a system to achieve what "promises to be a future paradigm shift in drilling technology."
There is a belief that the cost of offshore drilling could be reduced if drilling rigs used a coiled tubing operation. This would reduce the amount of pipe stored on board the rig deck, allowing a reduction in rig size, and reduce the number of personnel needed on the rig, said Evans.
By using a coiled tube drilling rig, the objective of the research is to develop a mineral exploration drilling rig which can drill boreholes at a cost of $50 per drilled meter. It is expected that the drilling rig will drill 1,640-ft (500-m) exploration holes within the next five years, with only two operators controlling the rig, and logging-while-drilling being controlled in real-time. The use of sensors embedded in the composite coiled tube laminated would allow electronic chips to operate while drilling; and sampling of cuttings would be done on board while the automated sample sensing would be controlled by one of the two operators.
"However, the next step to reduce offshore costs further would be to run the rig on the seabed. If this coiled tubing rig could be made to operate underwater, replacing the two men with ROVs, as is common in today's oil and gas production world, then it would be possible to drill around the year, going into Arctic waters for the first time, and staying under the ice cap or water, without the problem of any rough weather on the surface."
Evans admits this is something of a dream right now, but that it could be developed over the next decade. "Automated offshore seabed drilling has to be the way forward in the future for the industry."