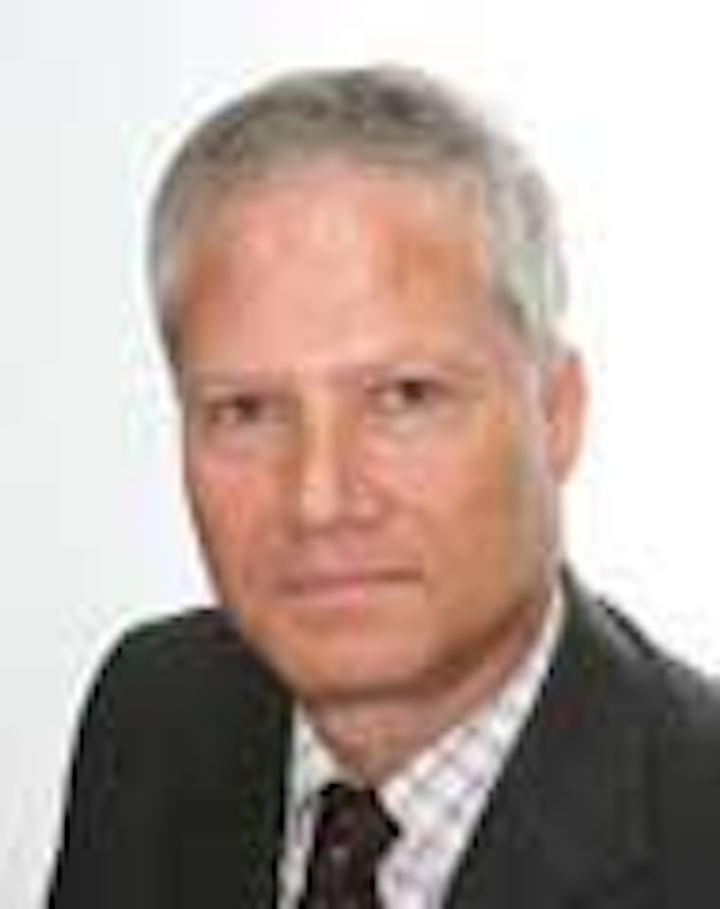 | | | |
| --- | --- | --- |
| | | Jeremy Beckman • London |
Maersk Oil has unveiled its plans for Culzean, an ultra-high-pressure/high-temperature (uHP/HT) gas/condensate field in the UK centralNorth Sea. The $4.7-billion project could be the first to benefit from the UK government's proposed uHP/HT allowance, under which companies could offset a large portion of their development costs against tax.
The field was discovered in 2008 in block 22/25 by exploration well 22/25a-9z, which took six months to drill and reportedly presented significant technological challenges. Two years later the jackupEnsco 1 drilled an appraisal well, and the side track that followed tested 40 MMcf/d (1.1 MMcm/d) of gas and 900 b/d of condensate from two intervals. Maersk did not comment on the results of a second side track drilled in 2012, nor has it provided specifics on the reservoir conditions. However, it does claim that the discovery is one of Britain's largest in recent years, and that the gas could eventually supply around 5% of the UK's needs.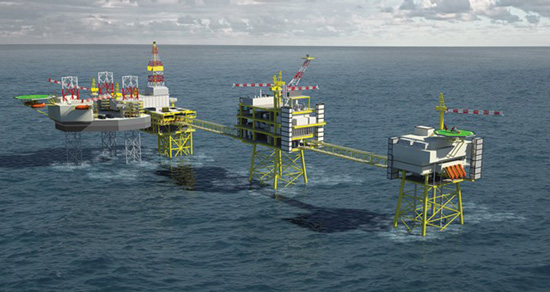 Artist's impression of the proposed Culzean production complex. (Image courtesy Maersk Oil UK)
Subject to a final investment decision next year, the company and partners JX Nippon and BP plan a bridge-linked complex in 88 m (289 ft) of water, comprising a 12-slot wellhead platform, a central processing platform with flare tower, and a living quarters/utility platform with accommodation for more than 100 personnel. KBR London is performing front-end engineering and design for the topsides and has an option to provide detailed design and engineering support during fabrication. Hercules Offshore's new heavy-duty jackup is due to start development drilling in 2016.
To the southeast, Maersk has approval from the UK and Norwegian authorities to additionally develop the Flyndre and Cawdor fields as subsea tiebacks to Talisman Sinopec Energy UK's Clyde platform. Both fields are in UK blocks 30/13 and 30/14, while Flyndre also extends into Norwegian block 1/5. Maersk initially plans a single oil production well on each accumulation, generating up to 15,000 b/d combined, with two more wells to follow potentially on Cawdor depending on production performance. The company estimates its costs at just over $500 million.
Gas find in Cygnus area
Gaz de France E&P UK has discovered more gas close to its Cygnus development hub in the UK southern North Sea. The jackupGSFMonarch drilled the Cepheus 44/12a-6 exploratory well, encountering gas within the targeted Permian Lower Leman sandstone. Gaz de France has more plans to appraise the Humphry discovery south of Cygnus around the turn of this year and to drill the previously unexplored Bunter structure Mitre. The aim, according to subsurface manager Andy Spencer, is to find more tie-in opportunities to keep the Cygnus facilities in production as long as possible beyond the currently projected wind-down in 2025.
Despite worries over the continued downturn in UKoffshore exploration and appraisal drilling, Spencer says his company strives to drill three to four wells a year, and looks to sustain this level into 2015-2016. In the central North Sea it recently commissioned the semisub GalaxyII to drill the Paleocene sandstone prospect Marconi on behalf of two sets of licensees. The rig was then due to head north to drill the Jurassic/Triassic Dalziel structure in the Montrose area, with a view to proving hydrocarbons that could potentially be developed through Talisman Sinopec Energy UK's new MonArb complex. In the longer-term, Gaz de France is looking to appraise its uHP/HT Faraday discovery in the central sector, and to resume exploratory drilling west of Shetland pending results of a new 3D seismic campaign in the area.
Although UK discoveries have been few and far between, spending on offshore well services remains healthy, climbing to $3.2 billion in 2013, according to Oil & Gas UK's latest Well Services Contractor Report. This is the highest total for the sector since 2008.
Goliat start-up pushed back
First oil from the Goliat field in the Barents Sea now looks unlikely until mid-2015. The cylindrical Sevan-designed FPSO was due to depart Hyundai's yard in South Korea last month. However, components were not in place to allow commissioning to be completed offshore in Norway's far north, according to operator Eni Norge.
The licensees have decided to instead use a second transportation window contracted with theDockwiseVanguard vessel and to finish decommissioning in South Korea. Given the opportunity to test and fine-tune the FPSO prior to its departure, Eni is confident that production from the field can ramp up quickly following start-up. Development drilling and installation of subsea facilities are continuing at the offshore location. Eni estimates the project's overall cost at around $7.55 billion.
Statoil and its partners (including Eni) were due to announce their preferred development concept last month for Johan Castberg, the second major oil field development in the Norwegian Barents Sea. Analysts Wood Mackenzie expected Norway's government to press for the higher-cost option involving transportation of the oil through a new 280-km (174-mi) pipeline to a terminal onshore northern Norway. This would create new infrastructure that could trigger tie-ins of smaller oil fields in the area in future.
Marathon seals deal to quit Norway
Det norske oljeselskap is set to become one of the largest listed E&P independents in Europe after agreeing a deal to acquireMarathon's Norwegian North Sea interests for $2.1 billion. The main asset is operatorship of the Alvheim FPSO, which also hosts numerous satellite field tie-ins. Last year Marathon's Norwegian production was around 80,000 boe/d, and Det Norske has identified further upside of 80 MMboe in Marathon's 13 Norwegian licenses.
Assuming approval from the Norwegian authorities, Det norske will gain more than 450 employees. It plans to use part of the cash flow from Alvheim to finance its share of the Ivar Aasen and Johan Sverdrup projects in the central Norwegian North Sea.
Troll life-extension facilities in place
The heavy-lift vesselSaipem7000 has installed two new compressors weighing more than 6,000 metric tons (6,614 tons) in total on the Troll A platform in the North Sea. Aibel built the structures in Thailand and Haugesund, Norway. After entering service in 2015, they should increase gas recovery from the giant Troll field by more than 2.9 tcf, in combination with the two existing compressors. Statoil plans to maintain gas deliveries from the field for a further 50 years. The platform was also due to receive a new 1,800-metric ton (1,984-ton) integrated utility module, fabricated in Poland and Haugesund.
Another long-term North Sea producer, Statoil's Gullfaks field, is taking delivery of two replacement loading buoy systems supplied by National Oilwell Varco in Arendal. Technip is responsible for installing both systems in 136 m (446 ft) of water at locations 2.4 km (1.5 mi) northwest and southeast of the Gullfaks A platform. Additionally the contractor is removing the existing 6,000-metric ton loading buoys, which were installed in the mid-1980s, and towing them to Stord in western Norway where Scanmet will undertake disposal. According to Statoil, the new buoys, which are similar to those operating at Statfjord, should reduce the need for logistics and helicopter transportation for maintenance.