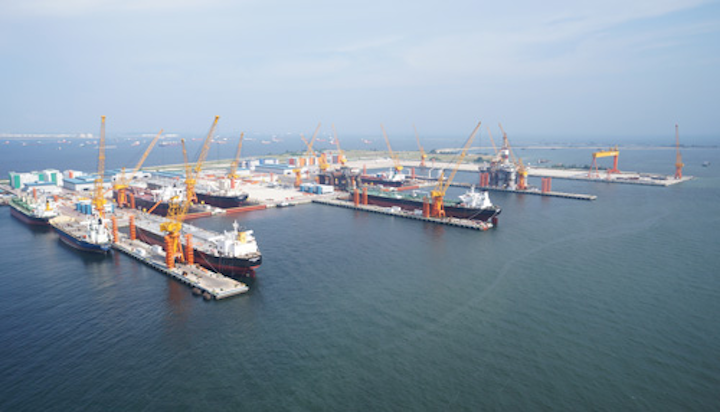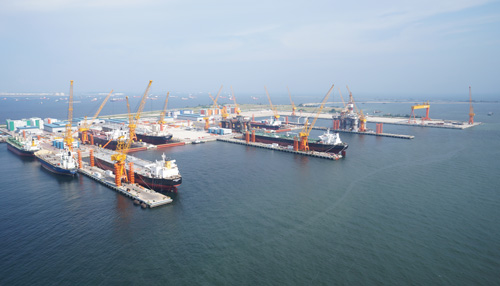 Phase 1 of the Sembmarine Integrated Yard @ Tuas. (Courtesy Sembcorp Marine Ltd.)
Ted Moon
Special Correspondent
Globally, the pace ofdeepwater drilling activity is expected to slow down slightly in the next 18 to 24 months, thanks to project delays and cost savings measures among operators. And while this has created a slight overcapacity of deepwater drilling rigs in the market, this does not mean that shipyards are stagnant.
On the contrary, many yards in theAsia/Pacific region are staying quite busy in anticipation of the upswing in exploratory drilling in late 2016 and beyond. What follows is a brief review of some of the expansion activity taking place in countries like Singapore, South Korea, and China, whose yards must keep growing to keep pace with the demand for larger, heavier, and higher-capacity drilling vessels.
Singapore
Yard expansions are a high priority for several marine fabricators in Singapore, including Sembcorp Marine Ltd. The company was an early tenant in the country's new industrial area known as the Tuas View Extension, located on Singapore's west coast and built on reclaimed land. The company's Sembmarine Integrated Yard @ Tuas will cover 509 acres and be developed in three phases.
The 181-acre Phase 1 has been operational since August 2013, and is designed to serve a range of vessels and rigs, including LNG carriers. Phase 1 includes the longest and deepest ship repair dry dock in Asia, measuring in at 1,352 ft (412 m) long, 217 ft (66 m) wide, and with a draft of 36 ft (11 m). Its size, and the fact that it is reinforced to 20,000 metric tons, makes it particularly well suited for storing topsides modules and then skidding them out to quayside.
The yard is also configured with three finger piers and a basin ranging from 201 to 400 m (659 to 1,312 ft) with maximum draft of 9-15 m (30-49 ft), allowing for ultra-deepwater semisubmersible rigs and passenger vessels to be berthed without restrictions.
The 85-acre Phase 2 is currently under construction, and will have a 110-m (361-ft) wide dry dock. When complete (in the next 2.5 to 3.5 years), it will be one of the largest dry docks in the world. Phase 2 will also include a state-of-the-art robotic painting facility for equipment, which will provide better control while painting with fewer emissions into the yard. This feature is in line with Sembmarine's goal of running an environmentally sustainable facility; even the electricity for the lights around the docks is supplied by wave-action generators.
Phase 3 is further out on the calendar and still in the planning stages. But, there are hints that this phase will include a lifting facility, allowing for integration quayside.
Once complete, the Sembmarine Yard will be Singapore's first truly integrated yard, capable of performing newbuilds, conversions, repairs, and upgrades on a variety of vessels. The first tenant for the yard is Jurong Shipyard, a Sembcorp Marine subsidiary. As the yard expands, other Sembcorp subsidiaries, including SMOE, PPL, and Sembawang, will move into the yard.
The Sembmarine Yard was designed to compete with shipyards in South Korea, currently the world's largest provider of floating production unit construction and refab services, for the first time.
Drilling contractors are rewarding Sembcorp Marine for its yard expansion efforts with new contracts. Earlier this year, Transocean awarded contracts worth roughly $1.24 billion to Jurong Shipyard for construction of two new ultra-deepwater drillships capable of drilling in water depths up to 12,000 ft (3,658 m). Delivery is scheduled for 2Q 2017 and 1Q 2018. In May 2014, Jurong secured a $236-million contract to build a high-specification Friede & Goldman JU 2000E model jackup rig for Hercules North Sea Ltd.
These contracts contribute to Sembcorp's tally for new orders secured in 2014 through June to $1.54 billion. As of this writing, the group's net order book stands at $10.6 billion, with deliveries extending into 2019.
Not to be outdone, Singapore's Keppel FELS is making strides with new technical achievements, particularly in jackup rigs. The company received nine KFELS B Class jackup orders in the first six months of 2013, and delivered its first KFELS Super A Class jackup for an operator in the UK sector of the North Sea. In April 2014, Keppel FELS entered into an engineering study with the Seafox Group for a purpose-built accommodation jackup rig with well intervention and P&A features, one of the industry's first jackups of this kind.
Displaying 1/2 Page 1,2Next>
View Article as Single page