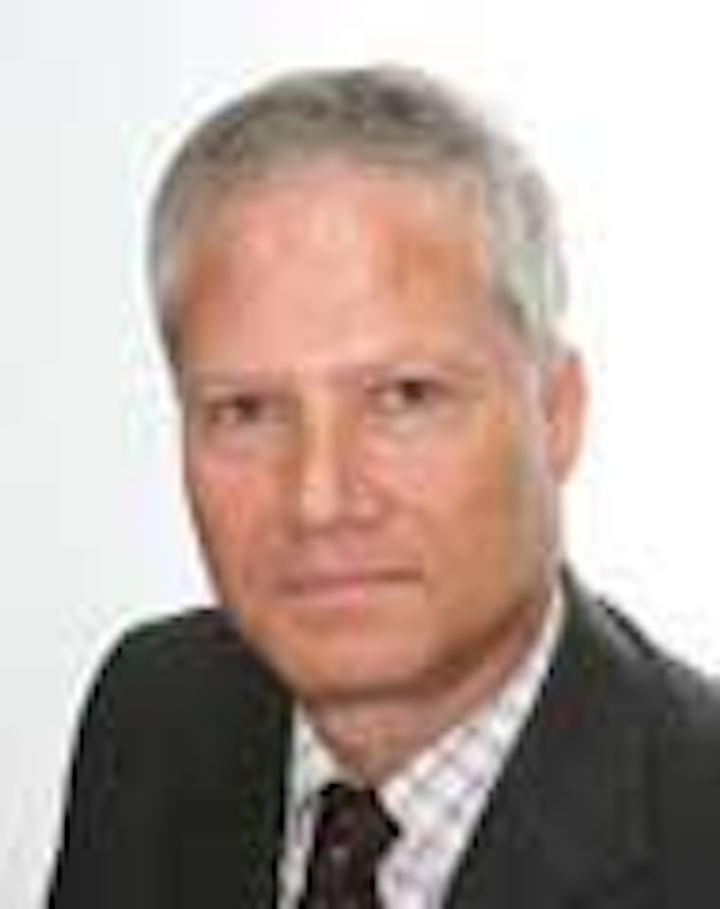 | | | |
| --- | --- | --- |
| | | Jeremy Beckman • London |
Appraisal drilling resumed last month on Hurricane Energy's basement Lancaster oil discovery west of Shetland. The semisubmersibleTransocean Sedco 712 is drilling the well which will be flow tested. SPD is managing the program which could last 75 days.
According to Hurricane CEO Dr. Robert Trice, this is the first time a 1-km (0.6-mi) horizontal well section has been attempted in the UK's fractured basement. The well path for the horizontal segment will cross at least nine faults identified from 3D seismic, compared with two seismic scale fault penetrations for the previous well on the field which tested 2,500 b/d of oil.
If the current well meets expectations it will be suspended for a future tieback to a host production facility. A success, Trice added, "will also have a significant impact on how the industry values other fractured basement opportunities in the UK…The government-sponsored Pilot study describes fractured basement reservoirs as the most extensive underexplored play remaining on the UK continental shelf."
Off the Faroe Islands the semisubWest Hercules has re-entered the Brugdan II exploration well in license 006, which had been suspended since November 2012 when bad weather called a halt to operations. Brugdan is a large four-way dip closure at Tertiary level that was first drilled in 2006, although that well had to be abandoned prior to reaching the sandstone target due to mechanical issues. The waters around the Faroes are among the toughest for operations throughout northern Europe, due to the severe metocean conditions and the extensive layers of basalt in the subsurface. But the area is also viewed as highly prospective.
Ormen Lange compression studies suspended
Norske Shell and its partners have opted to postpone offshore compression for the deepwaterOrmen Lange gas field in the Norwegian Sea. This had been one of two concepts under review since 2008 to extend the life of the field, which currently produces through an extensive network of subsea facilities tied back to the shore. The other option was compression from a new TLP.
Committee chairman Odin Estensen said that following an updated analysis of the reservoir the licensees concluded that neither concept was profitable. The latest findings indicated that offshore compression is not even time-critical for recovery from the field, he added. "More knowledge will be accessible from both the reservoir and technology in the coming years and will form the basis for evaluating new compression options."
Grethe Moen, chief executive of state-owned Petoro, a partner in the project, said that the proposed forward plan did not represent a sufficiently strong commitment, and that her organization would continue to push for compression in the longer term.
Petoro is also a partner in Statoil's planned Johan Castberg multi-field development in the Barents Sea. The operator recently completed a five-well campaign to prove more oil in the area. After a series of disappointments, the final well delivered apparently commercial hydrocarbons from the Drivis structure, 15 km (9.3 mi) from the original Skrugard discovery well in 345 m (1,132 ft) of water. Recoverable oil volumes could be in the 42-54 MMbbl range.
Statoil favors a semisubmersible platform-based solution for Johan Castberg, exporting oil to northern Norway for storage. However, Moen said Petoro would continue to push for equal focus on the alternative option of a smaller floating production unit with offshore loading.
Call to cut costs of Norway wells
Aside from Drivis, exploration drilling has paid off farther south with Wintershall finding gas and condensate with two wells in the lower Cretaceous Solberg prospect in the Norwegian Sea, close to last year's Rodriguez discovery. VNG's drillstem test on its Pil find in the same sector, southwest of the Njord complex, suggests recoverable resources of up to 170 MMboe. And Statoil's recent Valemon North discovery at the Jurassic level could hold up to 75 MMboe of gas/condensate and oil. The main Valemon field is due to come onstream later this year via a fixed platform.
However, half of the Norwegian fields under consideration for development are smaller than 27 MMboe, according to Moen. "Developing these discoveries presents major profitability challenges," she said, with production well drilling accounting for around half the cost of a development. Norwegian operators need to get a grip on capacity, measured by wells per year, she added, and on drilling costs inflated by creeping inefficiencies.
In the past, she claimed, the industry managed to execute standard drilling tasks twice as quickly as it does now. However, she suggested that "through simplification, technology which increases cost effectiveness, and a cultural shift away from seeking fault-free operation to pursuing efficiency, we can achieve radical efficiency gains compared with the present position."
Platforms converge onNorth Sea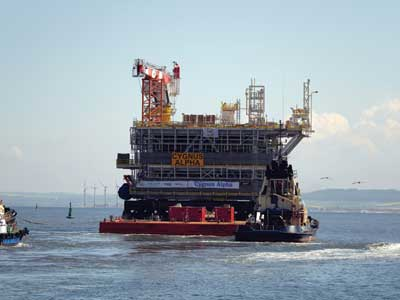 Sail away of the Cygnus Alpha topsides from Heerema Hartlepool. (Courtesy Heerema Fabrication Group)
This has been a busy period for loadouts of structures for new North Sea projects. Over the past two months Aker has shipped out jackets for the Edvard Grieg and Eldfisk projects from its west coast Norway yards; Nexen's Golden Eagle Area production, utilities and quarters deck left Lamprell's yard in Sharjah, UAE. Heerema Fabrication Group skidded the 8,500-ton launch jacket for DONG Energy's Danish sector Hejre field platform onto a barge from the quayside in Vlissingen, the Netherlands, and this was due to be followed by the 900-ton pre-drilling wellhead deck.
In the UK, Heerema's Hartlepool yard dispatched the 1,640-metric ton (1,808-ton) topsides for GDF SUEZ's Cygnus gas field, with the 1,146-metric ton (1,263-ton) jacket, built by Burntisland Fabricators, sailing out of eastern Scotland. Both fabricators are building the remaining three platforms for this development.
One of the next major construction programs will be for Xcite Energy Resources' phased heavy oil Bentley project in the UK northern North Sea. The company is working with AMEC and Ove Arup & Partners to optimize the design of Arup's self-installing steel ACE production platform. This would allow the facility to be built and integrated at a wide range of yards, and wet-towed directly to the Bentley field for installation with minimal offshore support. Teekay Shipping is set to provide a bridge-linked, cylindrical Sevan floating storage and offloading unit.
Xcite has also entered a collaboration agreement with Statoil and Shell to examine potential synergies with Statoil's much larger Bressay heavy oilfield development. A team from the three companies will examine potential use of common infrastructure, assets and operational solutions for the two projects.