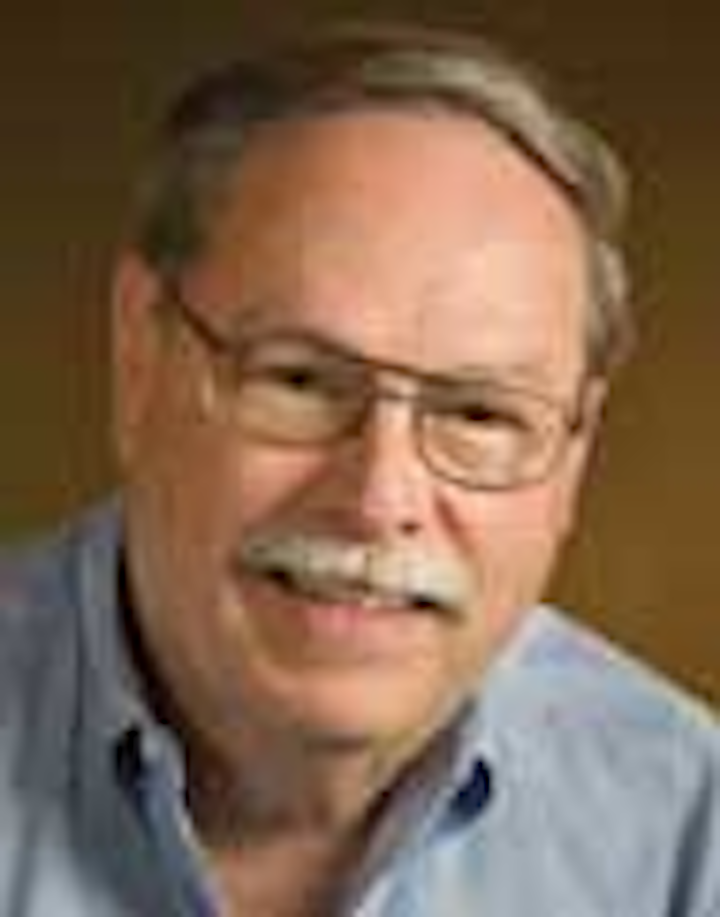 | | | |
| --- | --- | --- |
| | | Dick Ghiselin • Houston |
A recent article described a new land drilling rig specifically designed for pad drilling projects. The piece touted Nabors Drilling as the designer and builder of the new drilling units and claimed they were "selling like hotcakes."
While I do not doubt that Nabors, as the world's largest land drilling contractor, has the experience to design superior rigs, and may be in fact experiencing a boom of sorts, it seems to me that we offshore folks played a role in pioneering the pad drilling concept. After all, what is a jacket platform but a multi-slot pad drilling machine? Were land drillers drilling multiple wells off pads when Shell launched the famous Cognac platform? And were not the huge North Sea gravity-based platforms a multi-slot drilling base on steroids? Early efforts in 1949 in the Caspian Sea off Baku, Azerbaijan, developed the Oily Rocks field as a multiple-well pad of sorts that actually grew to become an offshore city, reaching a population of 5,000 workers. These intrepid souls collectively have produced 170 million tons of oil in 60 years and they predict at least an additional 30 million tons of remaining recoverable reserves. This was just one year after Kerr-McGee drilled what was touted as the first well drilled out of sight of land, and by definition, credited as the "first offshore well."
The environmental concerns around the world have increased the interest in pad drilling, particularly in the Arctic, in the marshy Taiga of Western Siberia, and in the tropical rain forests with delicate ecologies. The famous THUMS (Texaco, Humble, Union Oil of California, Mobil, and Shell) island offshore from the city of Long Beach, California, is nothing more than a huge drilling and production pad. Today, extended-reach offshore wells are being drilled from pads located on Sakhalin Island in Russia's Sea of Okhotsk. The success of BP's Wytch Farm pad paved the way for extended-reach multi-well drilling out under Poole Bay. It could be argued that drilling from land to access offshore oil is just fancy land drilling, but recently, a 100% offshore world record (at the time) well was drilled by Transocean from a jackup rig in the Persian Gulf offshore Qatar extending 7.6 mi (12 km) to its target.
There is no question that pad drilling is the most efficient way to develop a reservoir. Directional drilling and geosteering technology have enabled companies to precisely identify and target "sweet spots" for development. Because of the high costs of drilling offshore, any technique that boosts efficiency should be increasingly popular. Drilling and producing from a fixed platform or even a compliant tower allows the production department to use dry trees, deck space permitting, which saves a lot of money as it maximizes accessibility.
The advantages of pad drilling now being practiced in US shale plays may bring the technique to offshore. There is plenty of shale offshore. Logic tells us that making a Bakken-type discovery beneath the sea is just a matter of time. Thousands of feet of organically rich shales have been deposited in deltaic deposits just offshore, not even in deepwater. Maybe pad drilling efficiencies will make offshore shale wells economically viable. They certainly will if a shale-oil discovery the size of Bakken or Eagle Ford is made beneath the waves.
Ocean Star rises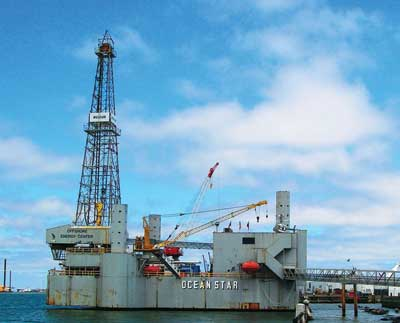 TheOcean Star is located a block from the popular Strand area of downtown Galveston, Texas, at 19th Street and Harborside Boulevard. (Photo courtesy Ocean Star Drilling Rig and Museum)
Have you ever been weary of trying to explain the oil and gas industry to another person? Whether it is a family member or just an acquaintance, consider visiting theOcean Star Offshore Drilling Rig and Museum at Pier 19 in Galveston, Texas. Unlike many museums that focus on the past, the Ocean Star is a "New-seum" featuring the latest exploration, drilling, and completion technology. And the exhibits keep changing with the times. For example, soon joining the new safety and ROV exhibits will be a cutaway of an LWD tool, so visitors can see for themselves what is inside those apparent lengths of pipe.
More than 500,000 people have visited the Offshore Energy Center (OEC), which celebrates its quarter century anniversary this year. Ongoing programs educate educators on the oil and gas industry with special emphasis on offshore. If a teacher is made aware of the facts, he or she can influence hundreds of youngsters.
The OEC has launched its second Mobile Oilfield Learning Unit (MOLU), which travels the country acquainting students on energy, physics, geoscience, in total compliance with US science education standards for fifth graders. Each MOLU travels in its own trailer to schools everywhere. Inside are six four-sided workstations that teach principles of exploration, drilling, formation evaluation, completion, and production.
Besides Texas, MOLU #1 has visited California, Virginia, the Carolinas, Alabama, Mississippi, and Georgia and has received rave reviews from educators. It is a hands-on experience that proves to be a more effective learning technique than classrooms or books alone. MOLU #2 made its debut in August in Baton Rouge, Louisiana, kicking off a statewide tour. It features two new workstations on safety and hydraulic fracturing.
A trip to Galveston offers the unique experience of boarding an actualoffshore jackup drilling rig. A review of post-visit questionnaires reveals an overwhelming positive experience for diverse families of all ages. People are amazed at the technology displayed and many exclaim that they will never complain about the price of gasoline again. How things work is always interesting, and you can avoid lengthy explanations just by showing your guests the Ocean Star exhibits, most of which are hands-on. Visitors get to hear from real rig crew members and learn about their jobs.
TheOcean Star is one of Galveston's most popular attractions. Do yourself a favor. Visit (or re-visit) the Ocean Star.