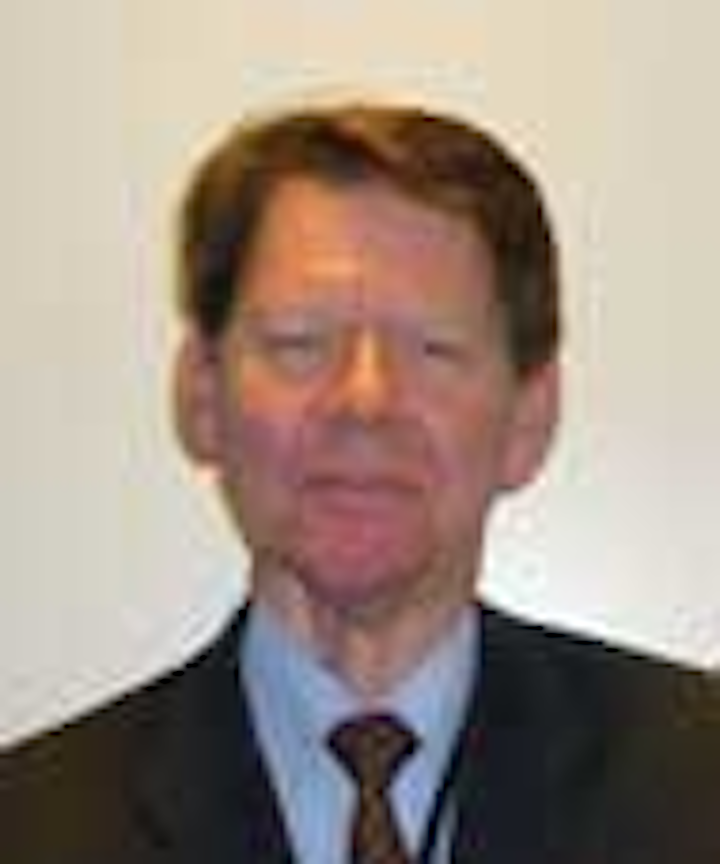 Ice-resistant floater also under review for use at Flemish Pass
Nick Terdre
Contributing Editor
Finding ways to extend the exploration drilling season in Russia's ice-laden Arctic waters is a key issue both for Russian oil companies and the international oil companies working with them in joint ventures. One concept they are considering isKvaerner's CONDRILL relocatable concrete-base drilling platform.
So far Kvaerner has performed various pre-front-end engineering and design studies for Russia-based clients. Other competing solutions are under evaluation, including a steel jackup. But according to Arnt Knudsen, senior vice president of the company's Concrete Solutions business area, "the feedback we're getting is that the CONDRILL is probably the only technical solution which they believe is fully feasible and provides year-round operations."
Arnt Knudsen, senior vice president in Kvaerner's Concrete Solutions business area.
Kvaerner holds the concrete platform expertise accumulated since the 1970s and 1980s when Norwegian Contractors designed and built the giant CONDEEP platforms in the North Sea. Knudsen himself is a Norwegian Contractors veteran with 30 years' experience in this field. In the 1990s Kvaerner extended the concept to ice regions when it delivered the first production platform to be installed offshore Newfoundland for the Hibernia field, and it is now building the Hebron platform for the same waters.
Since the turn of this century the company has established a presence inRussia, designing and building three platforms with gravity-base structures (GBSs) which are producing hydrocarbons off Sakhalin Island in the Russian Far East. Two were delivered in 2005 to the Sakhalin II development operated by the SEIC consortium led by Shell, and one in 2012 to ExxonMobil's Sakhalin I project.
All are production platforms, intended to stay in place for several decades. With the CONDRILL, however, Kvaerner is for the first time taking on the drilling challenge. It has been working on the new concept over the past couple of years in response to requests for a GBS solution for exploration drilling off Russia's north coast, says Knudsen. Here, when floating ice appears over the horizon, conventional rigs have to start preparing to halt operations and move away. Farther east along the coast toward the East Siberian Sea, the open-water season becomes progressively shorter, and exploration drilling can be restricted to one well per year. As a result these areas are under-explored, even though considered prospective.
Concrete is a good material for theArctic, says Knudsen. It can withstand the harsh environment, including the ice loadings and grinding of ice on the legs, while requiring virtually no maintenance. The Sakhalin platforms are designed to withstand drifting ice, temperatures down to -44ºC (-47.2°F), seismic disturbances on the seabed, and, crucially, enable year-round drilling.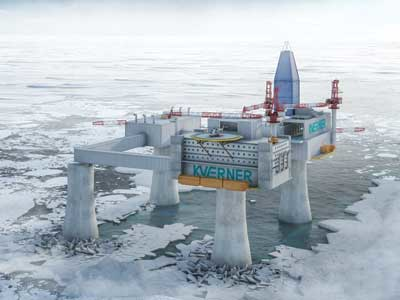 Kvaerner's relocatable CONDRILL provides year-round drilling in ice-laden waters. (Photos courtesy Kvaerner)
The CONDRILL concept takes these properties and transfers them to the concrete equivalent of a mobile rig. Like the GBS production platforms, its stability is secured by skirts which sink into the seabed, creating a vacuum between the bottom of the concrete base and the seabed. The platform can be refloated by pumping water into the skirt compartments and deballasting the structure. As the platform is not intended to stay in any one location for more than a few months, the skirts are relatively short, at about 5 m (16.4 ft). The platform can be relocated in most ice conditions – up to 70% ice concentration and 1.5 m (4.9 ft) thickness – using a combination of ice breakers and ice-class tugs. Relocation can be performed in a matter of days, depending on the distance to the next drill site.
Ice conditions off Russia's north coast are more testing than off Sakhalin, with thicker ice and the possibility of multi-year ice in some areas. So Kvaerner has been testing concrete for even higher ice loads. There are other challenges, though not linked to the issue of concrete, such as logistics and getting personnel and supplies to the drilling rig in remote locations.
The CONDRILL is designed to operate in relatively shallow waters – from 20 to 60 m (65.6 to 197 ft). That covers a lot of acreage mostly close to the north coast. The GBS has the same basic design as the Sakhalin platforms, consisting of four shafts 40 m (131 ft) high supported by a rectangular base 13 m (42.6 ft) high and measuring 130 x 100 m (425 x 328 ft). With a concrete volume of between 50,000 and 100,000 cu m (1.77 MMcf and 3.53 MMcf), it is roughly the same size as the Sakhalin platforms.
The substructure is capable of bearing a topsides load of 20,000 metric tons (22,046 tons), well beyond the normal requirement of a mobile drilling rig. "They look overproportioned compared to the size of the topsides," says Knudsen. Topsides equipment is supported on a rectangular deck. Drilling takes place through one of the shafts, while another is used for storage.
For input on the drilling requirements, Kvaerner has worked with Norwegian drilling contractor Odfjell and consulted with other drilling contractors.
A large topsides area is beneficial in light of the logistical challenge, Knudsen says. The platform has to be able to operate in very remote areas beyond the range of helicopters and probably involving several days' travel by boat. It is therefore designed to be self-sufficient for two months' operation, with much greater storage capacity than normal for equipment and consumables such as drill pipe, drilling mud and fluids, as well as accommodation for a 170-person crew.
Another proposal is to make the drilling platform convertible into a production platform so that if, for example, a promising discovery were made, it could be brought onstream relatively quickly. This has already happened with a couple of drilling platforms now operating in production mode off Sakhalin – Orlan, a steel platform, and Molipaq, a hybrid concrete/steel structure.
Though not part of the original concept, conversion to production mode appears feasible, Knudsen claims. Some of the drilling space and storage could be converted to take production equipment, and the legs could be used for oil storage. For drilling purposes the design only provides for diesel fuel storage in the shafts, but oil storage is a standard feature of concrete production platforms, so it should be possible with this drilling platform design. The large topside load capacity and spacious deck should facilitate conversion to a production platform capable of handling medium-size fields.
Displaying 1/2 Page 1,2Next>
View Article as Single page