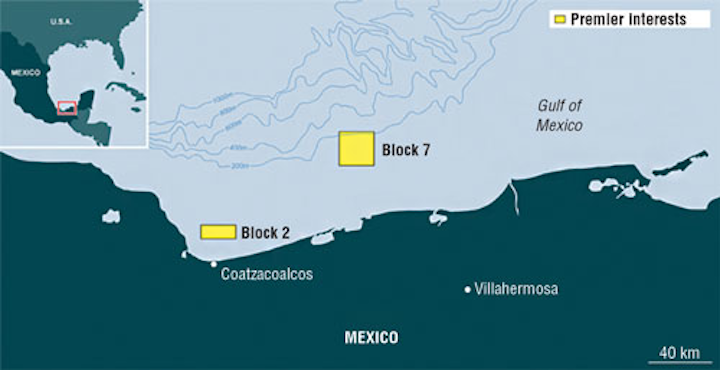 | | | |
| --- | --- | --- |
| | | Bruce Beaubouef Houston |
The development of Mexico's offshore oil and gas resources is continuing to ramp up, buoyed by the country's energy reforms, and despite the prolonged market downturn.
Several promising new finds have been made in Mexico's shallow-water regions. In mid-July, Eni announced that its Amoca-3 well in Campeche Bay has proven multiple significant oil intervals in the Orca and Cinco Presidentes formations.
The well was drilled in 25 m (82 ft) of water to a TD of 4,330 m (14,206 ft) in Contractual Area 1, 200 km (124 mi) west of Ciudad Del Carmen, 1.5 km (0.9 mi) southwest of Amoca-1 and 3 km (1.8 mi) northwest of Amoca-2.
It intersected 410 m (1,345 ft) of net oil pay, 25-27° API, in several high-quality Pliocene reservoir sandstones; 300 m (984 ft) of the pay were in the deeper Cinco Presidentes sequence, in various Pliocene-age clusters.
During the production test, 45 m (147 ft) of the Cinco Presidentes reservoir were opened to production with the well flowing 6,000 b/d of 25° API crude. The Amoca-3 well has since been suspended but will be re-entered later for production purposes.
Following the results of this latest well, Eni has lifted its estimate of the Amoca field's in-place reserves to 1 Bboe. Across Area 1 the total estimated resource base is presently 1.3 Bbbl of oil in place, 90% being oil, with further upside.
The company plans to submit an accelerated and phased development plan later this year targeting an early production phase with a plateau in the range of 30,000-50,000 b/d, with operations set to start in early 2019.
Exploration of Area 1 continues with the first appraisal well on the Miztón discovery, to be followed by other wells either appraising further finds or exploring undrilled prospects.
CEO Claudio Descalzi said: "The Amoca field…represents an optimal opportunity for a phased development approach with a low breakeven. It is an ideal project in this low oil price environment."
Descalzi added that "Eni's objective is to become the first international company to establish operating production in Mexico, which would be the first tangible success of the country's 'Reforma energetica' campaign."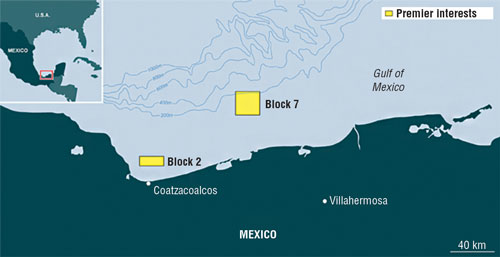 Results from an exploration well in the Zama prospect in block 7 in the Sureste basin indicate in-place oil in the range of 1.4-2 Bbbl, above pre-drill estimates. Results also suggest that the structure could extend into a neighboring block. (Courtesy Premier Oil)
But the biggest news - which also came in mid-July - was when Talos Energy reported that its first exploration well offshore Mexico has discovered potentially large oil volumes in the Zama prospect. Results indicate in-place oil in the range of 1.4-2 Bbbl, above pre-drill estimates, and the structure could extend into a neighboring block. Tests of hydrocarbon samples recovered to the surface revealed light oil, with API gravities between 28° and 30° and some associated gas.
TheENSCO 8503 semisubmersible drilling rig spudded the Zama-1 well in block 7 in the Sureste basin on May 21 in 546 ft (166 m) of water, 37 mi (60 km) from the Port of Dos Bocas.
Initial analysis suggests the well intersected a contiguous gross oil-bearing interval of more than 1,100 ft (335 m), with 558-656 ft (170-200 m) of net oil pay in Upper Miocene sandstones, and no water contact.
At present, the well has reached an initial shallow TVD of around 11,100 ft (3,383 m). A liner is being set to protect the discovered reservoirs, prior to drilling deeper exploratory objectives to a TVD of roughly 14,000 ft (4,200 m).
There are no plans for immediate well testing, and further evaluation will be needed to calibrate the well with reprocessed seismic in order to determine future plans and optimal follow up locations for delineation drilling.
Talos Energy is in partnership with Sierra Oil and Gas and Premier Oil in blocks 2 and 7, respectively offshore the Veracruz and Tabasco states.
The dramatic results of the Zama-1 well led CNH to delay its next deepwater auction by a month, to give international bidders more time to evaluate recent major crude discoveries that highlight the potential value of the assets. The commission has now set Jan. 31 as the date for the next round of auctions for deepwater oil and gas tenders in the Gulf of Mexico.
The round 2.4 auctions will offer 30 areas, of which 10 are in the Cordilleras Mexicanas deepwater basin, 10 others in the Salina basin, nine in the Perdido Fold Belt off the US-Mexico maritime border, and one more in the Yucatan platform.
The Cordilleras Mexicanas deepwater basin is home to national oil company PEMEX's Lakach natural gas project, and is located east of the Gulf Coast port of Veracruz. Cordilleras Mexicanas is viewed by the oil and gas industry as having extensive untapped potential. The auction will be the first time the basin has been made available to international oil majors, which for decades have profitably developed other fields in nearby US waters.
Mexico's first deepwater oil auction last December included blocks from the Perdido Fold Belt straddling the US-Mexico maritime border, and the Salina basin further to the south.
BOEM to offer 76 million acres in Lease Sale 249
The Bureau of Ocean Energy Management (BOEM) says it will offer 75.9 million acres offshore Texas, Louisiana, Mississippi, Alabama, and Florida for oil and gas exploration and development in Lease Sale 249.
The region-wide lease sale scheduled for Aug. 16, 2017, will include all available unleased areas in federal waters of the Gulf of Mexico and provide a reduced royalty rate for shallow-water leases to encourage exploration and production under current market conditions.
Lease Sale 249 will include about 14,220 unleased blocks, located from 3 to 231 mi (5 to 372 km) offshore, in the Gulf's Western, Central and Eastern planning areas in water depths ranging from 9 to more than 11,115 ft (3 to 3,400 m).
Excluded from the lease sale are blocks subject to the Congressional moratorium established by the Gulf of Mexico Energy Security Act of 2006; blocks that are adjacent to or beyond the US Exclusive Economic Zone in the area known as the northern portion of the Eastern Gap; and whole blocks and partial blocks within the current boundary of the Flower Garden Banks National Marine Sanctuary.
Scheduled to be livestreamed from New Orleans, this will be the first offshore sale under the national Outer Continental Shelf Oil and Gas Leasing Program for 2017-2022. Under this program, 10 region-wide lease sales are scheduled for the Gulf. Two lease sales will be held each year and include all available blocks in the combined Western, Central, and Eastern Gulf of Mexico planning areas.