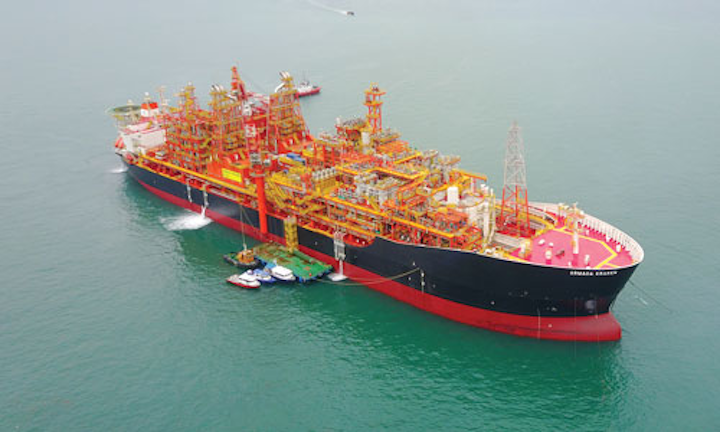 | | | |
| --- | --- | --- |
| | | Jeremy Beckman London |
Finland's government has authorized construction of the second trans-national gas pipeline through the Baltic Sea, after Russia's Nord Stream. The 81-km (50-mi) Balticonnector system will link the Finnish gas distribution network to the Baltic countries to the southeast, via a landfall on the Estonian coast. The European Union has agreed to fund 75% of the costs of the project, which is due to be completed by 2020. State-owned Baltic Connector Oy has asked five contractors to bid for the offshore installation and four others to tender for supply of the offshore pipes.
Danish engineering group Ramboll Oil & Gas undertook the feasibility study for the pipeline last year, under a joint venture with Ernst & Young and Gazoprojekt. Now Ramboll is working on another study for the proposed Baltic Pipe, another of the EU's 'projects of common interest:' this would link to the Norwegian gas trunkline network via an onshore gas reception terminal at Nybro, Denmark. From there, gas would be exported through another new subsea pipeline connecting to the Polish transmission system and on to other markets in Eastern Europe. The conceptual engineering focus for the subsea line is on route selection, cost, mechanical design, crossings and preparation of survey specifications. All being well, up to10 bcm/yr could be flowing from Norway to Eastern Europe by 2022.
Gina Krog delivers first oil
Statoil has produced first oil and gas from Gina Krog, one of the company's three platform-based greenfield developments offshore Norway. The other two, Aasta Hansteen and Johan Sverdrup should start up respectively in 2018 and 2019. Gina Krog, comprising the Dagny and Ermintrude discoveries, started out as a small gas accumulation when first proven in 1974; more concerted exploration of the area three decades later uncovered large oil volumes, in addition to gas/condensate.
The development, in water depths of 110-120 m (361-393 ft), features a conventional, fixed production platform with 20 well slots - Statoil initially plans 11 production wells and three injectors - with an FSO alongside. Oil is exported via buoy loaders while the gas is piped to the Sleipner A platform to the southeast for processing. Gina Krog, like Sverdrup, will also be connected to a new subsea power network linking all the fields in the Utsira High region, due to become operational in 2022.
In the Norwegian Sea, Statoil and its partners have opted to develop the 5-bcm Snefrid Nord gas field via a well drilled from a new single-slot subsea template in 1,312 m (4,304 ft) of water. This in turn will be tied back to the Aasta Hansteen spar through the Luva template, 6 km (3.7 mi) away. Statoil has also secured approval from the Norwegian authorities to proceed with its redevelopment plan for the Njord field in the Norwegian Sea, involving upgrades to the production facilities; and to extend the lifespan of the Gullfaks B platform in the North Sea, installed in 1987, until mid-2036.
Scope to trim UK decom costs
Britain's Oil & Gas Authority (OGA) estimates the price of decommissioning the UK's offshore oil and gas facilities at almost £60 billion ($78 billion) in 2016 prices, based partly on a survey of operators' intentions. But there is scope for reducing that sum by up to 35% to just below £39 billion ($51 billion), OGA believes, through developing more innovative contracting approaches and sharing lessons from completed decommissioning projects. One of the more promising initiatives the authority cited is the UK's multi-operator well plugging and abandonment (P&A) campaign. According to the Aberdeen-based Oil & Gas Technology Centre, P&A activity accounts for around half the UK's decommissioning costs.
ConocoPhillips UK President Terri King, speaking as Chair of the MER UK Decommissioning Task Force, said her company had been working its way through a program related to more than 130 wells in the southern North Sea. In the process, she said, "we've reduced the time it takes to P&A a well by around 50%. Our focus now includes transformational technology that will help us materially change the way we work."
Analyst Wood Mackenzie said around $7.5 billion had been spent to date on UK offshore decommissioning, and suggested a 35% reduction in future costs would be hard to achieve, whatever technological advances might emerge. If the OSPAR convention agreed to derogation (leaving in situ) of more types of steel jackets, however, the target might be more achievable.
Applications to remove platforms are starting to come in thick and fast. Marathon is seeking approval to start decommissioning the Brae area complex in the UK central North Sea, initially focusing on the Brae East platform, which came onstream in 1993 and the Braemar subsea facilities, online since 2003. Both are due to cease production by end-2020. Marathon plans to remove Brae East's 20,000-metric ton (22,046-ton) topsides for subsequent recycling/disposal onshore.
In the southern UK gas basin, Centrica is preparing to apply to remove remaining infrastructure in the A Fields complex, where production ceased last year, 50 years after drilling of the first well. The wish-list comprises nearly 9,000 metric tons (9,921 tons) of production equipment, including the Audrey A and B platforms, and P&A'ing of 23 wells. Centrica's 3.4-bcm Rough gas storage platform in the same sector is also facing closure after analysis revealed integrity issues concerning some of the wells and other facilities. However, the company will seek to first produce all the Rough field's remaining 183 bcf of recoverable 'cushion' gas.
Norway, Faroes launch license rounds
Norway's Petroleum and Energy Ministry is offering 93 blocks in the Barents Sea and nine in the Norwegian Sea under the country's 24th licensing round, with bids due in by Nov. 30. Awards should follow during the first half of 2018. On offer is a mixture of new exploration acreage and areas close to existing acreage and discoveries.
Also under way is the Faroe Islands' 4th licensing round, which has an application deadline of Feb. 17, 2018. Since the first round was opened early this century various groups have drilled nine wells off the Faroes, with sub-commercial hydrocarbon discoveries. The Faroese Geological Survey said reinterpretation of the exploration data, using modern techniques, has improved the geological evolution and volcanic history of the area, offering new insights into its prospectivity.
Kraken swings into production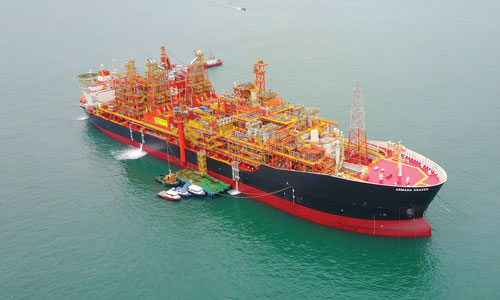 The Kraken FPSO. (Photo courtesy EnQuest)
EnQuest has delivered first production from the heavy-oil Kraken field in the UK northern North Sea, 125 km (78 mi) east of the Shetland Islands. The FPSO, moored in 100 m (328 ft) of water, is said to have the largest liquid handling capacity of any floater on the UK shelf. During the initial ramp-up period, the seven producer and six injector wells linked to two drill centers are coming online in phases, while the third drill center should be operating next year. Good progress on drilling and subsea installations helped bring down capex from $3.2 billion, when the project was sanctioned, to an estimated $2.5 billion.